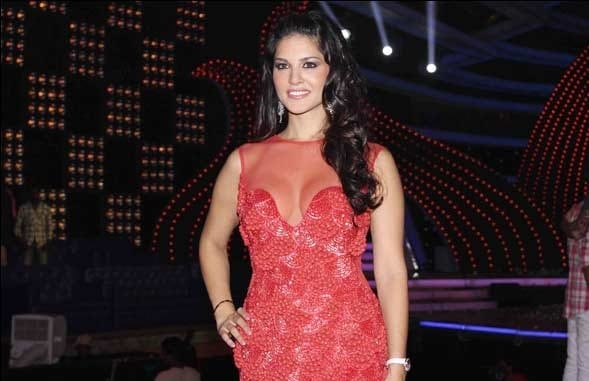 Disclaimer: Bazinga is DU Beat's weekly column of almost-believable fake news!
Priyanka Chopra. Alia Bhatt. Vidya Balan. Now another B'wood diva is entering the league of celebs promoting their movies in DU. After having risen to sudden fame from the moderate success of her movies like 'Jism 2' and 'Jackpot', the ex Bigg Boss house inmate, Sunny Leone is all set to rock the house for the Delhi University students. The organisers of a major upcoming college fest have successfully roped in Sunny, who will be visiting the campus and interacting with students for promotion of her upcoming horror flick – 'Ragini MMS 2' scheduled for release in the third week of March.
Sunny will be seen performing on the star night to the tunes of famous songs like 'Ye mera deewanapan hai' and 'Babydoll' on the concluding day of the fest as well. "Sunny has expressed a desire for the event to be exclusively for the boys of Delhi University, though amazingly lucrative, however the union hasn't yet given their consent for this due to administrative constraints.", said a college insider, on condition of undisclosed identity. Some people see her stunt as an act of vengeance as Sunny has reportedly decided to become a part of DU fest, after the famous singer Arijit Singh had taken a dig on her in his recent performance at Miranda House's 'Tempest'14'. Another college known for hosting meets on gender issues had approached Sunny but she has apparently declined the offer due to the college's environment being testosterone deficit oestrogen surplus.
Meanwhile, the right wing political activists have criticised inviting Sunny Leone to colleges, the temples of knowledge and has described it to be a Congress- BJP coalition to destroy India's culture and lure the 'aam aadmi'. They've also threatened to stage a dharna if the event isn't called off or Sunny's name isn't struck from the star's list. Interestingly rumour has it, that Sunny might be accompanied by Honey, who has sung the song 'Chaar bottle Vodka' for the same movie! If all of it shapes into reality, that song becomes almost real – ' Aaj Din hai sunny.. sunny.. sunny.. sunny.. sunny!
Disclaimer: Bazinga is DU Beat's weekly column of almost-believable fake news!
imagecourtesy: Bollywood-updates.net
< Aries: You will develop an insatiable itch on your back this week. The only way to ward off said itch is to rub yourself against a neem tree trunk vigorously.
Taurus: Sing 'Baby Doll Main Sone Di' on a loop, all day, and every day. If some people still hang out with you by the end of the week, they are your friends for life.
Gemini: Tired of life? Here's a three step process to end the boredom forever. Watch a suspense movie/ TV show, reveal suspense to everyone who hasn't watched it yet, die.
Cancer: Laws of gravity will not apply to you this week. Pakka promise. If you don't believe us, try jumping off a high- rise.
Leo: The stars have aligned diagonally for you. This means absolutely nothing. You should probably wear a few (read 5-6) rings on both hands.
Virgo: A wonderful internship comes knocking, literally. The doodh wala bhaiya is looking for a new 'chhotu'. Sure makes for an eye- catchy resume entry.
Libra: The elegant looking lady/ gentleman standing next to you in the metro will release a killer methane bomb. Be prepared for the disgusted looks from fellow passengers who will immediately mentally blame you.
Scorpio: Your worn- to- shreds socks have a very important message to convey, one that you have been overlooking for quite some time now, dig deep within your soul to uncover what they have to say. Or, just buy new socks.
Sagittarius: We predict good times up ahead for you. Someone else will take the fall for even the deadliest of your farts.
Capricorn: You will have your cake and eat it too this week. You may be accused of being a gluttonous pig in the process, but hey, you can't please everybody.
Aquarius: A new addiction is on the cards for you. It could be anything from Snapchat to snorting. Keep bad habits at bay, watch a 'Yo Momma' marathon.
Pisces: Your sister will suddenly want to be a make- up artist and you shall be her ill- destined live mannequin for practice. Get ready for a Marilyn Manson-esque look.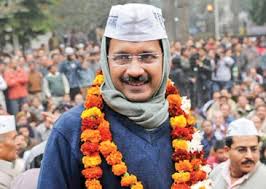 Disclaimer: Bazinga is DU Beat's weekly column of almost-believable fake news!
The real reason for Arvind Kejriwal's resignation as Delhi's Chief Minister has finally been unearthed. He is set to become the new Vice Chancellor of Delhi University. Kejriwal wanted to target the youth and wanted to bring about change in the nation. He has now discovered the perfect way to do so by directly associating with the students and grooming them to make India a better nation. Party sources confirmed his appointment as the Vice Chancellor and he will be taking over from the next semester.
Kejriwal is set to revamp the education system of the University by introducing several new diploma courses. Some of them are based on how to do a sting operation and learning to stay hungry for several days for fasting purposes. He is also set to introduce a post graduate course called Master of Dharna Management. It will be a full-fledged two year program. Apart from this he will add Muffler Designing as a mandatory subject for under graduates of all courses as a recreational activity.
He believes that if every individual in the country has the basic training of conducting sting operations, it would help catch many corrupt officials and students are the best place to start. As a believer of peaceful protests he aims to teach students how to respectfully defy authorities to get their own way in life. An Aam Aadmi Party official said that these courses are as important as values and ethics and hence, need to be instilled into students from the very beginning.
This is just the beginning and a lot more is yet to come. It will be interesting to see how many well educated well trained anarchists come out of Delhi University after spending four years under the Kejriwal regime and what they make of the nation.
Disclaimer: Bazinga is DU Beat's weekly column of almost-believable fake news!
Aries: The DU fest season. A time for joy, a time for celebration, a time to cut loose, a time to have fun and a time when the chances of being stampeded to death shoots up by a whopping 70%.
Taurus: The amount of time it will take for your friends to unanimously agree on which fest to go first is the exact amount of time you can utilise to do any of the following: read a magazine cover to cover, cook a meal for two, ditch those guys and actually attend a fest.
Gemini: You are very likely to get the most intolerable itch in the most unreachable spot of your back. Asking a friend to scratch it off will send a very traumatic message to any third person.
Cancer: I have been staring at the bleak and empty skies for omens…but that just about sums up your future huh?
Leo: The common symptoms of the 'Breaking Bad' syndrome are: 1. You find yourself correctly pronouncing words like 'methamphetamine' without a hitch. 2. You vaguely begin to comprehend bits and scraps of what is being taught during chemistry lessons.
Virgo: Does your boyfriend spend less time with you these days? Does he talk with his friends, almost breathless with excitement, about 'making a pass' or 'scoring' but quickly hush up when you approach? Don't fret my dear…its only Fifa 14, what else did you think?
Libra: Buying yourself an adorable little gift will have a positive effect on your mood today as no one else in the right mind will ever gift you one.
Scorpio: Believe it or not you are actually going to have a good day for a change. So go out there and have fun. Just remember to double check your life insurance premiums before you head out.
Sagittarius: Wear a purple shirt before you try your luck with that hot girl over there. Purple is your lucky colour. Coincidently, purple is also the colour of the painful bruises you are gonna get when her boyfriend is done with you.
Capricorn: I know that they say that the best things in life come for free but come on! Do you really believe someone is going to throw an 'S' class Mercedes your way?
Aquarius: My editors are totally against 'toilet' jokes because they believe it 'stinks'. They told me to 'flush' any such ideas down the 'drain' or else they are going to pull the 'plug' on me. Didn't get it? Give it some time. I am sure it will all 'sink' in.
Pisces: I have no doubt that you have been trying really hard my friend. But I don't think an echo even qualifies as ventriloquism.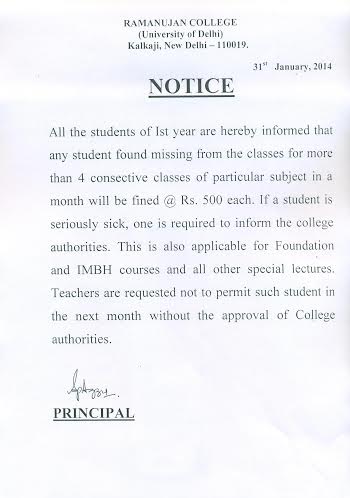 <![CDATA[As a consequence of falling number of students attending lectures in the college, Dr. S. P. Aggarwal, the Principal of Ramanujan College (formerly known as Deshbandhu College), issued a notice on 31st January 2014 regarding this attendance issue. Due to the decline in attendance of students, specifically in Foundation Courses and Integrating Mind, Body and Heart (IMBH) courses as introduced in the Four Year Undergraduate Programme (FYUP), the authorities decided to bring about some steps so as to intimidate students to attend classes. "This is a new experiment that the college is doing with the students. Personally I feel, attendance has never been a motivational factor for any student, they should be self-motivated to attend the lectures and this is how it works. But on the other side, some strictness and forcefulness are required for the students' welfare. Also, if there are genuine reasons behind a student not attending the classes, then they will be taken into consideration. The exact results to this approach will be visible only at the end of this month, once the whole month's attendance is out on the college website." replied Mr. Nikhil Kumar Rajput, when asked for his views on this matter.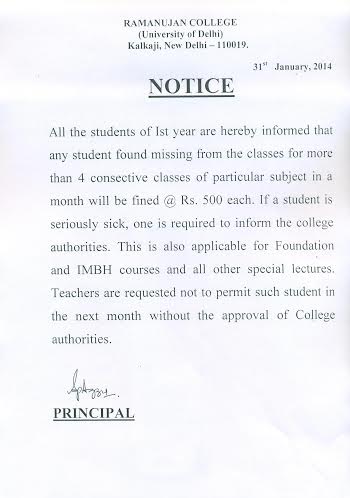 The notice issued by the Principal stated, "Any student found missing from the classes for more than 4 consecutive classes of particular subject in a month will be fined @ Rs. 500 each." Teachers from the college are asked not to permit the students to sit in the class, without the college authority's approval, if he/she misses more than 4 consecutive classes. "This rule is not fit for the FYUP students because they are not allotted marks on the basis of attendance like any other three year graduate programme students are provided. But the fact that the students have started taking these courses like IMBH and Foundation Courses, more seriously after the issue of this notice, as was expected by the college authorities, cannot be ignored", said a first year FYUP student of Ramanujan College ]]>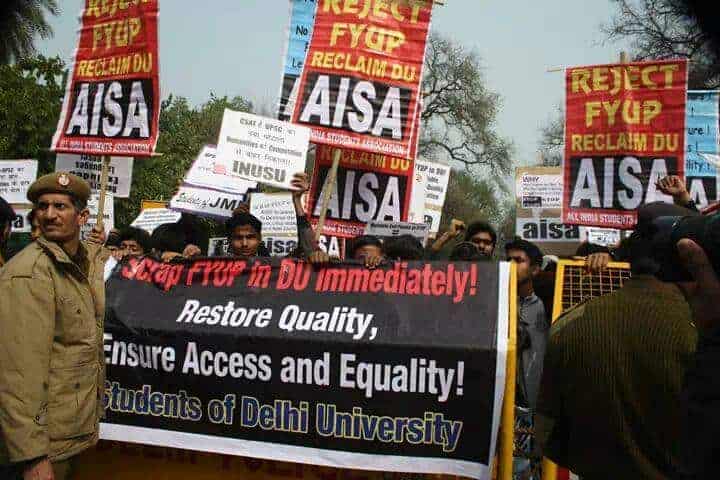 The Delhi University Teachers' Association (DUTA) in association with various students'  groups conducted a Protest March to the Parliament demanding a roll-back of the FYUP on the 18th of February. The DUTA had organized this March along with various students' organisations including All India Students' Association (AISA), All India Democratic Students' Organization (AIDSO), Democratic Students' Union (DSU), Students' Federation of India (SFI), All India Students' Federation (AISF), and the students' wing of Aam Aadmi Party – CYSS.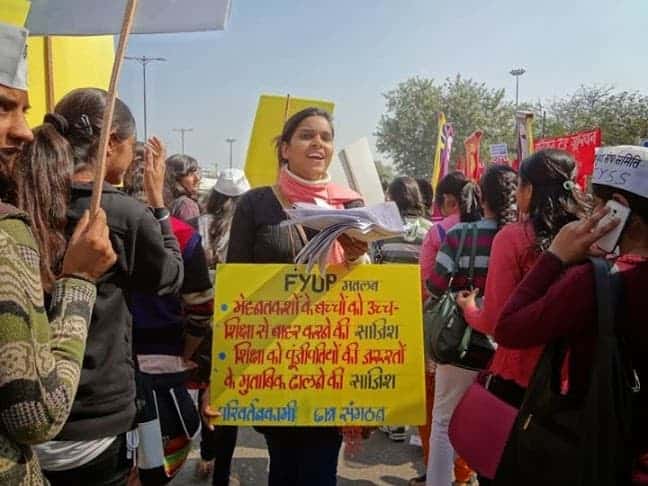 In what was labelled as a March towards Parliament, students and teachers marched from outside Zakir Husain College to the Parliament Street where they were joined by MPs, leaders of political parties, trade unions, women's organizations and civil society bodies. Political leaders including Manish Sisodia and Ashutosh (AAP), Sitaram Yechury (CPI-M), OP Kohli (BJP), Tarun Kumar Mandal (SUCI-Communist), Udit Raj (SC/ST Federation), DP Tripathi (NCP), Kavita Krishnan (CPI-ML and AIPWA), Jagmati Sangwan (AIDWA) and Iqbal Singh Sindhu (AIFUCTO), All India Forum for Right to Education (AIFRTE) joined the procession at Parliament Street. The March culminated in a massive Public Meeting next to the Parliament Street police Barricades.
The marchers not only demanded a roll-back of the FYUP but also a reversal of the education policies' thrust towards commercialization and PPP model. Removal of VC Dinesh Singh and condemnation of the Government's decision to award him with a Padma Shri after allowing him to destroy Delhi University were also put forward in the form of slogans and handbills distributed to the public.
Manish Sisodia addressed the issue of commercialization of education and large-scale contractualization in teaching jobs. He also criticized the DU VC's disregard of all democratic norms and processes, as was recently evident in the controversy over the formation of Governing Bodies in the Delhi Government colleges. He underlined the need to build popular resistance against the Government's commercialization agenda in Education and expressed the AAP's commitment to fighting against FYUP.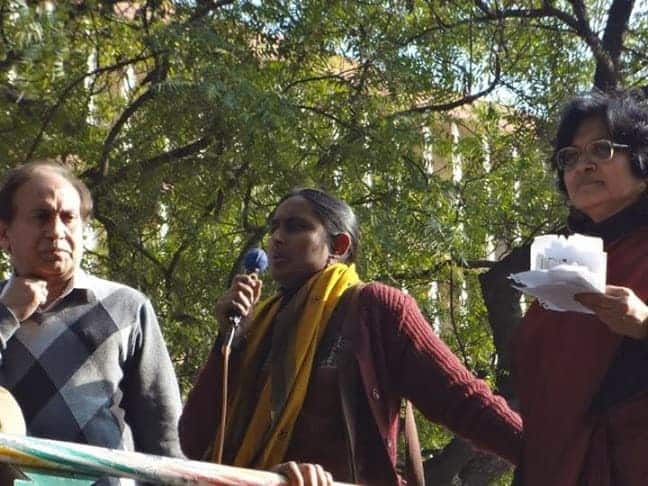 Women's organization leaders Kavita Krishnan, Jagmati Sangwan and Ritu Kaushik (AIMSS) expressed their opposition to the FYUP by stating that it would keep the large majority of girls and young women from poorer families out of good jobs and higher studies that are the only guarantee against the conservative pressure of Khap Panchayats and the patriarchal family structures.
DUTA President Nandita Narain expressed the DUTA's resolve to continue the struggle with greater intensity till the principal demands of the teachers and students are met. She warned the Government that its indifference to the plight of the Delhi University community would cost it heavily in the General Elections as the destruction of a Central university like DU is going to alienate the masses and turn them against any party in power that imposes anti-people measures under the garb of reforms. She attributed this indifference as a factor in the Congress Party's heavy defeat in the last Assembly elections. She appealed to all sections of the public to join the struggle against FYUP and the policies which undermine the future of students and teachers in higher education.
In a similar protest, on 15th February, AISA led a march to UPA chairperson, Sonia Gandhi's house to protest against the new format of UPSC exams and Delhi University's four year undergraduate programme.
AISA has been condemning FYUP for a long time now and is demanding a full rollback. The student's party had already made its stand clear on the same during the Delhi University union polls, adhering to which they have been carrying protest marches along with ABVP and DUTA in the recent past.
According to sources, due to the unavailability of UPA chairperson Mrs. Sonia Gandhi, the party led its march to All India Congress Committee's Office where they met Mr. Janardan Dwivedi, senior leader of Indian National Congress who further deputed the case to Mr. Shakeel Ahmed, senior spokesperson of INC. Mr. Dwivedi, though ensured the protesters that their demands would be looked into and action would be taken.
DUTA and students organisations also conducted protests against Antardhvani the previous week, condemning the nature of FYUP promotion embedded in all activities of the cultural fest.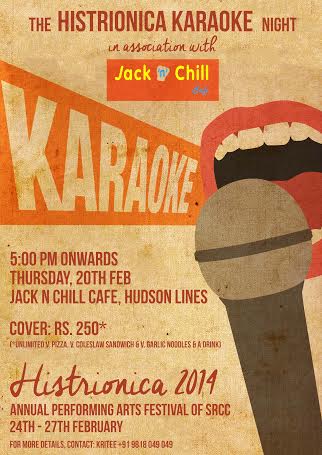 The annual performing arts festival of Shri Ram College of Commerce, Histrionica 2014 is all set to begin 24th February, 2014! This 4 day long fest will see colleges from all across the University coming together to celebrate the performing arts under one roof.
However, before the festival actually begins, The Dramatics Society of the college has planned a special pre-event session!
It's time to belt out your favourite tunes and unleash the singer within you. Tone-deaf people, here's your chance to steal the spotlight. The Histrionica Karaoke Night is here!
A night full of music, fun and food; it promises to be an extravaganza for all Delhi University students.
The Histrionica Karaoke Night will be held on Thursday, 20th February, 2014 at the Jack n Chill Café, Hudson Lines. The cover charge of Rs.250 per person includes unlimited snacks (Veg pizza, Veg Coleslaw Sandwich, Veg Chilli Garlic Noodles) and a drink. The festivities being at 5 pm!
Follow their Facebook page and website for more details.