It is no surprise that the admission season comes along with a fair share of anxiety, panic and tension. So, to ease the process, we bring to you, a list of ten food-joints near several colleges of Delhi University where you can sit back, relax and take a break from all the hum-drum.
1. Big Yellow Door, North and South Campus
Cost for two: 600 (approx)
The place is known for its innovative decor, cosy space and the long queues in front of the cafe.   More popularly known as BYD, it can be found both in Hudson lane and Satya Niketan. It has a varied menu with BYD Cheese Bomb Burger, Cheesy Nachos Mexicana and Butter Chicken Pasta as the all-time favourites.
2. QD's Restaurant, North and South Campus
Cost for two: 700 (approx)
Located in the Hudson Lane, and Satya-Niketan, this restaurant has the perfect ambience and got popular for its mouth watering Tandoori momos and other Chinese delicacies.
 3. Tom Uncle Maggi, North Campus
Cost for two: 100 (approx)
For the days when you are broke, and want delicious food, head to Tom Uncle's Maggi stand. You can try the Oregano-Maggi, Butter-Maggi, Cheese Maggi, Masala Maggie, Chilli-Paneer Maggi and many other varieties as well! Who knew Maggi could come in so many tastes and flavours?
 4. Diggin', South Campus
Cost for two: 1000 (approx)
An aesthetically pleasing cafe with red-bricked walls, fairy-lights, and pretty paintings, Diggin' has gained much popularity among college students. It is situated opposite Gargi College. Chicken & Jalapeno Pizza, Lamb Lasagna, Crispy Zucchini Fries are one of the few recommended dishes of this cafe.
 5. Ricos, North and South Campus
Cost for two: 900 (approx)
It is a cafe which becomes popular with the students since their first year. It offers a wide range of cuisines like Italian, Lebanese, Mexican and Continental at pocket friendly rates. Their collection of desserts is worth trying, as well.
 6. Chowringhee Lane, North and South Campus
Cost for two: 350 (approx)
It is the ultimate stop for every college-goer to satiate the craving of a perfect kathi roll. It is easy on the pocket, and will please your taste buds all the same.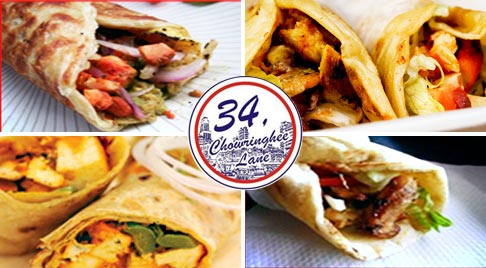 7. Mini Shop, North Campus
Cost for two: 150 (approx)
Situated Opposite Kirori Mal College, in Kamla Nagar, it is the perfect spot to put an end to the hunger pangs while you shop for clothes or books in the market. The cold-coffee is heavenly and they also offer a wide variety of quick bites.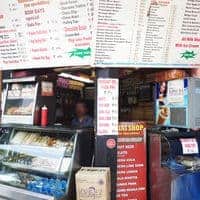 8. Chache di Hatti, Kamla Nagar
Cost for two:  150 (approx)
The place is known to serve the best plate of chhole bhature which is quiet evident with the never-ceasing queue in front of the shop. The menu is completely vegetarian but limited and they offer only aloo wale bhatoore, sade bhatoore, kulche and chhole which are full of rich flavours.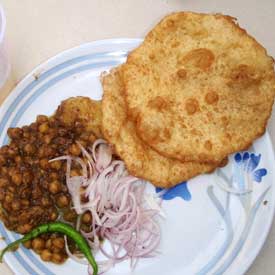 9. Bhelpuri outside Hindu College, North Campus
Cost for two: 100 (approx)
If you're an ardent fan of street food, then you should definitely visit this place. One plate of bhelpuri served has ample quantity for two people. You can also pair it with a nice and refreshing banta to enjoy the meal.
 10. The Chocolate Room, North and South Campus
Have a sweet tooth? Want to indulge in sweet and sinful desserts? Then, this place should be your next stop! From different varieties of Pizza made out of chocolate to mouth-watering pancakes and pastries, this outlet has it all.