Yamuna's water level exceeded the danger threshold and rose to an all-time high of 208.8 meters, flooding important regions and forcing the closure of schools and institutions around the city. The University of Delhi announced the postponement of exams on July 13, 2023, putting students into a tailspin of uncertainty.
On July 13, 2023, the Yamuna reached an all-time high water level of 208.8 meters, forcing floodwater to reach Civil Lines, Kashmere Gate, ITO, and numerous other places. Three to four water treatment facilities had to close as a result of the flooding, which caused an acute shortage of water in one-fourth of Delhi. The Delhi government also declared that all schools and institutions in flooded regions would be closed, leading to the theory exams scheduled on the 17th, 18th and 19th and practical exams scheduled on the 14th, 15th, and 16th being postponed.
By the decision taken by Delhi Disaster Management Authority on 13.07.2023 as communicated by the Press Release dt. 13.07.2023 of Raj Niwas, Delhi, the University shall remain closed w.e.f. 14.07.2023 to 16.07.2023. The examinations scheduled during this period stand postponed" – Read the notice released by the University
The notification was followed by numerous fake exam notices. A few of the messages included the cancellation of all exams and fake postponement dates. This created a great deal of confusion among students appearing for exams.
DU needs to reel in the problem of fake notices. It was getting out of hand especially for the exam postponement issues." – Hiten Dalmia, a first year student  of BSc.(H) Mathematics 
There were other problems alongside the fraudulent notices. A few of the student areas also experienced flooding, locking individuals inside. A sub locality of Mukherjee Nagar named Hakikat Nagar was inundated with contaminated drain water, which caused a power outage and a subsequent water problem.
The entire place had a gutter-like odour. We had to stay in our apartment for extended power cuts and without water because we had nowhere else to go. Our parents were worried that we wouldn't get sick from the area's drain water. It was terrible." -Rahul, a UPSC aspirant and a graduate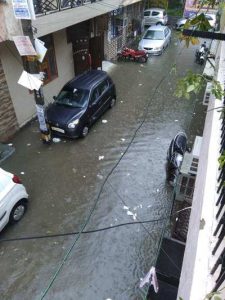 Hakikat Nagar, Mukherjee Nagar
Up until Sunday, the capital's flooding problem, power outage, and water shortage persisted. The situation in these locations got better as the Yamuna's level steadily dropped. But for students who will take examinations in the following weeks, this relief was quickly followed by a little shock. The new dates for the postponed exams were announced by the University of Delhi on Monday. This announcement was received with conflicting emotions. Some people enjoyed it since it gave them more time to study, others felt upset because their exam gaps shrunk, and yet others were outraged because they had to cancel their tickets and plans to return home for the holidays.
The new date sheet is worse. I have my exams on 25,26, 27, and 28. Four continuous exams. How am I supposed to study? I reach home by 2 pm and I have an exam the next day at 9 AM?" – Tisha, a first-year student of B.com. (H)
Some students said this postponement gave them extra time to study and cover-up.
As we know the momentum to study in college develops only a few days ago so for me this postponement was a blessing. I enjoyed this extra time too instead of studying but now I am back on track." – Shreeya Ahuja, a first first-year student of Bcom. (P)
Not all of the issues stemmed from the decreasing gap. The majority of the outstation students have already purchased tickets to return to their home cities. Students were compelled to either change their plans or cancel and buy a new ticket later due to the extension of the theory exams until the second of August and the practical exams until the fifth of August. Some were forced to pay cancellation fees because they had no other choice; others were unable to purchase tickets and were left with no choice but to purchase a train ticket under the "Tatkal" category. Many students have PG and broker contracts that expire on July 31. Often, PG owners and landlords impose extra charges on students when they stay past their contracts – thus adding another expense to all students. 
The repercussions of these changes in the examination schedule have caused several students inconvenience and financial problems, emphasising the need for better planning as well as an understanding of students' circumstances in such situations.
Image Credits: Business Today, Times of India
Read Also: Climate Change se Aazadi: The Delhi Chapter of the Global Climate Strike
Dhruv Bhati