e past few weeks saw a whirlwind of fashionable attires due to the farewell season which immersed all the DU colleges in it. The farewell tradition in Delhi University colleges is mostly girls wearing saris, guys wearing suits apart from the black graduation garb which is the true spirit of the farewell. Wooplr brings you 4 most stylish looks from this farewell season!
1. Miranda House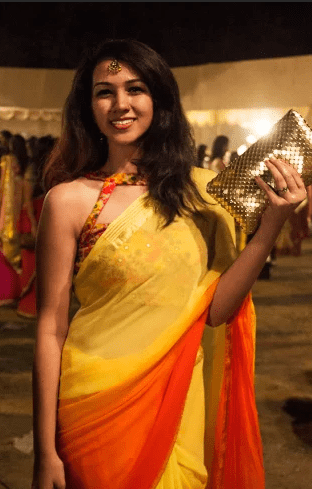 The graduation night at Miranda House is quite simply, the best. Hundreds of girls from the graduating batch make up the night with their eye catching sarees. Ayotakshee Roy, a student of Economics at Miranda House chose to wear a yellow-orange saree inspired by the sunset!
[quote]Given a choice, my preference always lies with darker shades. But for Graduation Dinner, my mum made me try something I personally wouldn't even have touched at the shop since it's just so bright. After scanning a number of shops in South Ex and Lajpat Nagar, we finalized on this yellow ombre saree matched with a thread-work blouse from a boutique in Sarojini Nagar. Yellow just isn't my colour, but then there's something so calming about sunsets.
– Ayotakshee Roy
[/quote]
2. SGTB Khalsa College
Dosvidaniya 2016, the farewell event of Department of Commerce saw a lot of bold fashion choices. Shubham Aggarwal chose to go bold and original with his blue coloured suit.
[quote]Guys hardly have any choice of outfit when it comes to suits. What's special in a black suit and tie anymore? I decided to go a different way for my farewell. – Shubham Aggarwal
[/quote]
3. College of Vocational Studies
Sudisha, from English Hons. at College of Vocational Studies chose not to follow the trend of wearing sarees at the college farewells. Her decision of wearing a plain black kurta with golden earrings, bangles and golden heels got her a Miss Farewell title!
[quote]I wanted to stand out. Everyone normally wears a saree, but it wasn't mandatory as the theme was ethnic. Besides, black is my favourite colour and it goes so well with golden accesories – Sudisha [/quote]
4. Jesus and Mary College
Vani Vivek, a Commerce student from Jesus and Mary College had never worn a saree before, so she went to her mother for help. Turns out that she wore her mother's saree instead of buying a new one.
[quote]I hadn't worn a saree before so I heavily relied on my mother's experience with sarees, and actually ended up wearing one of hers rather than buying a new one. It's a chiffon leheriya that she picked up from Jaipur, I liked it for its light, breezy feel and the fresh colour. I didn't want to wear an itchy or a heavy blouse so I went the handloom route with a yellow cotton ikkat one. I really enjoyed wearing the two patterns together! – Vani Vivek[/quote]
Think you can add to this list? Download the Wooplr app and reveal some of your campus style secrets! ASAP!