Kaffeine – Café, Bar and Grill located at 50-A, first floor, is a small hidden cafe that one might come across as he strolls through  the by-lanes of Hauz Khas Village to hang around with a group of friends or for a casual chat over a cup of coffee. Though it appears dark and shady from outside, Kaffeine is a place to experience some live music and variety of food with losing out on money almost directly proportional to the benefits received.
If you wish to get a feel of some leisurely shack in Goa, this can be the place to visit. With a very cozy atmosphere, the place has wooden decoration and furniture. It provides a great ambiance with live music in the evening during all days of the week which attracts crowd of all age groups. Also, with different music bands performing every day, the place won't bore you by offering mere food. A person visiting the place alone could enjoy as much for the band sits right among the audience at a little distance. Sufi music by the fresh musicians dazzles you more than the beer at times.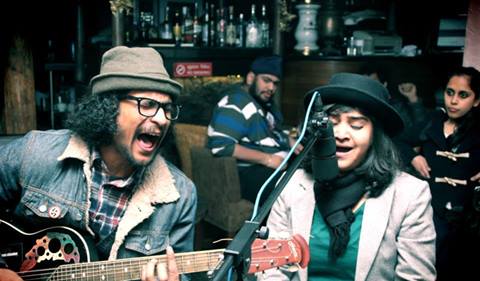 As the place is really small, it generally tends to get overcrowded. But at the same time it provides you the private place in the corner where you can sit with a book or let the host indulge you in a conversation. The cafe also accommodates the guests in an open area right to be in sync with the lively village.
With a different taste of food, the place is ideal to have a mug of beer with a friend. Famous for their Italian cuisine, the restaurant provides all types of food ranging from different kinds of salads to a proper meal. It has a different menu for breakfast and is very famous for its Tandoori platter. Non-vegetarian dishes are demanded more by the customers but Kaffeine doesn't disappoint veggie lovers either.
A small drawback lies in not having a great variety of desserts. But then there is less, with no mess. A recommended late night place for youngsters, it offers to serve till  1 A.M. during the night. The royal treatment  extended towards the guests is priceless, and the smiling staff shall never really disappoint you.

Feature Image Credits : plus.google.com