<![CDATA[
With the state elections just around the corner, Delhi University happens to be a stage for political campaigning by different parties. In the university elections itself, many bigwigs come out in support of the students' wing of their respective parties.
Besides, two of the most prominent politicians of Delhi happen to be DU alumni. The present Chief Minister, Sheila Dikshit, did her graduation in History Honours from Miranda House and Vijay Goel of Bhartiya Janata Party (BJP) is an alumnus of SRCC, who was also the Delhi University Student Union President in 1977-78. Congress has fielded Ragini Nayak and Amrita Dhawan for the upcoming elections, who have been former DUSU office bearers. Parties have been fielding young leaders to attract young voters.
Let's have a look at the campaigning activities of major political parties in the University:
Aam Aadmi Party
Aam Aadmi Party (AAP) is the most visible among all the political parties in its campaigning in Delhi University. Arvind Kejriwal visited St. Stephen's College in August to interact with students. Many students from different colleges have joined AAP and are volunteering for the Delhi Assembly Elections. Yogendra Yadav addressed a rally on 30th October in the University. Recently, MTV VJ Raghu Ram could be seen campaigning for AAP in different colleges of DU and in IIT Delhi. Prashant Bhushan has also addressed students on various occasions.
Adding to this, in the party manifesto released on Wednesday, the party declared that if brought into power, they would open more colleges in the state and roll back the Four Year Undergraduate Programme (FYUP).
Bhartiya Janata Party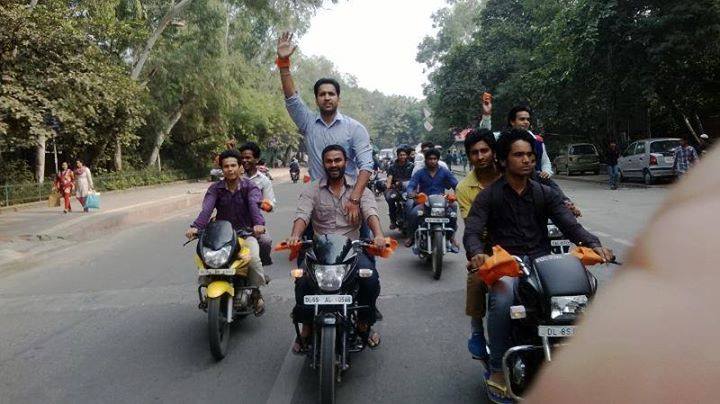 BJP has its share of young leaders who have been DUSU office-bearers. Nakul Bharadwaj, popular face of Akhil Bhartiya Vidyarthi Parishad (ABVP), the student wing of BJP, contested elections last year as well. ABVP has organised a bike rally to spread awareness about voting among the youth. ABVP has also initiated a campaign 'Youth For Change', to spread voting awareness. The emphasis on the youth is apparent in the campaigning by the party where it promises to open 15 new colleges and one university under the Atal Yuva Mission, if voted into power. They are also promising to exempt all taxes on computers, laptops, tablets and smart phones for college students.
Congress
National Students Union of India (NSUI) the students wing of Congress had organised a protest march against Vijay Goel. At least four ex office-bearers of NSUI are fighting elections from Congress ticket in the upcoming Delhi Assembly elections. With the release of the party manifestos, the Congress promises to increase the number of evening colleges across the University, a new university for health sciences and 5 more medical colleges. Besides, the state government had also proposed 90% quota for Delhi students in the state funded colleges of DU in October.
The Election Commission is leaving no stones unturned in roping in the young voters. It has started campaign with many NGOs to rope in the young voters and enrol students of various colleges to vote in the upcoming elections.
]]>