Dr. Subramanian Swamy entered the Convention Centre of Delhi University to the chants of 'Modi, Modi…' on 29th January during a lecture being organised by Delhi University's Faculty of Law. The BJP leader arrived almost 4 hours after the scheduled time because of the Supreme Court proceedings over one of his petitions. He was accompanied by Ashwani Kumar Bansal, Dean, Faculty of Law and his wife, Roxna Swamy.
Dr. Swamy was scheduled to speak on the topic- 'Indian Taxation Laws and Economic Reforms'. He started his address without adhering much to the topic and speaking on general issues like economic growth and the need for a more liberalised economic reforms. Pressing over the point of free market, he said that democracy and market economy are twins. He advocated for globalisation in agriculture and appreciated the Hindu religion and its relevance around the world.
Initially, he took care as to not relate his address to politics. But, he could not help bantering his political opponents like Manmohan Singh, Rahul Gandhi and Kapil Sibal. Gradually, he delved into the politics of market economy in India since his early days in politics, citing an example as to how Indira Gandhi dismissed him once, when he proposed a liberal economic policy in the parliament. He cited various examples of Indians excelling around the world and the Indian products at par with the best in the world. He added it was to encourage the young audience listening to him. He recalled as to how he was not allowed to become a professor at the Delhi School of Economics and was removed from the post at IIT-Delhi because of political conspiracy by his opponents. Later, coming back to the designated topic, he told amid thumping claps that income tax should be abolished. He added that 2G scam and the black money stashed outside the country could more than cover up for the income tax. At some instances, he used the terms- 'Tommy Gandhi' and 'Buddhu', clarifying that he was not referring to any particular person.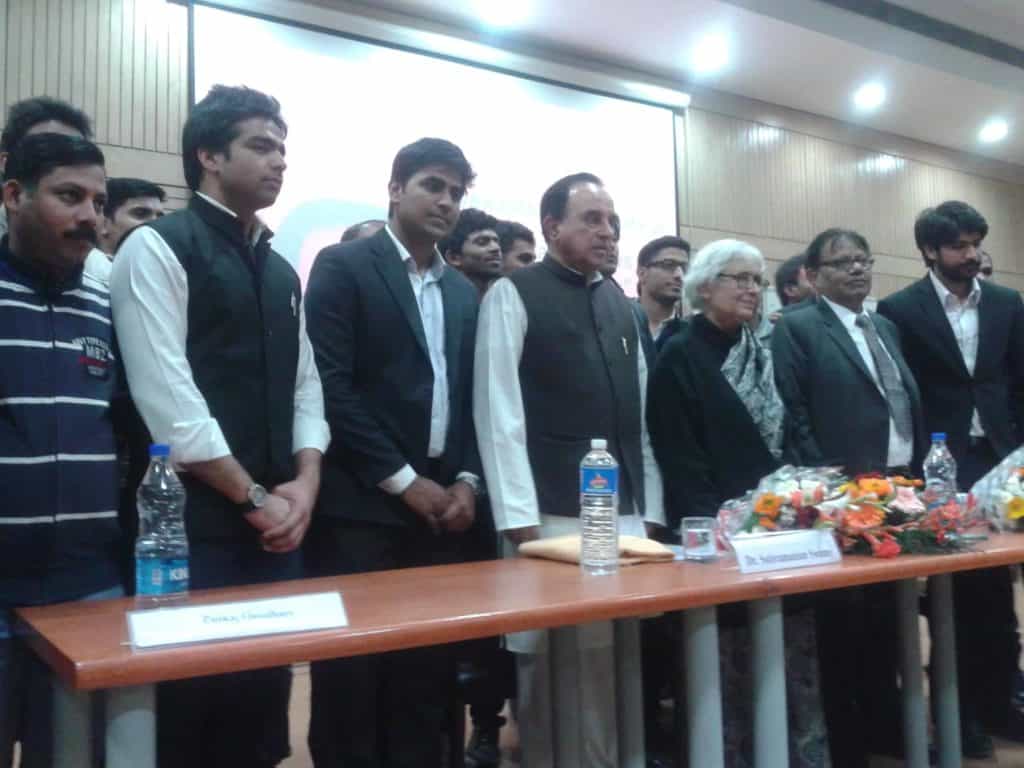 Ashwani Kumar in his addresses recalled his college days when they used to hear about his stories during the emergency, described by him as the 'legends' of Dr. Swamy. In the end as well, there were conspicuous shouts of 'Modi'. Dr. Swamy left the hall saying, "Modi hi aayenge".
Other BJP leaders have also visited the Faculty of Law Campus in the recent past. Leader of Opposition, Sushma Swaraj visited the institution last year in August, while Rajnath Singh spoke to students on 28th January, a day before Dr. Swamy's address.