As expected, SRCC's 'Crossroads' came, it amused, conquered hearts and the 'last party before forty' culminated leaving people with amazing fun filled memories of four interesting days. Apart from the exhilarating star appearances, the fest was also garnered with numerous formal and informal events,games, variety of stalls and great footfall.
Here's what all happened in the most sought after cultural festival of DU, take a look!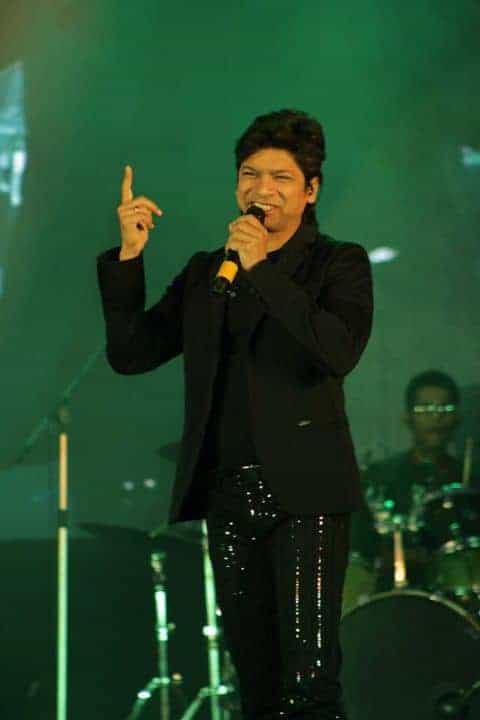 The festival kick started its first day with the 'shaan'dar performance of the singer cum stage performer Shantanu Mukherjee, commonly known as 'Shaan' at Encore. Shaan took a heroic entry singing the famous lines 'mujhko pehchaan lo, mai hu kaun?'  This was followed by a number of his soft romantic melodies including 'Tune mujhe pehchana nahi', 'Chand Sifarish' and 'Jabse tere naina'. Acknowledging the new talent in industry, Shaan sang the chart buster Arijit Singh song 'Tum hi ho' from  the movie 'Aashiqui 2′ on public demand and referred it to be one of his favourite songs too. Not only did he entertain audiences with his melodious voice, but with frequent jokes, digs  and audience interactions. The event concluded with announcement of Bewakoofiyan star cast – Sonam Kapoor & Aayushman Khurrana coming to SRCC on fourth and final day of Crossroads.
Crossroads brought together Slovenian rock/folk artist Vlado Kreslin and Hindustani classical musician Sharat Chandra Srivastava as part of Random Collisions on 7th March,2014.The duo was also accompanied by Gyan Singh, an accomplished Tabla player.The event began quite promptly and created a mellow atmosphere all at once, quite different from the rest of musical nights taking place in DU fests. As the violin and tabla notes worked magic, it was certainly music to all ears.
After enjoying soft romantic numbers with Shaan and blend of western and classical music at Random Collisions, Crossroads brought the audiences to savour the taste of PLUR i.e. Peace Love Unity Respect with VH1 Supersonic bringing their unique EDM music to Crossroads,SRCC. With renowned artists like Audiogramme, Dualist Inquiry and Nikhil Chinapa performing, the crowd was seen throwing hands in air,  feeling completely content and enjoying. The gigantic screen, flame throwers, pyrotechnics and confetti, all added to the night,making it the most happening and memorable one for SRCC as well as DU.
Day Three : Crossroads welcomes international DJ Jennifer Rene
The third day at Crossroads saw Jennifer Rene, a DJ star of international fame mixing EDM tracks. The night began with the song 'Wake me in' and what followed were numerous numbers from her own discography. The performer soon got into grooves with her famous tunes and people, specially patrons of this genre of music cheered for Rene and  had a great time.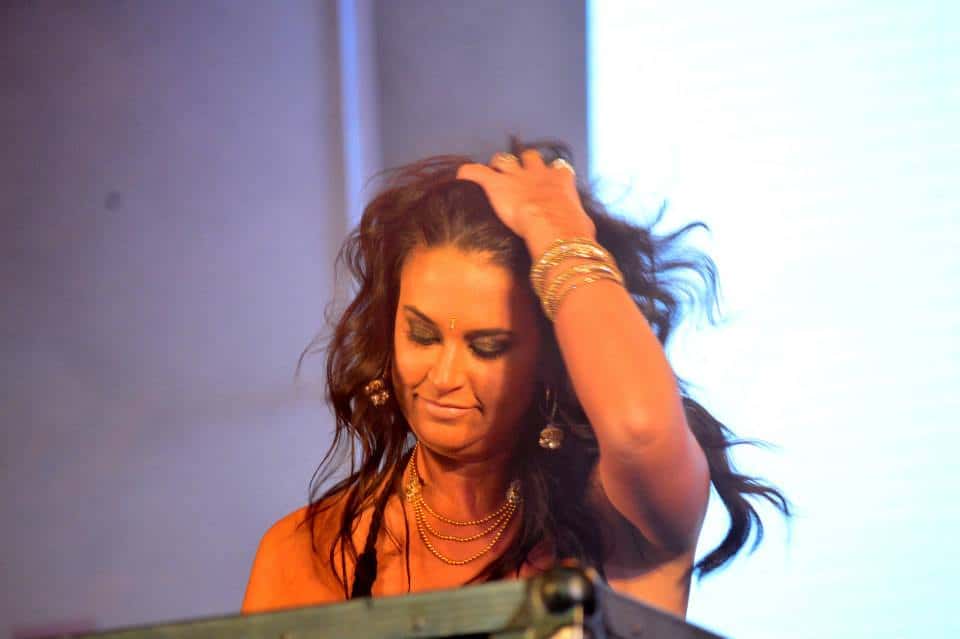 Day Four : 'Bewakoofiyan' star cast Sonam Kapoor & Ayushman Khurrana at SRCC
B'wood celebs Ayushmann Khurrana and Sonam Kapoor, picked Crossroads 2014 as a platform for the promotion of their upcoming movie 'Bewakoofiyan', scheduled to release on 14th of March. The duo entertained the crowd with their presence for about 20 minutes. Ayushman Khurrana sang four songs including, "Paani Da Rang" and "O Heeriye", whereas Sonam took to the traditional 'Battle of the Sex's ' path. They distributed limited  goodies of their upcoming film to the massive crowd and signed off leaving a smile on the audience's faces.
Catch a short glance of Sonam Kapoor & Ayushman Khurrana, in this recording by DU Beat –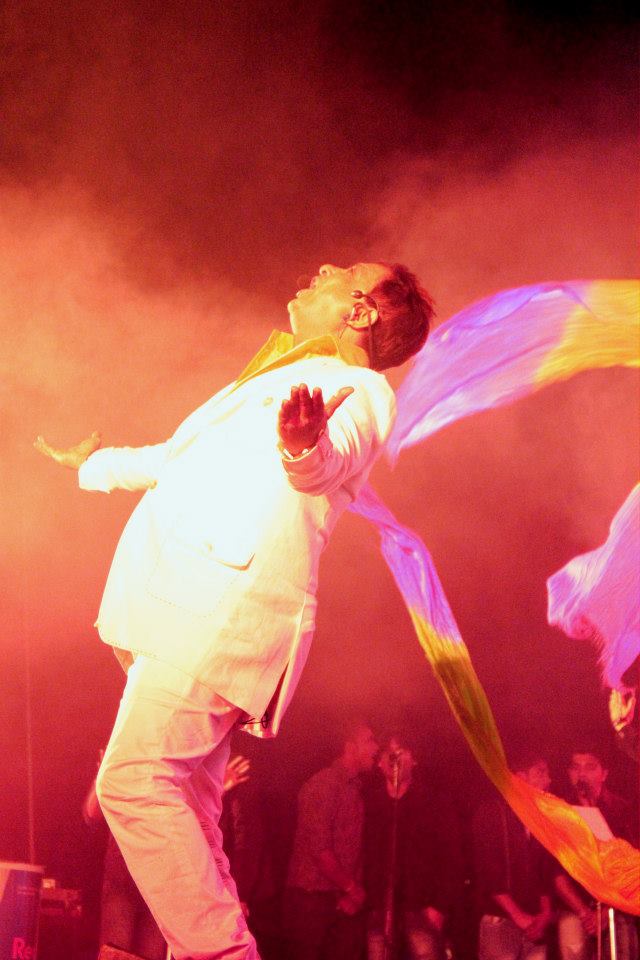 SRCC's Crossroads' 'Last party,before forty' came to a befitting end with the internationally acclaimed singer Sukhwinder Singh and his troop performing for about two hours, setting the stage on fire with his zeal, enthusiasm and energetic songs like Chaiyya Chaiyya, Haule Haule , Bidi Jalaile , Dard – e – Disco, Dhan Te Nan, Marjani Marjani, Saki Saki, Lagan Lagi, Chak De India, Ramta Jogi and a few more. The night began with Sukhwinder singing 'Jai Ho' the Grammy award winning song from Slumdog Millionaire and ended with the same song completing the circle and leaving the crowd with refreshed memories of the night.
The Foodie's Junction at SRCC Crossroads
Much like everything else at SRCC's Crossroads, the food was in large variety. There was something for every palate and pocket. From Italian to Chinese to Indian Street food, it was hard to find something that was not available.
Chole Bhature: although they are easily available at various events, SRCC had a variety of chole bhature from different corners of Delhi. Even small, and highly exclusive, eating places like Om Corner had put up stalls there.
Cup Cakes: And not the ones that look like they are here because no one bought them off the shelf at the bakery. The ones that wanna make you eat them even when you're on a diet.
Waffles: When was the last time you ate waffles at any cafe, much less at a fest!
Rico's: If you're a DU student who happens to pass by north campus at least once every few months, then you know what I'm talking about. Rico served almost all their specialties at the fest and they tasted like fresh from the oven.
The busy food stall lane bustling with people at Crossroads, SRCC | Image Credit: Abhay Makhija for DU Beat
Banoffe Pie: Yolo 21 served Banoffe pie that'll make you want buy one more every half hour. And when I told the stall manager that it was as good as the ones they served in posh south Delhi restaurants for five times the price, he happily said that his was better.
Escapades : Adding adventure
With all the stars that rocked the crowds at night, Escapades made sure that the students were entertained through the day. Bringing the spirit of adventure to SRCC through the four days of Crossroads, the Traveler's Society truly gave students a chance to 'forget their limits'. The Xerox lawns were packed through the day with students lining up for the adrenaline rush, a chance to experience the thrill of adventure sports, test their ability and most importantly to have some unrestricted fun. The numerous events lined up under Escapades were the Slow Race, Flying Fox, Zorbing, Paintball, Wall Climbing, Trampoline Volleyball, Dodge Ball & Body Zorbing.
The Winners' Tally
Fashion Show  [by Demeanor, the Fashion Society of SRCC]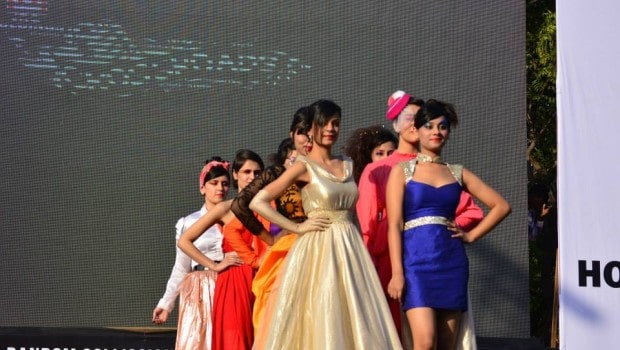 Judged by : Ms. Konica Kant, the Winner of Timeless Beauty and Delhi finalist of  the Miss Femina 2014 Contest.
First Position : Kamala Nehru College & Lady Irwin College.
Second Position : Amity University
Judged By : Dance India Dance fame Amit Kashyap & ABCD movie fame Vicky.
First Position : Kamala Nehru College's 'Adaigo'
Second Position :  Hans Raj College's Terpsi Chorean and LSR's Choreography Society.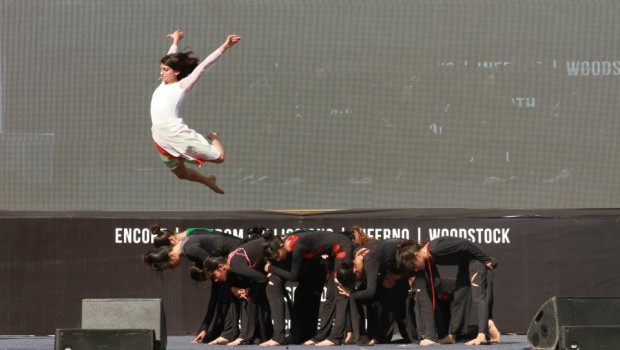 Judged By :  Moses Khiagte, a vocal coach and a retired musician and Bhanu Mehendiratta, a well known musician, part of bands like Sold Outand Half Step Down.
Winners : Conundrum, an alternative Rock Band from P.G.D.A.V. College.
Judged By : Meher Malik, famous Indian belly dancer, founder of 'Banjara School of Dance'
Winners (Duet) : Aseng & Somya from Kamala Nehru College.
Winners (Group Dance) : 'We-Defyn', the  Dance Society of IIT – Delhi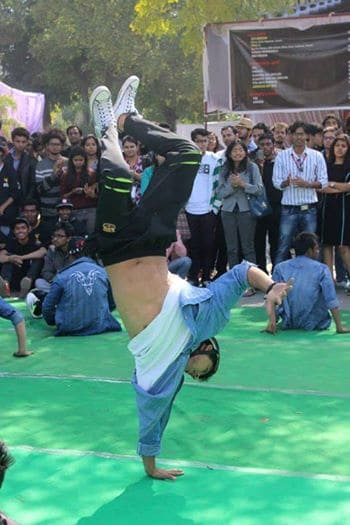 Judged By : Jatin & Sanchit, famous names in DU dancing circuit
Winners : CVStreets  from College of Vocational Studies.
Runner Ups : Drift Up from DCAC.
Also featuring…
DU Beat Correspondents in exclusive conversation with the 'Bewakoofiyan' star cast – Ayushman Khurrana & Sonam Kapoor after their public appearance at SRCC Crossroads on the final day, March 9th, 2014. We would soon be releasing the same!
DU Beat Correspondent Ishika Gupta in a backstage conversation with Meher Malik, the famous Indian Belly dancer, ex participant of India's Got Talent & Just Dance, and founder of the 'Banjara School of Dance' about her experience at Crossroads, SRCC.
Crossroads through the DU Beat Lens
With Inputs from Akash Pattanayak, Ishan Sengupta, Raghav Chopra and Brij Pahwa