The University of Delhi is a dynamic place to be, and records new highs with various achievements but also new lows with several controversial issues taking place every year. With another academic session coming to its end, we bring to you another edition of The Best and Worst of Delhi University series.
This academic year has seen personalities from various walks of life, who have achieved a remarkable measure of success in their respective fields, sharing their thought – provoking ideas with Delhi University's student community. From stand-up comedy to business, politics and film-making, visiting personalities have provided insights into their work and lives, leaving valuable advice and enriching the college experience of students. We take a look at the well – known personalities who visited DU this year, contributing to the potpourri of cultures, visions and ideas that the University embodies.
1. Nawazuddin Siddiqui, Kapil Dev, Varun Agarwal and other stars at SRCC Youth Conference
September 2015: The annual Youth Conference at SRCC, with the theme 'And the victor carries on' saw the presence of several eminent personalities. An interactive session with cricketing legend Kapil Dev revealed his love for the sport as he encouraged students to follow their passion. Actor Nawazuddin Siddiqui spoke about his early days and struggles as a budding actor in Bombay. Founder of Alma Mater, Varun Agarwal, shared his insights on his book 'How I Met Anu Aunty and Co-Founded a Million Dollar Company' and motivated the audience to refrain from procrastinating. Comedian Biswa Kalyan Rath of the 'Pretentious Movie Reviews' fame kept the audience engaged with his wise cracks on enthusiatic festival celebrations. Abish Mathew's song on how youngsters shouldn't waste their lives over drugs left the audience in splits.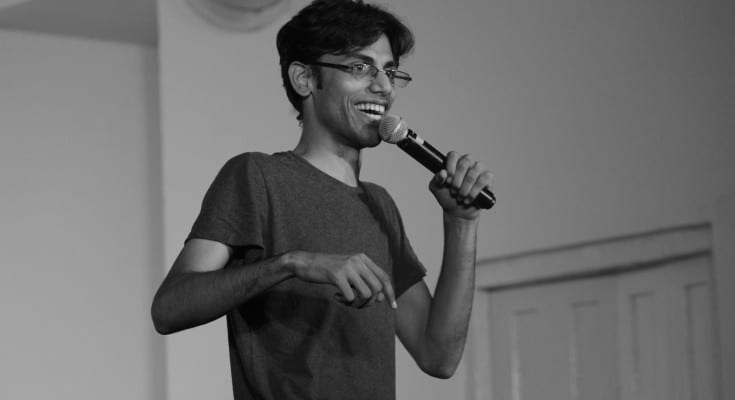 Read the full coverage here.
2. Kiran Bedi at IPCW
September 2015: Former IPS officer, social activist, and politician, Kiran Bedi, was the Chief Guest at Indraprastha College for Women, as part of the Pink Chain Campaign, an initiative by Punarjeevan to spread awareness on breast cancer. She emphasised on the need to prioritise health and check-ups, keeping in mind the busy schedules of the youth in current times.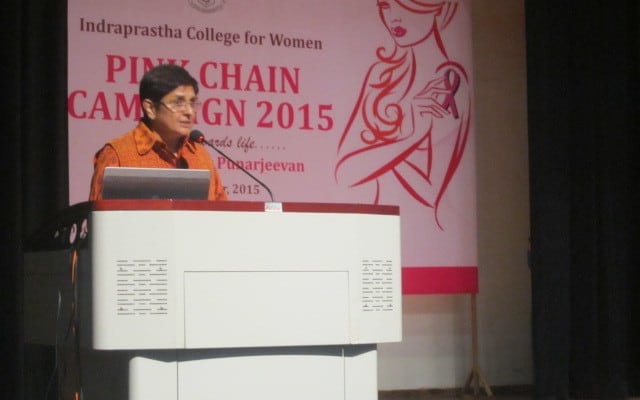 Read the full report here.
3. Markandey Katju and Subramanian Swamy at KMC's 'India 2020'
September 2015: Former Supreme Court Justice and Press Council of India Chairman, Markandey Katju's address flagged off 'India Vision 2020', organised by the Round Table society at Kirori Mal College. He spoke of the significance of a modern, rational, scientific and inquisitive mind, with references to several anecdotes and instances from history. He lamented the pitiable state of affairs of the parliament, bureaucracy and media in India. Former Cabinet Minister Subramanian Swamy also addressed the gathering. Replete with witticisms, he put forth the hope for India as a developed country, provided we get our act together.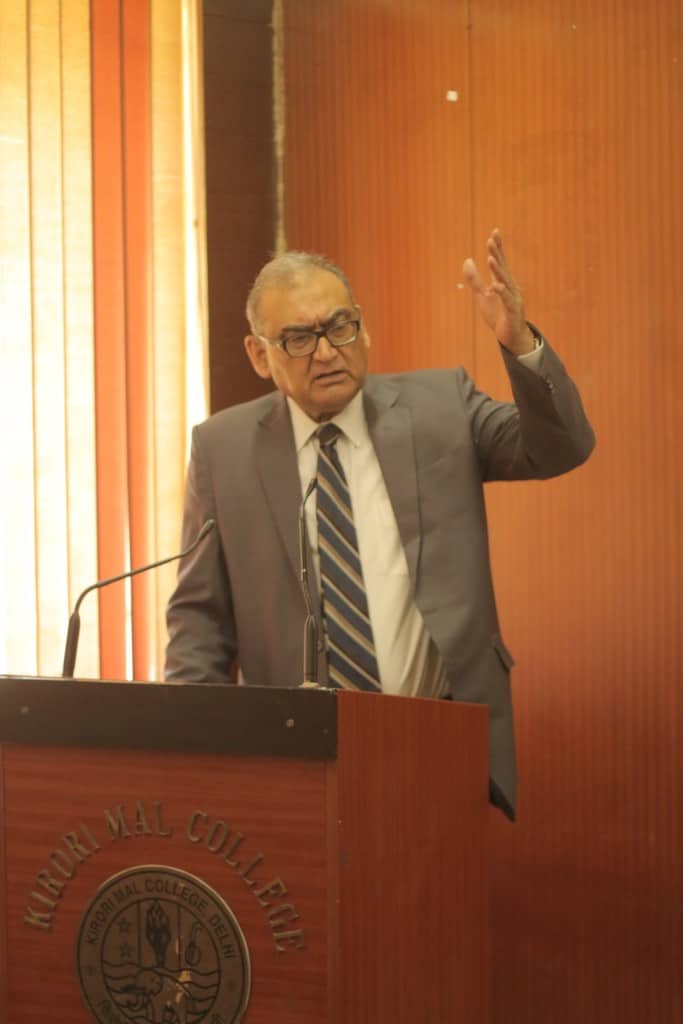 Read the full article here.
4. Abish Mathew at Entreyug'15, Jesus and Mary College
November 2015: Comedian Abish Mathew's rib-tickling act was an entertaining conclusion to Entreyug'15, conducted by Entrepreneurship Cell, Jesus and Mary College, in collaboration with the E-Cell, Delhi College of Art and Commerce. Following speakers like Vineet Taneja, CEO of Micromax, and Rajat Jain, former MD of Walt Disney, Abish Mathew enthralled the audience with his typical brand of humour.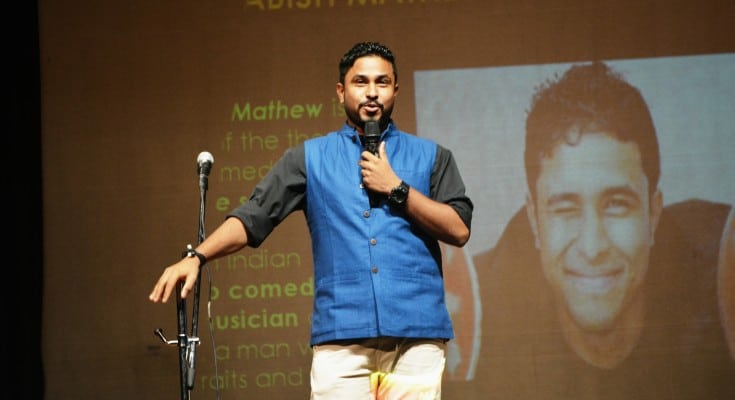 Read the full report here.
5. 'Ask Sundar Pichai' at SRCC
December 2015: Shri Ram College of Commerce hosted Google CEO, Sundararajan Pichai, who addressed a crowd of over 2000 students, in a session moderated by commentator, Harsha Bhogle. Mr. Pichai emphasised upon the importance of doing something that one is excited by, and using every opportunity to reinvent ourselves. He shared his vision for Google and his hope of making technology a one-stop solution to every problem. On being asked about his 12th standard percentage, Pichai quipped that it would not be enough to get him into SRCC.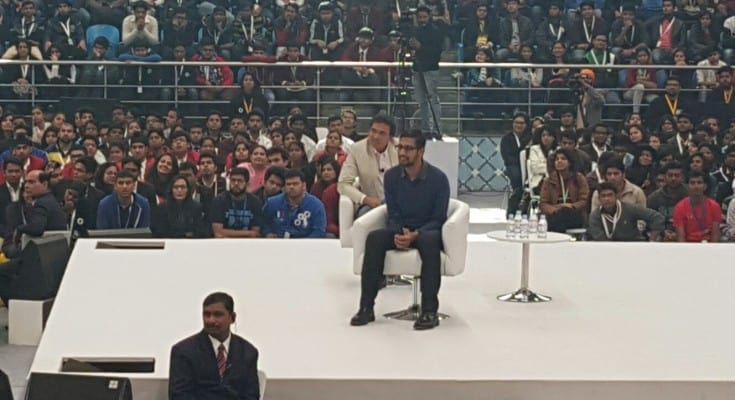 Read the full report here.
6. Najeeb Jung, Papon and East India Company at Ramjas College's centennial celebrations
January 2016: Lieutenant Governor Najeeb Jung stressed the need to think freely as citizens of a country that is progressing, as the Chief Guest on the first day of the celebration held to mark the 100th anniversary of the establishment of Ramjas College. Papon, founding member of Assamese band East India Company, enthralled the audience along with his band, with their lively performance and energetic beats.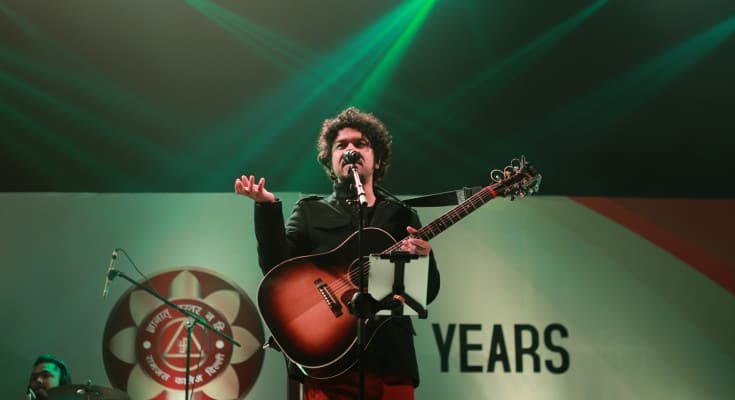 Read the full report here.
7. Boman Irani at St. Stephen's College
January 2016: The Entrepreneurship Cell, St. Stephen's College, organised 'The Journey,' a talk by film actor Boman Irani. In the course of the inspirational talk, Mr. Irani spoke about his anecdotal journey and the power of dedication, perseverance, and dreaming big. His unique tongue-in-cheek style of humour, along with personal experiences, kept the audience hooked onto every word of his motivational address.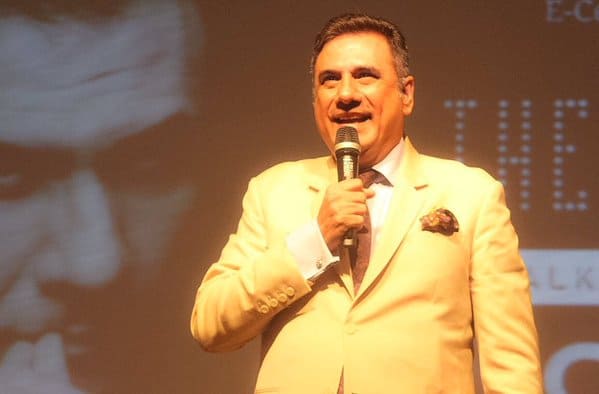 8. Durjoy Dutta and Ravinder Singh at SRCC's Literary Festival
February 2016: Zephyr, the Literary Festival conducted by the English Literary Society at Shri Ram College of Commerce, saw author Durjoy Dutta explaining to the audience his initial dreams of becoming a writer and its gradual fulfillment. Bestselling author Ravinder Singh of 'I Too Had a Love Story' fame motivated the students to pursue their dreams, through his interactive session with the audience.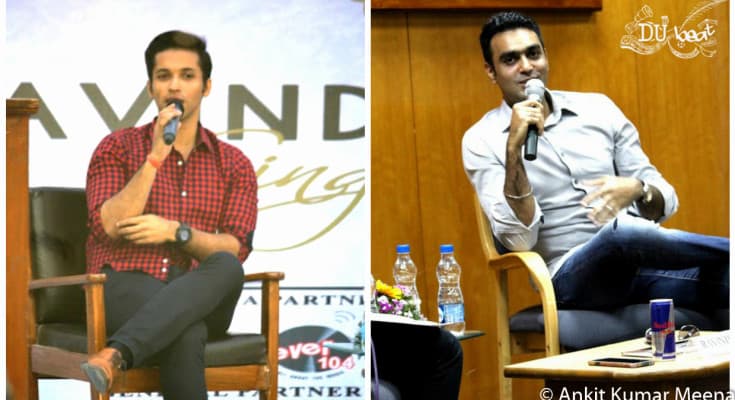 Read the full report here.
9. Sheila Dixit at SRCC's Odyssey'16
February 2016: The annual fest, Odyssey 2016, was held by the History and Political Science society, Shri Ram College of Commerce, with the theme 'The changing face of Indian society – the good and the bad.' The inaugural talk was by Mrs. Sheila Dixit, former Chief Minister of Delhi, whose interactive session with the audience saw her facing questions on the comparative policies of the current government in Delhi to that of her government.
Read the full report here.
10. Prof. Irfan Habib and Anjolie Ela Menon at the Academic Conclave, St. Stephen's College
February 2016: Ancient and medieval Indian history stalwart, Professor Irfan Habib, addressed the Academic Conclave as its plenary speaker on the day of its commencement, on the topic 'The National Movement and its Legacy.' He quipped that, "After 1947, every coward can be a patriot."
Leading contemporary artist, Anjolie Ela Menon, discussed the history of the patronage of art.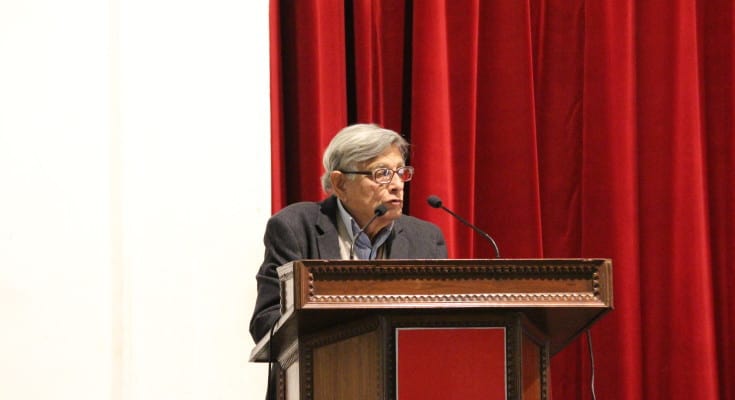 Read the full report here.
11. Adi Godrej, Sunil Bharti Mittal, Nitin Gadkari and others at the SRCC Business Conclave
February 2016: SRCC's Business Conclave saw a host of eminent personalities addressing the audience. In his session, BJP party leader Nitin Gadkari spoke of the importance of the youth in nation – building. Sunil Bharti Mittal, CEO of Bharti Enterprises, shared stories of his struggles and success. Medha Patkar, an activist for Narmada Bachao Andolan highlighted the importance of human resource saying, "Money alone cannot give you the suit on your body, the paper we use and even the currency notes."
Adi Godrej, from Godrej Group, spoke on how fundamental enforced legislation is to the growth of the country but how often too many rules and regulations can also slow down the process of growth. The concluding speaker at the 3-day event was actor Rishi Kapoor. When asked about Bollywood, he said, "The business of cinema is huge. The only entertainment after cinema is sex."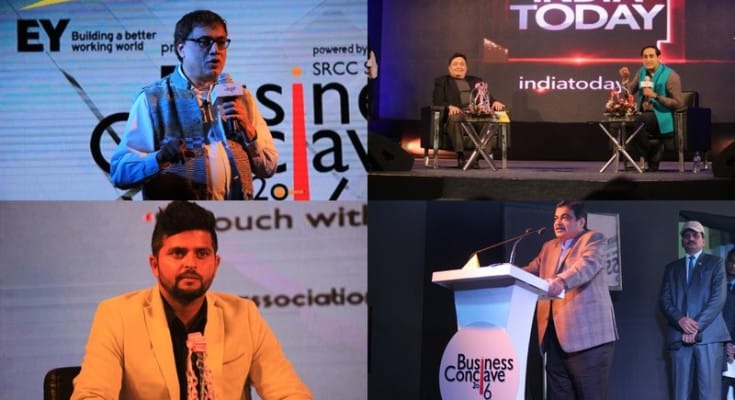 Read the full report here.
12. SRK visits Hans Raj College
February 2016: Bollywood superstar and Hans Raj Alumni Shahrukh Khan visited his college in the month of February to promote his much anticipated flick- Fan. The actor was also felicitated with the degree of graduation which he completed back in 1988.
13. Meera Nair and Onir at St. Stephen's College
March 2016: Directors Mira Nair and Onir visited St. Stephen's College for a screening of their respective films, Reluctant Fundamentalist and I am Omar. The screening, held by the Gender Studies Cell, St. Stephen's College, in collaboration with Engendered, was followed by an interactive session with the two directors. Mira Nair spoke of the "need to express oneself with absolute boldness." "We must tell our stories for, if we don't, nobody will," she pointed out. Onir also spoke of the importance of self-expression irrespective of whether or not it pleases anybody else. "An artist cannot paint their canvas according to what pleases everybody," he said.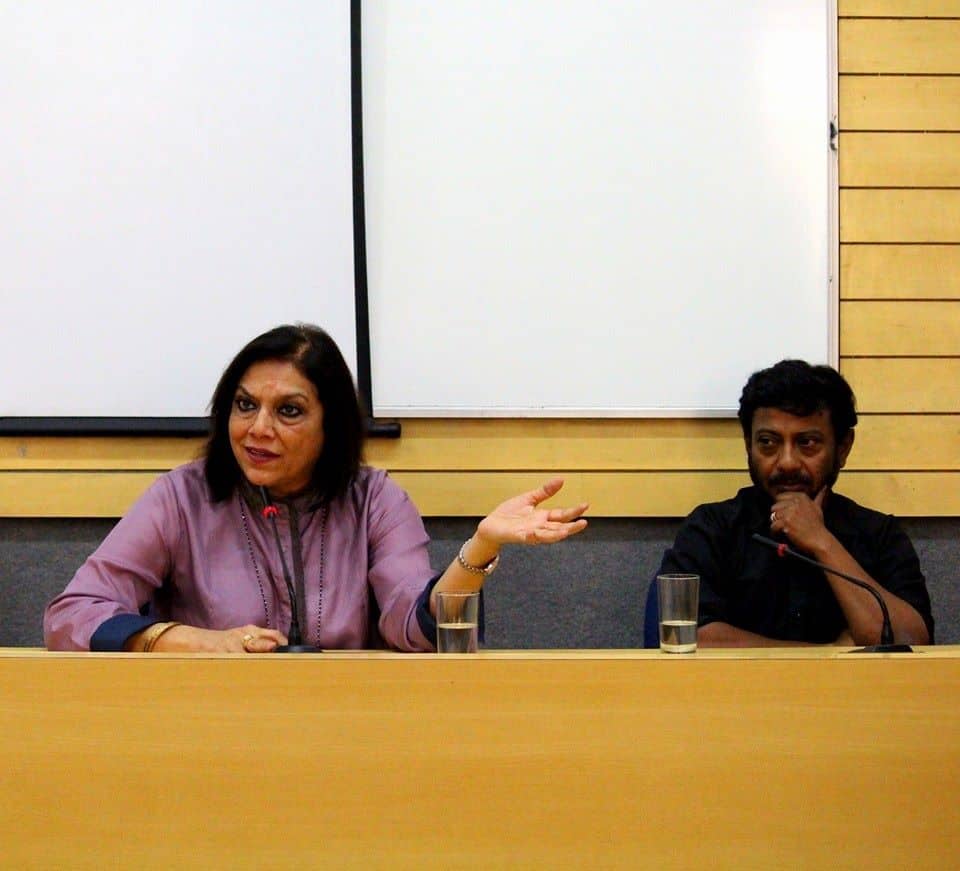 Stay tuned for more articles within the series!
Abhinaya Harigovind