Exams are that time of the semester when you are genuinely expected to study, in fact you too expect yourself to be in the study mode. However, when you take a break don't go near movie channels on your TV or that 'Movies' folder in your laptop. It is catastrophic! One movie you think of watching for a while will keep you glued till the credits roll, and worse is the mind-space it leaves you in. However, if you do end up curled in front of a screen, here are a few must not watch movies:
The Social Network-
You don't want to get into the illusion that dropping out of college is cool and more successful. Exams can give you these ideas, but you surely don't want proof, do you?
21 and Ocean's Eleven series-
Wondering about that royal life in Vegas, or being a professional con artist, is proof you are bitten by the bug of movie life. Save yourself before you lose out on your marks.
Fukrey-
You don't want to bribe the guard of your college in leaking the question papers, and end up in a mess, like being expelled or disappointed. And semester end is surely not the time to think about ways of excusing yourself from exams.
Student of the Year-
'Ratta Maar' and 'Jai Mata Di' are certainly not the things one should rely on during exams. Take no wrong clues, it is a Karan Johar movie after all, so don't let the extravagance of a wonderful educational life got to your head.
Limitless-
When we say no to drugs, we also say no to fantasizing about them. If you keep fantasizing about a drug that makes you super smart, well your exam can be in jeopardy then.
Munnabhai MBBS-
The cellphone trick is too old, do not try it. The flying squad could be around. Another a strict no to sending an elder for your paper, there is photo identity on your admit card, remember. Also, not all of us can become successful by not studying, so don't get any ideas.
3 Idiots-
The education structure is flawed, but now that you are in it, deal with it. Please don't think about tricks to distract other people, rather concentrate on your course.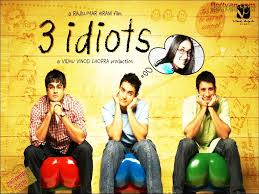 School of Rock-
Apart from mentioning that Maths is not important, it also has a timetable consisting of artists and other music genre stuff. Surely not the right time to go into Rock Mode.
10 Things I Hate About You-
Thinking about your childhood crushes and why Heath Ledger is dead, or flashing your teachers during the exam, means you need to clear your head, now!
Harry Potter Series-
The magical world is wonderful, it is far more interesting, and there exist things like Felix Felicis, the Time Turner and Weasley Brothers that can ruin your study mode completely.
Bad Teacher-
We all wish there were teachers who showed movies in class, but that does not happen, does it? And, there is no Cameron Diaz making you solve the exact paper for practice.
Dead Poets Society-
Yes, the course seems mostly redundant during this time, but this movie can inspire you most to tear those pages from your books in frustration, and make you cry for Robin Williams, especially now that he is actually dead.
Zindagi Na Milegi Dobara and Yeh Jawaani Hai Deewani-
Life is not just about going places with friends and finding love, you need to make a career first. And with such hot actors and peppy songs, you can find yourself in a utopia soon.
Wake Up Sid-
Deal with it, Sid's dad tried to employ him, yet he left home. Now, you don't want to do that if your results are not satisfying. This is not a back-up option. So study.
Horror movies-
If you cannot deal with them, don't test your guts during this crucial time. It will be very difficult for you to concentrate, if you keep looking over your cupboard or waiting for some possible noises.
Image Credits: Wikipedia, webmusic.in, itimes.com, comicvines.com, imdb.com