Eclat – the annual theatre festival by the Hansraj Dramatics Society on Day 2 had remaining stage performances for Rangmanchiyata (the stage play competition). Judges for Day 1, Mr. Sanjeev Saluja and Mr. Pranay Manchanda judged the event for this day as well. Shri Ram College of Commerce performed their annual production Black Comedy. The results were scheduled to be disclosed later in the day along with the street results. But according to the judges all teams were equally good, so it was decided to celebrate Rangmanchiyata just as a festival and not a competition. Rs. 2500/- was declared to be given to each team as a token of appreciation.
Best actors were adjudged for the stage play competition. Best Actor(Female) was bagged by Vidushi Chadda from SRCC for Black Comedy and Best Actor(Male) was also given from the same production to Kabir Sethi. Both the actors were awarded 100% scholarship for a theatre training programme by Actor Factor Theatre Company worth Rs. 23500/- each. The second position for best actor was won by Arpit Sharma from Delhi Technical University for Kya Dilli, Kya Lahore! Arpit was awarded with 25% scholarship for the same theatre training programme.
Day 2 of Eclat also witnessed the street play competition – "Bolbala Badlav Ka" with the theme "Legacy of Campus theatre." For the same purpose, the performance area for street theatre was set up in a way that each performing team had a separate booth where the picture gallery of each team for the past 5 years was displayed. Other participants and viewers had an option to provide their feedback for the teams and well at these personalized team booths.
Mr. Vineet Trikha and Mr. Siddharth Singh came over as judges for Bolbola, who are both experienced theatre activists for Pandies Theatre Group. Mr. Singh – an ex president of Hansraj dramatics society and a graduate from Hansraj and presently organizes theatre training for youngsters inside and outside Delhi. Mr. Trikha with almost 15 years of experience has performed many plays in India and abroad.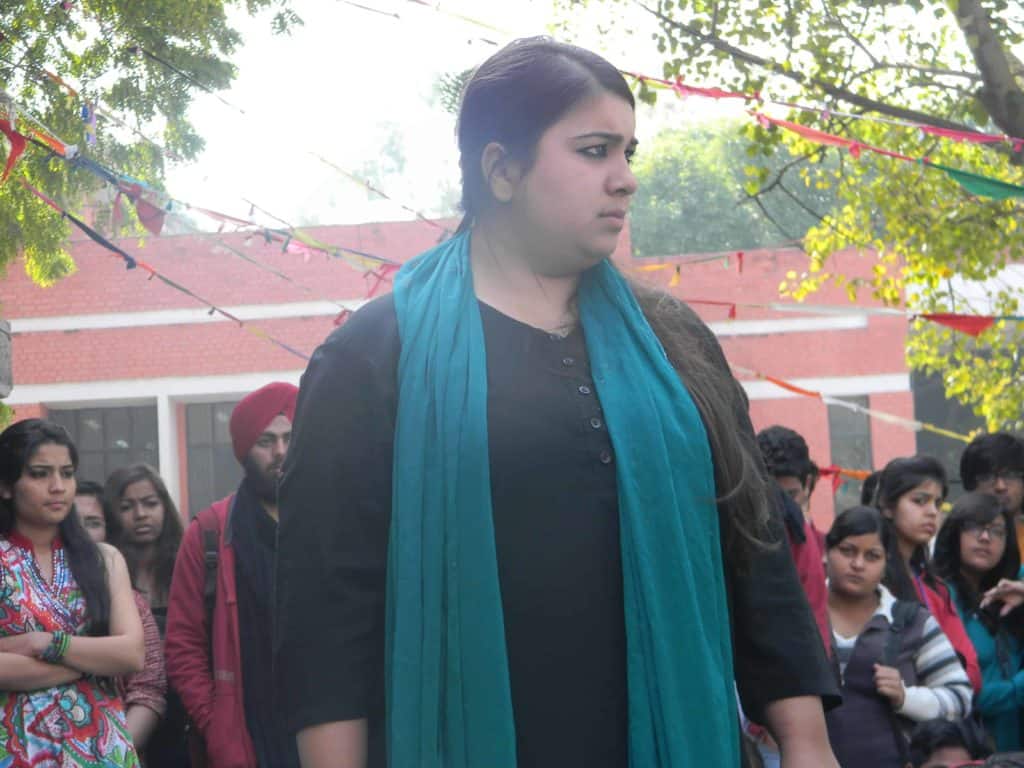 A total of nine teams performed for Bolbala on social topics like premature puberty, rapes in India which come with no action thereafter, women rights and politics.
Siddharth Singh said, "Teams should be very careful while choosing the themes for street plays. Street theatre is a risky form of dramatic art. A social issue which may appeal to you, may not work with the audience."
Team from Jesus and Mary College, Kehkasha stole the show at Bolbala. They bagged the prize of best team and best music for their production "Gunah Hai, Par Saza Nahi" and won the cash prize of Rs. 5000/- and Rs. 1000/- respectively. First runners-up position was shared by Guru Gobind Singh College of Commerce (GGSCC) and Indraprastha College for Women SRand they were awarded Rs. 3000/- in total. Taking home the title of second runner up team and Rs. 1500/- cash was S.G.T.B Khalsa College for "We, The People"
Best actors were bagged by Sana from Jesus and Mary College and Akhil Sachdeva of GGSCC for their respective productions. They both were awarded the 25% TIP 16 PLUS scholarships by Actor Factor Theatre company.