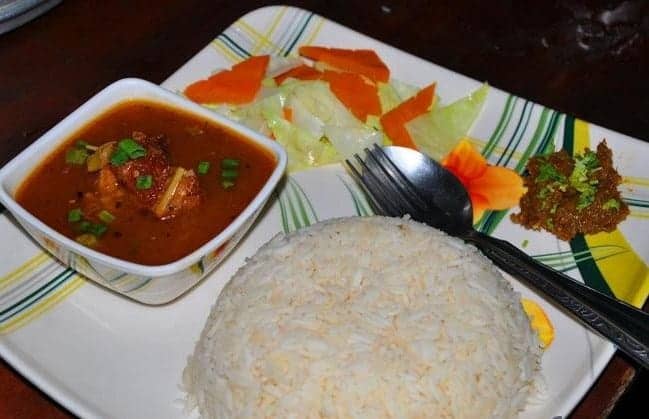 The doors of Essence of the East open into a small room with eight tables, with plain green walls. It is a no non-sense place where you can just concentrate on the flavours from the East. A pleasant looking girl hands out the menu. Don't hesitate if you don't understand any name, ask and she'll answer it most readily. The menu has a wide range of dishes and is presented in a direct manner, without any superfluous descriptions.
Coming to the food, pork ribs are enormously loved by the customers. Naagah, a 3rd year student of Sociology from Sri Venkateswara College is a regular customer, along with Sean, who is pursuing MA from the South Campus. They both enjoyed the pork ribs and pork noodles. They find the place to be easy on the pocket, something which every student looks for. Kriti Talwar, pursuing MA English from South Campus, said, "The pork noodles are a little too oily, but tasty."
Thukpa is a popular soup-and-noodles dish, and rightly so. It is yummy and tummy-filling. EOTE offers Thukpa to both vegetarian and non-vegetarian customers. Another popular dish, Honey Chili Potatoes, is average in taste and a better version can be obtained elsewhere.
EOTE has introduced Leafu Noodles, which are neon green in colour in their vegetarian version. A little sprinkle of soy sauce from one of the tiny bowls make the noodles all the more delicious. Kimchi, a Korean dish, is a cold cabbage salad with just a little too much chili. Gooseberry juice is well-suited for the taste buds that can accept something new, as it is made from fermented gooseberries. It is a bit strange, but it surely is something fresh for our palate.
The restaurant has free home delivery service with minimum order of Rs.100. You can bring the East to the comforts of your P.G. and enjoy!
Shreya Mudgil
[email protected]

Image credits: zomato.com