Students participated in a peaceful protest held at Jesus and Mary College on 8th January 2020,  where they also faced problems by the Student Body due to restriction of dissent by the Administration.
Jesus and Mary College (JMC) saw students gather on the 8th of January 2020, outside the campus in Chanakyapuri, New Delhi at 10:30 a.m. to show solidarity against the brazen misuse of political power and violation of basic Fundamental Rights by the Government. The state-sponsored violence meted out to the students of various educational institutions across the country was strongly condemned, in a silent protest held in front of the campus.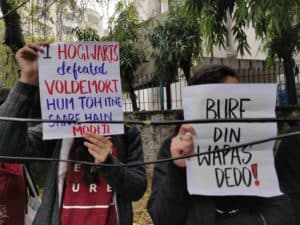 Students condemning State-sponsored Violence
Despite the absence of the Students' Council from the place of protests, a message was circulated by them before the protest, condemning violence and voicing their support for freedom of speech in a peaceful way. The students, however, were sceptical at the apolitical stance of the student council, which had earlier refused to comment and release a statement of solidarity condemning the violence citing different views of students. Some students also cited the pressure from the administration when it came to the college societies and departments to release solidarity statements.
Later, the Students' Council urged the students to come inside the college campus and protest after seeking permission from the Principal.
Some students chose to continue the protest outside the college campus.
The silent protest was held in a peaceful manner, a welcome change that encouraged and fostered dissent in the erstwhile apolitical campus of JMC. Students held banners criticizing the government and the forces of law and order. A healthy dialogue about democracy was fostered, in a protest that saw attendance by students from other colleges too. No disruptions by the police occurred. A group of students joined the protests at The Faculty of Arts, North Campus immediately following this at 12:00 p.m. Students affirmed their support for dissent against authoritarian forces, condemned the growing excesses of fascism within the country and stood up for student-worker unity.
Feature Image Credits: Paridhi Puri for DU Beat
Paridhi Puri