Symphony'20, the annual cultural fest of Janki Devi Memorial College (JDMC) faced severe overcrowding leading to security issues for the participants along for the organising committee during Jass Manak's concert performance at the final day of the fest. 
Janki Devi Memorial College (JDMC) organised its annual cultural inter-college fest, Symphony 2020 on 8th, 9th & 10th January, 2020. It was one of the biggest events hosted by the college; a three-day extravaganza, power-packed with cultural events & activities. From literature, art, music to dance, street play, to photography, debate stimulations; it was the amalgamation of synergies of various participants from multiple colleges and universities.
On the final day of the fest, 10th January, 2020, popular Punjabi singer and songwriter Jass Manak had a concert performance in the college auditorium, where he enthralled the audience with his popular numbers like Prada and Lehenga. The performance, however, was exclusively for Janki Devi Memorial College students. Due to the pressure of the crowd present at the fest, there were security issues which caused problems for the participants. A first-year student at JDMC explained that she was inside the campus, but the disturbance was caused due to students from other colleges entering the venue to watch Jass Manak, hence creating chaos for the college students present there.
A JDMC student arrived at the campus to attend the concert but was prohibited to enter by the ensuing security staff even though they tried to reason that they were from the college itself. Dr. Swati Pal, Principal, JDMC,  herself later came when chaos erupted at the venue due to the burgeoning crowd, and denied entry to the students, clarifying that the venue was full. The student further explained that outsiders were not informed about the exclusivity of only JDMC students at the concert, which caused these problems.
A student who attended the concert and requested to stay anonymous, shared that many fake enteries of outside students happened in front of them, hampering the entry of JDMC students even when they were on time.
Another member from the organising committee of the fest explained that some of the girls didn't adhere to the guidelines and instructions of the union, and kept breaking lines, which subsequently created chaos. She acknowledged the college committee's need to improve the management and logistics on ground, because of the ruckus which was brought about by a larger than life crowd, which proved too hard to handle. She, however, reaffirmed the success of the fest, and the security issue manifesting only as a minor hiccup in the erstwhile grand scheme of things.
Another member from the organising committee, Tanya Tyagi, the social media, head explained, "All the students of other colleges were made quite aware of the fact that students of JDMC will only be allowed to attend the concert as it is printed on our every marketing collateral and poster." She also added, "All students who were on time were given entry. Students who are accusing us of not giving them entry were the ones who were late."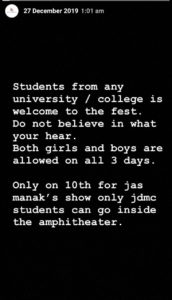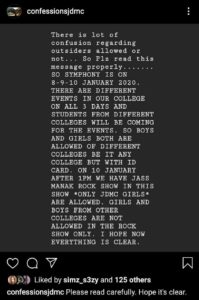 Featured Image Credits: Rishabh Chauhan for DU Beat
Paridhi Puri