Sri Aurobindo College's Dance Crew 'Crunk' was banned a few days back by the college, bringing to light several instances of harassment and abuse perpetrated by certain members, adding to the list of toxic cultural societies within DU.
Trigger Warning: Physical Abuse, Harassment and Image of Bruises
'Crunk', Sri Aurobindo College's Dance Crew, one of the most reputed societies within the Delhi Dance Circuit (DDC) was disbanded by the college recently, following the suspension of the current president, Harsh Sharma, and PR head, Srishti Arora due to several incidents of physical and mental abuse and harassment, propelled by one of the present-choreographers, Divyansh Tripathy, a recent-graduate of Aurobindo College.
Speaking to DU Beat, Mitali Goyal, a student at Aurobindo College, former Vice-President of Crunk, and a victim of the shocking incidents that occurred within the society, recounts her journey through Crunk:
 "I joined Crunk in my first year in 2021 when Divyansh Tripathy was the President. Things went quite smoothly as there were some choreographers above him in the society who held power. However, during my second year, 2022-23, things had changed. Divyansh had passed out then but was coming to give guidance to the crew. From January 2023 onwards, Divyansh would hit us brutally with thick wooden sticks we used for our performance, every time we made mistakes. Many of us developed bruises and when we spoke against it, he would initially excuse it with 'it'll make you stronger' or 'this is how things have been happening in this society'."
As time unfolded, the physical abuse became more intense with crew members- second years as well as freshers- being hit for the smallest of mistakes like coming back late from their breaks or asking for a day of leave from practice. And all this was done under the illusion of 'maintaining the top-track record of Crunk within DDC'. While students raised their voices against Divyansh Tripathy, they continually received threats of being removed from the crew, something they could not afford considering Crunk to be one of the top-reputed dance crews in Delhi.
 "Juniors who talked to Divyansh about leaving the society received threats like 'if you leave this society, I'll make sure you leave the college as well' or 'if I ever see you at Chhatarpur metro station, you will face consequences'" –      adds Mitali to the horrifying incidents brewing within Crunk
The role of teacher convenors within DU also plays a massive role in this incident. Teacher convenors at Crunk were also not supportive of appointing Divyansh Tripathy as the choreographer at Crunk. While they were unaware of his acts of physical and mental abuse, they were aversive of his behavior of frequently, 'shouting and creating nuisance within the college.'
Mitali goes on to add that,
"Initially when the beating wasn't so bad, we as a crew tried to protect Divyansh a lot from the convenors so that he could come and guide the team. But the situation got worse, girls were slapped if the color of their jeans was slightly different from the one that was required at the performance. He would beat up the crew with those wooden sticks at fests as well, injuring their feet and hands. After the performance was over, he would send a sweet apology message to excuse his behavior. I had had enough and left the society in March 2023 and complained to the teacher convenor about Divyansh and the society was eventually banned a few days ago."
As the 2022-23 session wrapped up in May 2023, Harsh Sharma, a batchmate of Mitali was elected as the President of Crunk for the 2023-24 tenure. Besides Harsh, Srishti Arora another batchmate was elected as the PR Head. However, despite his record, both heads decided upon re-appointing Divyansh as the choreographer of Crunk.
"Recently, many freshers out of Crunk had spoken up against Divyansh forcefully flirting with the juniors despite them being uncomfortable about it. To put a stop to all of this, we went up to the principal to file an FIR and we complained of physical and verbal abuse against him with all the witnesses. We filed a FIR against Divyansh at Malviya Nagar Police Station." –      Mitali adds to the series of events
Members within Crunk also raised concerns about suspending Harsh Sharma and Srishti Arora for continually associating Crunk with Divyansh Tripathy despite numerous backlashes. However, while Crunk has been disbanded from the college, Harsh and Srishti have not yet been officially suspended but their entry has been banned from college. Concluding the conversation, Mitali says that,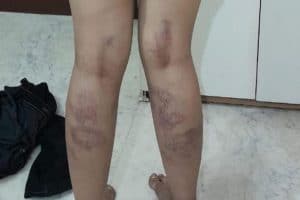 "The worst part about all of this was the fact that despite having the power to stop Divyansh from perpetrating his horrible behavior upon the fresh batch of juniors as well, Harsh and Srishti did not take any measures but encouraged all of this."
With several conversations creeping
 up about the toxic cultural societies within DU, it is relevant to note how students are forced into this narrative of productivity at the cost of self-degradation under the fake illusion of fame and repute in society. While societies are the spine of DU life, getting too consumed with the ideology of fame and credit can take a toll on one's college experiences, perpetuating unhealthy spaces within the campus, like Crunk.
Read Also: Unveiling the 'Culture of Toxicity' in SVC's FilmSoc
Featured Image Credits:
Crunk 1: cover picture, Credits: Facebook Account of Crunk
Crunk 2: Caption: Bruises Developed by Crunk Members For Being Physically Abused with Wooden Sticks by the Choreographer, Divyansh Tripathy, Credits: Mitali Goyal (Former Member of Crunk)
Priyanka Mukherjee