PGDAV Evening  students  found themselves suspended indefinitely after organising a peaceful protest in their college premises. The college has also imposed a fine of Rs. 1000 on the  students.
---
In a recent commotion about their annual cultural fest, Pravaah, to be held on 21and 22 March 2023, PGDAV Evening College relayed an indefinite suspension and a fine of Rs. 1000 on four of its students—Aman Tonger, Yash Baisoya, Tushar Dayma, and the fourth, who wishes to remain anonymous—as a consequence of a peaceful protest organised by them on 13 February 2023. According to the aggrieved students, the protest was conducted to request the college authorities permit a DJ on the college premises during their annual fest- Pravaah, but the college disagreed.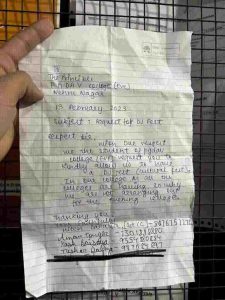 Aman Tonger, a 3rd year B.A. Program student at PGDAV (Evening), who led the protest, said in conversation with DU Beat, "We wanted a DJ at our fest, and even after submitting an application to the principal, we received no response. So, we decided to organise a small, peaceful protest to express our dissatisfaction with the same. We didn't misbehave with any teacher or student or cause any damage to college property; it was a purely peaceful protest". The students were soon approached by the principal and their administration and were asked to write an application with all their names, contact details, and signatures. According to Aman, the principal said, "naam likhdo, tumhaare saare kaam ho jaaenge."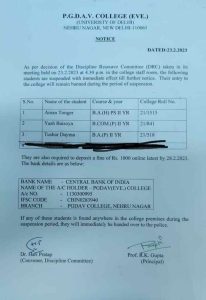 Adding on to this, another student who found themselves suspended after this protest stated, "A few days after the protest, all four of us who signed our names on the application received an email from the college informing that we are required to be present before the Disciplinary Committee on 23 February 2023 at 4:30 PM." The very same day, after their hearing in front of the discipline committee headed by the convenor, Dr. Hari Pratap, and the principal, Prof. R.K. Gupta, these four students received another e-mail officiating their suspension, that too, in an indefinite capacity. Alongside the suspension, the students were also liable for a fine of Rs. 1000 and were required to deposit it before 28 February 2023.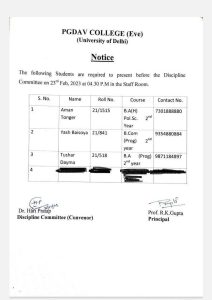 It has been more than a week since the notification of suspension was sent out; however, the issue remains unresolved. "They kept calling me every day until I deposited the fine. The moment I did it, they stopped calling or emailing about anything. We still have no word about what happens next," one of the students, who wishes to remain anonymous, stated.
I had an exam during the period of my suspension, and after my exam, I needed to submit an application at the principal's office. One of the guards helped me to the office with the application despite knowing full well it could jeopardize his job. I got to learn later, he got suspended for a week as a repercussion of letting me inside the college premises.

–Student of PGDAV Evening College
DU Beat has tried contacting the college administration multiple times, but there has been no response or comment from their end, so far.
Vidushi Sinha
Featured Image Credits: Student of PGDAV Evening College