Following a press briefing by JNUSU (Jawaharlal Nehru University Student's Union), teachers of the varsity marched around the campus to bestow solidarity with students who faced the wrath of police forces on Monday in light of their protest against the arbitrary fee hike.
 A day after several  Jawaharlal Nehru University (JNU) students were thrashed, manhandled and jailed for protesting against the fee hike, the varsity's teachers association marched past the campus in solidarity with the students. The protest on Monday was marred with intense scuffle between protesters and police forces. Around 100 students who were detained yesterday have been released. Several students suffered injuries after government deployed 2000 Central Reserve Police Force (CRPF) to contain the protest.
As the march began at campus's main gate, teachers of the varsity started raising slogans such as "Fee hike waapis lo" (Revoke the Fee Hike), "JNU VC Ko Jaana Hoga" (The Vice Chancellor must go), demanding for the Vice Chancellor's resignation.
"We are standing with students from the very beginning. Fee hike should not take place otherwise underprivileged students will lose the opportunity to study. If public education system collapses than people like us talking here won't be in a situation to raise voices", said Professor D.K. Lobiyal who teaches in the School of Computer and System Sciences.
On the question of the Ministry of Human Resource Development (MHRD) forming a three member committee to look after the fee hike issue he said,  "The committee is saying that (Vice Chancellor) VC should talk to the students. So, MHRD had to formulate a committee for getting the Vice Chancellor in touch with students? Why is the Vice Chancellor there for?" Demonstrating his displeasure he went on to to bring into light that if it requires MHRD to instigate a conversation with students then what's the need of Vice Chancellor in a University. He added "MHRD has legitimised our claim that this VC is incapable of running JNU."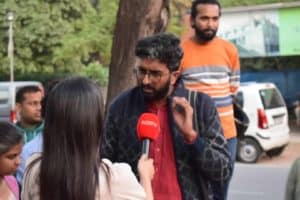 Media flocked in the campus to cover the protest. In picture: N. Sai Balaji (ex-JNUSU president) talking about the issue with NDTV. Image credits: Priyanshu Sinha for DU Beat
Various media organisations had flocked in to cover the event which was preceded by a press conference by the JNUSU. Reconciling his chilling encounter with police yesterday, Shashi Bhushan Pandey, a student union councillor said, "I told them (Police) that I am visually impaired, so that they would spare beating me. But No! One of them hit me from the front and when I tried to flee, I was beaten on my leg. The boy who helped me and took me to the hospital was also attacked by the Delhi Police."
The brutality on Pandey, a visually challenged student got the University's Visually Challenged Students Forum to issue a notice condemning Delhi Police's action towards students taking part in peaceful march demanding accessible and affordable education for all.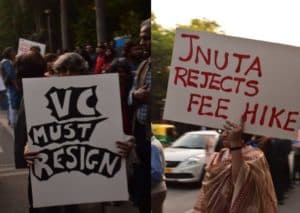 Teachers assembled near the main gate with placards in hand. Image credits: Priyanshu Sinha for DU Beat
Later on Tuesday, the JNU outfit of Akhil Bharatiya Vidyarthi Parishad (ABVP) issued a statement  that condemned the JNUSU and alleged that the left led student union of making the issue their agenda leaving behind rest of JNUites who oppose their ideology. The statement said that as the hike affects every JNU students, their should be a joint struggle committee consisting students from all ideological background. ABVP, who holds no political representation in University's Student Union rejected the high power committee set up by MHRD and demanded JNU administration to reclaim the 6.7 Crore Rupees that University Grants Commission (UGC) had promised to waive off as additional fee charges.
The protest against exorbitant fee hike entered its 21st day on Tuesday. The exponential hike increased room rent from INR 10-20  to 300-600 per month. An additional service charge of INR 1700 will surge the fee to INR 2,000-2,300 per month. This hike would make Jawaharlal Nehru University the most expensive Central University in India, surpassing even Delhi University whose average annual fees is Rs 40,000-55,000 . After dissatisfaction on a partial rollback by University's executive council, the Student Union went on with their protest which has already witnessed the participation of huge number of students, many even from outside the campus flocking everyday to stand with the students.
Priyanshu Sinha 
Feature Image Credits : Priyanshu Sinha for DU Beat