The Staff Association of Shri Ram College of Commerce (SRCC) protested against the circular which directed colleges to appoint guest teachers against full time vacancies.
The Staff Association of the University of Delhi's Shri Ram College of Commerce held a protest against a circular dated 28th August 2019 issued by the Assistant Registrar of the University which directs the appointment of guest teachers against full time vacancies.
On the appeal of the SRCC Staff Association, students joined the teachers in large numbers outside the college and they marched towards the Vice Chancellor Yogesh Tyagi's office to submit a memorandum.
"Guest teachers are paid on per lecture basis only for lectures held and that too subject to a ceiling on payment / number of lectures in a week. This is unjust for young talent aspiring to become a teacher and shows a lack of concern for teaching-learning", the staff association said.
They further added that the circular "is unmindful of the co-curricular and extra-curricular activities as well as various institutional activities in which full-time teachers participate."
Calling the circular "unwarranted", they further highlighted how it has caused uncertainty and distress among different colleges due to varied interpretations.
The Varsity had been filling the vacancies using ad-hoc teachers currently who are given fixed monthly stipends and are hired on a four months contractual basis. Most of these teachers are working for over a decade and are awaiting permanent recruitment as they are currently not entitled to the benefits of permanent faculty members.
Elaborating upon the uncertainty looming over these ad-hoc teachers, the statement said that "uncertainty exists as to whether or not the existing teachers working in ad-hoc will be renews in the same capacity in a few days time when the term of their current appointment ends."
The Staff Association of Ramjas College extended their support to the SRCC Staff Association and said, "Ramjas College has perhaps the largest number of non-permanent teachers, some of them working for more than 10-15 years. We share your pain and imminent fear."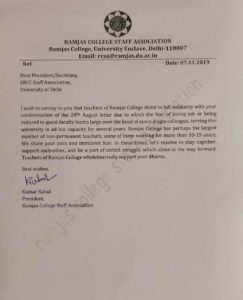 The memorandum was submitted to the Proctor, University of Delhi as the VC was unable to meet the college's representative. The proctor assured the protesting teachers that the existing ad-hocs will not be replaced.
Feature image Credits: SRCC Staff Association
Shreya Agrawal