All that is old is gold; this holds true in the case of khadi which is, the clothing material that played a massive role in the struggle for Independence.
"Swaraj cannot come through the machine. But if two hundred million people with full understanding produce khadi with their own labour and wear it, the face of India will be transformed," Gandhi ji's courageous confidence in khadi was one of his most articulated convictions, and when he said that wearing khadi can change the spirit of India, he was right. He proved himself by making khadi the synonym of swadeshi.
The humble khadi clothing has now transformed itself into a style quotient. To change is to live, and to adapt is to grow; which is absolutely true in the growth trend of the humble khadi. Khadi not only can be produced in variable counts and weights, making it suitable for all weathers, but it is also eco-friendly, and has a low carbon footprint as compared to other types of cloth. Here is how you can style it to make a statement:
Outdoorsy Kurtas
Outdoorsy kurtas can be sported with either a pair of denims, or pyjamas. For footwear, settle on a couple of Kolhapuri chappals that will loan you an ethnic yet contemporary look, which works everytime.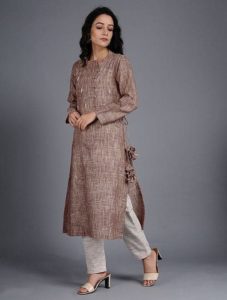 Pastel-coloured Khadi Shirts
Light coloured khadi shirt teamed up with linen bottoms, chinos, or simply denim will surely add to your personality. Furthermore, khadi shirts are moistureabsorbent and skin-friendly, ensuring allround comfort. A sleek look would be to style an oversized shirt, cinched with a statement belt at the waist, paired with comfortable leggings.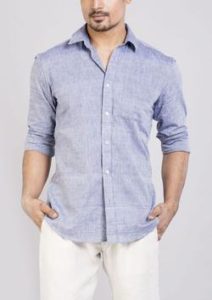 Nehru Jacket
The Nehru jacket, paired with a white kurta and pyjama, or with a shirt and trousers, is the go-to for a more casual but effective look. Printed versions add a unique flare to the outfit.
Khadi Sarees
For job interviews or professional settings, a khadi saree is the go-to for a look that is easy to carry yet makes an impact. A range of fabrics from pure khadi to silk khadi, offer a wide range of options.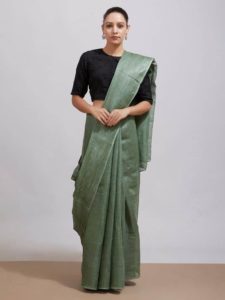 One of the biggest khadi exclusive stores in Delhi is in Connaught Place's Outer Circle, which offers a wide range of products. So, get out there and explore your options with the versatile, comfortable, homegrown and sustainable fabric of khadi!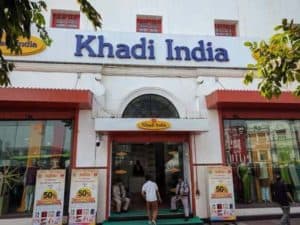 Feature Image Credits: Aakarsh Mathur for DU Beat
Abhinandan Kaul
Bhavya Pandey