On 5th September, DU Beat conducted a telephonic interview with Akhil Bharatiya Vidyarthi Parishad's (ABVP) Presidential candidate Akshit Dahiya ahead of Delhi University Students' Union (DUSU) elections 2019, to shed light on his opinions and views.
Akshit Dahiya is currently a first year L.L.B. student at Faculty of Law, University of Delhi (DU). He's also a graduate in B.Sc. Physical Sciences from Ramjas College, and a silver medallist in bodybuilding from University of Delhi (DU). He became a member of ABVP in 2016.
What are the main issues you will focus on as a presidential candidate? 
Being a sportsperson, I strongly feel about encouragement of sports in University of Delhi (DU). Outside if you notice, all the students who win medals are of universities. Hence, I have a dream that in 2024 Olympics, it should be DU students representing India. 
The other thing is DU special buses, I come from a very low metro connectivity area, so transportation from my home to the varsity became a task. That's why, we would start these buses by making petitions. 
There have been recent cases like the one on Old Gupta road or near Hindu Rao Hospital that seriously question the safety of students. Have you done anything to ensure the safety of students studying and living there? 
We've already taken various steps. I did my entire campaigning on bi-cycles. I took 100 bi-cycles from college to college. I had two motives for it, one was of Green Delhi, it's shameful for all, how we're not contributing as individuals towards this issue. The other is, the scheme of closed campus. A lot of cars are driven in campus making students prone to accidents.
What are the few highlights of the ABVP manifesto for DUSU Elections, 2019? 
Even though we'll have an entire manifesto announcement, few points are: 
Metro Concession passes: Metro is raising their fares constantly making it very expensive for a normal middle-class student of DU to travel. 

Scholarships in University: ABVP is the only group that allotted 50% of their entire budged towards giving scholarships to sportsmen, PWD candidates, and Economically weaker students.

Holiday homework: All the students sit idle for the two months till 20th July until classes start. We've taken a target that will we provide 10,000 students with internships in summer vacation. 
How inclusive is ABVP towards LGBTQIA+ students? Will they receive adequate representation? 
It should be noted, that in our manifesto we have mentioned that we want free education for Transgender and the entire LGBT community. 
DUSU seems an unapproachable entity to the common DU student. Will you take any steps for making it more student friendly and less intimidating? 
I was never part of student politics earlier. I was a studious student. So, I'm well aware of the thought process of sports and study-oriented students and I will run a cycle of schemes and programmes to bring them to DUSU. Already ABVP-led-DUSU has done events like "She the Change" to increase the involvement of women and we will continue this even for cultural society members, and sports students as well.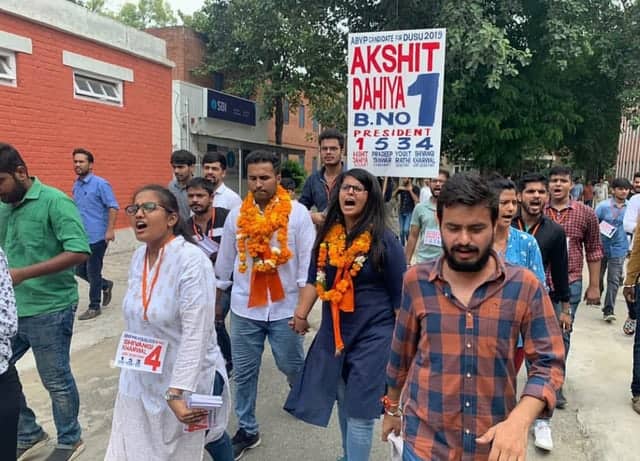 Lyngdoh Committee has kept 5000 as maximum expenditure for campaigning. How do you and your party abide by it? 
Our entire party follows this thoroughly as ABVP works on ground level and each student gets affiliated naturally. We work under those INR 5000 per candidate very easily. 
Campaigning for DUSU often leads to littering in campus by all political parties. What steps have you taken to avoid this? 
Our motive this time is Clean Campus. We will follow it in depth and thoroughly till the end. There is no way ABVP supports this. We have ensured that the campus had cleanliness. It's just the other parties that don't work all year round and then need heavy campaigning to win, unlike ABVP. 
In 2017, many DU colleges proposed to be given autonomy, which could lead to privatisation of DU's constituent colleges, are you for or against this, and why? 
My opinion and what steps ABVP will take regarding this will only be revealed in our press conference soon.
Last year, there were allegations of EVM tampering against ABVP, how will you ensure that incidents like this don't occur this year and how do you plan to make sure elections are held fairly?
The issue of EVM tampering came because on the post of secretary there were only eight candidates and yet votes had been given on a ninth ballot as well. 
It shouldn't be situated with us, as NSUI won the post of secretary making it evident as to who tampered EVMs. For us, democracy is above all. We have never engaged in undemocratic acts like these.
University of Delhi was recently declared an Institute of Eminence by the Union Government which entitles DU to a receipt of INR 1000 crores over 5 years, however, the trend in 2019 in DU has been of increasing fees and hostel rates, why do you think this is so? And what will your party do to reduce fee hikes and hostel rates?
We have worked a lot against fee hikes for students. Citing a few examples, there was Rajiv Gandhi Girls' hostel which had increased its fee manifold, ABVP went there to protest and accomplished the goal of reducing their fees for students. At Ramanujan College, after they increased their fee by 100%, we protested there for the same. 
In the end, I would just advise all the students to come and vote. We've struggled a lot in history to achieve voting rights for students. They should vote as this time elections will be held on the ideology of nationalism.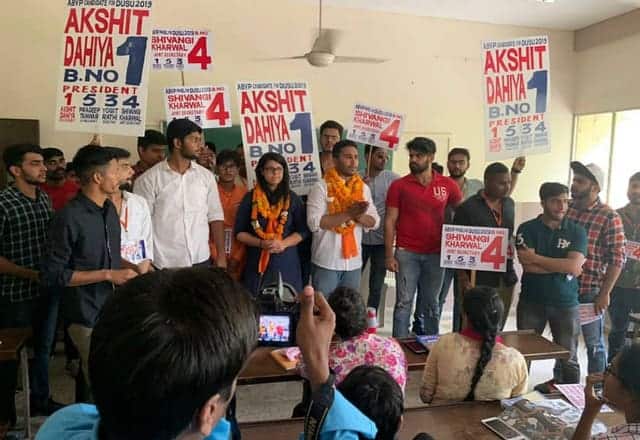 ABVP Panel 
President: Akshit Dahiya, Ballot No.1
Vice President: Pradeep Tanwar, Ballot No. 5
Secretary: Yogit Rathi, Ballot No. 3
Joint Secretary: Shivangi Kharwal, Ballot No. 4
Feature Image credits : ABVP 
Chhavi Bahmba