The Akhil Bharatiya Vidyarthi Parishad (ABVP) came under scrutiny as National Students' Union of India (NSUI) blamed it for attacking their Vice-Presidential nominee Ankit Bharti, three days before the University goes for Delhi University Students' Union (DUSU) elections.
On 9th September, in a violent turn of events that followed a campaign by NSUI in College of Vocational Studies (CVS), their nominee for the post of Vice-President, Ankit Bharti, was was badly beaten up allegedly by members of ABVP. He was immediately rushed to Ram Manohar Lohia hospital for treatment.
NSUI has accused ABVP and its Vice-Presidential nominee Pradeep Tanwar for the attack. Whereas, ABVP denied any such charges. Ankit Bharti, in a video circulated, said, "I arrived at CVS in the morning to campaign where some AVBP goons thrashed me, deliberately entered my car and pulled me out and brawled with me." showing the scars and wounds on his face and body.
ABVP's spokesperson, on the other hand, claimed that ABVP was not involved in the incident. Monica Chaudhary, Media-in-Charge, ABVP said, "As far as we got information, the clash happened between Vice Presidential candidate Ankit Bharti and Secretary Candidate Aashish Lamba from NSUI." The State Media Coordinator of ABVP, Ashutosh Singh, said that this is an attempt by NSUI to malign the image of ABVP because of the immense popularity and support it has been receiving from students of the University of Delhi (DU).
Siddharth Yadav, State Secretary, ABVP in the evening filed a formal complaint against NSUI in Maurice Nagar Police Station for defaming ABVP when only a few days remain for campaigning. The letter mentioned that no ABVP activist was involved in this case and if their party is further dragged in this case, a defamation lawsuit would be filed against NSUI.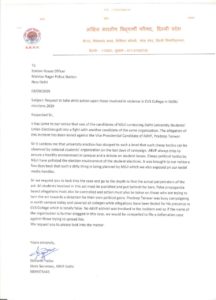 This is the third case this election season when an official nominee has been attacked while campaigning. Previously on 7th September, Aftab Alam, the Vice Presidential candidate from All India Students' Association (AISA) was injured amidst campaigning in Dyal Singh College, and on 6th September, Shivangi Kharwal, the Joint Secretary candidate from ABVP was injured in Zakir Hussain College. The left-wing student party had also blamed ABVP for the incident while ABVP had blamed NSUI for the alleged attack on their candidate.
Apart for this, the ABVP has also been accused of instigating violence on the last day of filing of nomination forms, due to which many members of All India Students' Federation (AISF) and Students' Federation of India (SFI) were unable to file their nomination forms.
In the garb of these accusations, it would be interesting to see how well the saffron-clad student party fares in the upcoming DUSU elections, which is scheduled for 12th September.
Video Credits: NSUI
Video Caption: Ankit Bharti explains the escalation at CVS, where he was allegedly attacked by the members of ABVP.
Feature Image Credits: DU Beat Archives
Priyanshu