Delhi University boosts of some strong alumni in every field be it dramatics, politics or even music. Being big on the music circuit, DU bands have exceptionally evolved and are stepping out of the University circle to perform and make it big. To get to you a band that's struck chord not just within the University but also in other cities, is quite overwhelming with its humble beginning in a college's music society.
With the release of their first album, Myths and Fables, this electronic/pop-rock band, Jester that was started off in the vicinity of Kirori Mal College, Delhi University in 2009 has become a brand and inspiration for many such upcoming bands to evolve and take it up as a thorough profession. The album offers some exceptional songs like 'broken arrow', Harquelin',' La questa' which are my personal favourite. It is easily one of the most relatable albums off late, and freshly offers a new perspective to the indie listeners. The band line up- Dhruv Goel( vocals),Adityan Nayyar( vocals) Pranav Pahwa ( guitars), Akshay Dwivedi ( Bass) Shantanu Sudarshan ( Drums) and Harshit Jain ( Electronic Production and Keyboards). I recently caught up with them (considering their extremely busy schedule after the raving reviews of their maiden album) and got them talking about their DU days and life post-album.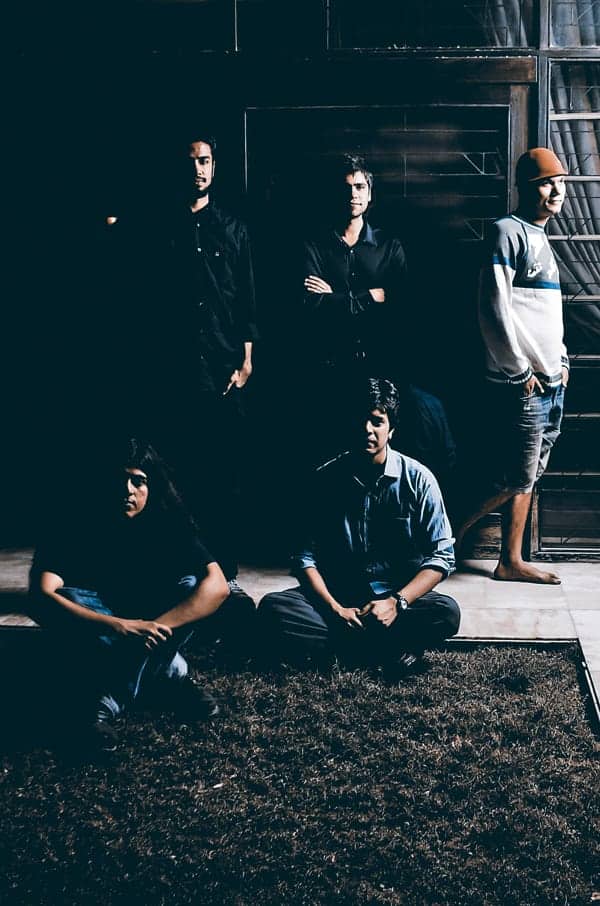 Give us a background of your band. Also, how did Kirori Mal College help you into shaping up the band that you are today?

Jester was formed in 2008,in the music society of Kirori mal college The band was formed at that time with no specific goal but to be the next Kmc college band .Initially we decided to play funk , which was appreciated quite well .We decided to take the band far more seriously after  coming third nationally at campus rock idols .
The band's sound really evolved after the line-up became stable .So the Jester of today really came about when Akshay joined in 2009 and Adhir and Ronny left.
Bands these days are quickly following the international bands. Jester is influenced by?

Jester is influenced by many different genres of music .Each member brings there distinct taste to the band .The palette is really quite varied, we eventually started listening to everything by the end of it .A lot of the influence come from within our country not just from international bands.
Is it tough beating the conventional bands and carving a niche in today's ever evolving music scene in India?
Well it is , if you do the formulaic route of playing shows and when your music is just an amalgamation of your influences .When we took the hiatus in 2011 , the real goal was to find out who we were and how individually we could contribute to something .As individuals I mean our interpretation of music rather than just our influences .By that point I think we all formed our opinions and individually had a sound .Which was then brought together .,The album according to us does not sound like anything else .So feel as though have created our own niche .
I don't think we've ever looked at music as competition; conventional bands avante garde artists all have their place.
Considering it's really critical for a band to get the necessary promotion or the stage for its take off, how did you go about it? Was it tough breaking out of the 'DU band' nomenclature?

By 2009 we were quite sick of the tag and all the competitions .We took part in a lot of them in 2008 and then focused on writing playing shows etc .We just played, we never had a marketing or promotion strategy per say. Those days all we did was played our music and somehow it worked.
The tough part was when we all got out of DU, it was as though we started our journey all over again that's when we start thinking of band as greater than just the music .That is when the band became a brand .Now we promote it as such.
What's your inspiration for the songs? Do you all pitch in?
Every song is written as a collective .Yes we all do pitch in .It usually takes us a year to get a new song down.
In the last couple of years music circuit has expanded in Delhi, in terms of fests, live gigs, performances in colleges, do you feel Delhi is coming up on the music scene and how is it different from other cities you've performed in?
Delhi has come a long way .Even though there has been a boom, there have been a lot of downsides .We were better paid when there were less gigs as well as the gigs were bigger. Delhi has now embraced the pub culture. Lots of gigs and many of them at places which cannot really support a live act .But there is blue frog , Hard rock cafe which are brilliant to play at .The Delhi crowd is really quite open to different music and the indie ,that's what I think separates us from other cities .I think Mumbai is quite similar.
Tell us your favourite rock bands-in India and Internationally.
Rock I'm not sure of, but here it goes
Internationally –Extreme, tool, porcupine tree, Avishai Cohen, Aaron parks, Kurt Rosenwinkel. Harshit likes a bunch of EDM artists, sting etc
India- Zero, Advatia, Thermal and a quarter, October, Five 8.
Tell us about your DU days.
The DU days were fantastic. They were necessary for the band to grow, for our music to grow. The numerous trips really allowed us to be a band. It definitely gave us the exposure. Plus, college days are unforgettable. The fun we had, the pranks we played on each other backstage, on various fests and trips was just terrific.
Your album 'myths and fables' has been doing really well. In fact the 'big bad wolf' has become the anthem track. How has life been post- release, seeing the exceptional response Jester has been getting off lately?
It has been crazy, but good crazy. We're getting a lot of show offers from outside the city. The reviews are a lot better than we expected. In fact what others albums strive to reach at.is what we've been getting.
About 'Big bad wolf'. The song was our first single release and helped us get where we really are. It took us almost 1 year to write and conceptualise the song till its release but it was our hard work well paid off. It was written during our college days; in fact a lot of our songs are from the college days. But in totality it took us around 4 months to get the album out. And the response has been phenomenal.

When not jamming and creating music, what does Jester do?

We hang out at Pahwas. Jam because that just happens. It just happens we all are together most of the days of the week, even if not working together on a song. We chill, dig out old stories.

Lastly, how do you suppose upcoming DU bands who also want to follow the musical path should go about it?

Stop concentrating on shows, Get out there. Try coming up with their own music, it really helps you get the experience, gives you the edge from other bands considering g flocks of bands are flouting about the places. So much of free time college offers, utilize it. Make great music, even more just enjoy your time with music.