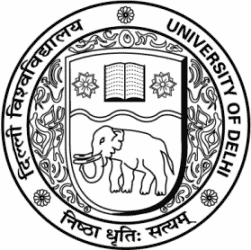 A deputation comprising of all the Delhi University Teachers' Association (DUTA) office bearers met the President of India, Hon'ble Shri Pranab Mukherjee, on September 21 to inform him of the widespread administrative vacuum and sedition of the varsity's autonomy affected by the dysfunctional and autocratic Vice Chancellor of the University from the time he took over in November 2010.
In it's press release for the same, DUTA has stated that the lapses on the VC's part includes 'series of violations of the University Act, its Statutes and Ordinances, the brazen misuse of Emergency Powers to bring in courses and start new Centers like the Cluster Innovation Center, the manner in which he has forced the AC to pass plagiarized courses under the B. Tech in Innovation programme, as well as his culpability and lack of accountability in the widely reported 'Marks Scam' in the first semester results'. This all, they alleged, have led to the embarrasment and dishonor of the Unversity.
Moreover, the delegation reportedly acquainted the President about the apparent impunity with which the 'Vice Chancellor has attempted to stonewall any possibility of dialogue with the democratic organs of the University'. They especially drew attention to the fact that despite DUTA constantly raising the issues of four thousand teaching vacancies in the University, the constitutional need to immediately implement the UGC's Reservation Policy of 2006 and start the process of long-due promotions at the earliest, Dinesh Singh responded with hostility and never made an endeavour to meet the DUTA. They also alleged him of 'making slanderous remarks against DUTA and threatening teachers against participating in the activities of their Association'.
Apparently, the members also claimed that Singh also tried using 'cheap and cowardly tactic' in the sense that he tried putting pressure on the Principals of SRCC and Ramjas College in order to deny their organization a space to conduct its annual general body meeting on September 22. However, according to the them, the tactic was finally withdrawn as he realized that the President had agreed to meet the DUTA.
Urging the President to intervene, the delegation expressed its concern that 'if the VC is allowed to carry on functioning in the present manner, he will push the University towards a catastrophe'. Reportedly, the President has promised that he will ensure the answerability of the VC, and the restoration of administrative delivery and the University's prestige to the satisfaction of the teachers.
Vatsal Verma
[email protected]