<![CDATA[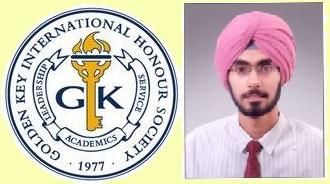 Delhi University student 
Jasraj Bhinder
from
Sri Venkateswara College
 has been awarded the prestigious Golden Key International Honour Society's INDIA HIGH ACHEIVER AWARD of Rs 2.5 Lakhs. The India High Achiever award is instituted by Golden Key to assist Golden Key members to further their education in India. "Jasraj Bhinder has demonstrated excellence in Academics and related academic activities during his undergraduate study. Jasraj also demonstrated how Golden Key's Commitment to Academics Leadership and Service will be furthered by his Postgraduate study, Golden Key will award more such scholarships to deserving individuals in India" said Dr Abhiram Prabhu Golden Key's University Relations Office For India.
"It is indeed a great honour to have received this prize and I would like to thank Golden Key for that. It is always nice to have your efforts in life to be recognised and appreciated and this award does exactly that. More importantly, it urges me to put in even more hard work in my endeavours in the future. The scholarship award will be very useful in covering the costs of my current postgraduate education and in funding my studies further in the future".
Said Jasraj Bhinder after receiving the award from Golden Key.
]]>