Lok Sabha Elections 2014 are here. The voting  scheduled to take place in nine phases throughout the country from April 7th,2014 to May 12th, 2014 has already started. The first phase constituting of 6 of the 543 seats being contested for, saw a voter turnout of a whooping 79.5%. The graph has of course risen and is  a healthy sign for the Mandate 2014.
A mega turn out like this could mean resentment in minds and desire for change in hearts of people. Only as the process unfolds further we shall know, whether this trend continues in the phases to come and if it leads to sustenance of current throne holders or formation of anti incumbent government. However, another aspect to attribute this turnout could be the increasing glamour quotient of election contenders  and an upsurge in technology driven promotion.
As glamour embraces politics!
Indian politics is no longer what it used to be decades ago. Nor is the image of Indian 'neta' same any longer. The white kurta dhoti guy with specs resting on his nose and hands resting on his round belly, wearing a Nehru jacket and a Gandhi topi atop his head ceases to exist in real and is only to be found in works of fiction.  Indian leaders today are dynamic,brand conscious,completely informed, well dressed and nowhere less as the demarcating line between politics and glamour industry is gradually disappearing.
Bollywood celebrities like Dharmendra Deol, Hema Malini and Late Sunil Dutt have been into politics for decades.  This year too,  numerous Bollywood celebrities are looking for a decent second innings in politics. Kirron Kher (BJP Chandigarh), MNS candidate Mahesh Manjrekar, Samaajwadi Party's Kamaal Rashid Khan, BJP's Smriti Z. Irani (from Amethi) and Paresh Rawal (from East Ahemdabad) are some of such names who've been a part of the glitzy industry and now wish to serve the people. In addition Congress is also fielding veteran actors such as Ravi Kishan, Aparijata Mohanty and Nagma as contenders from their party.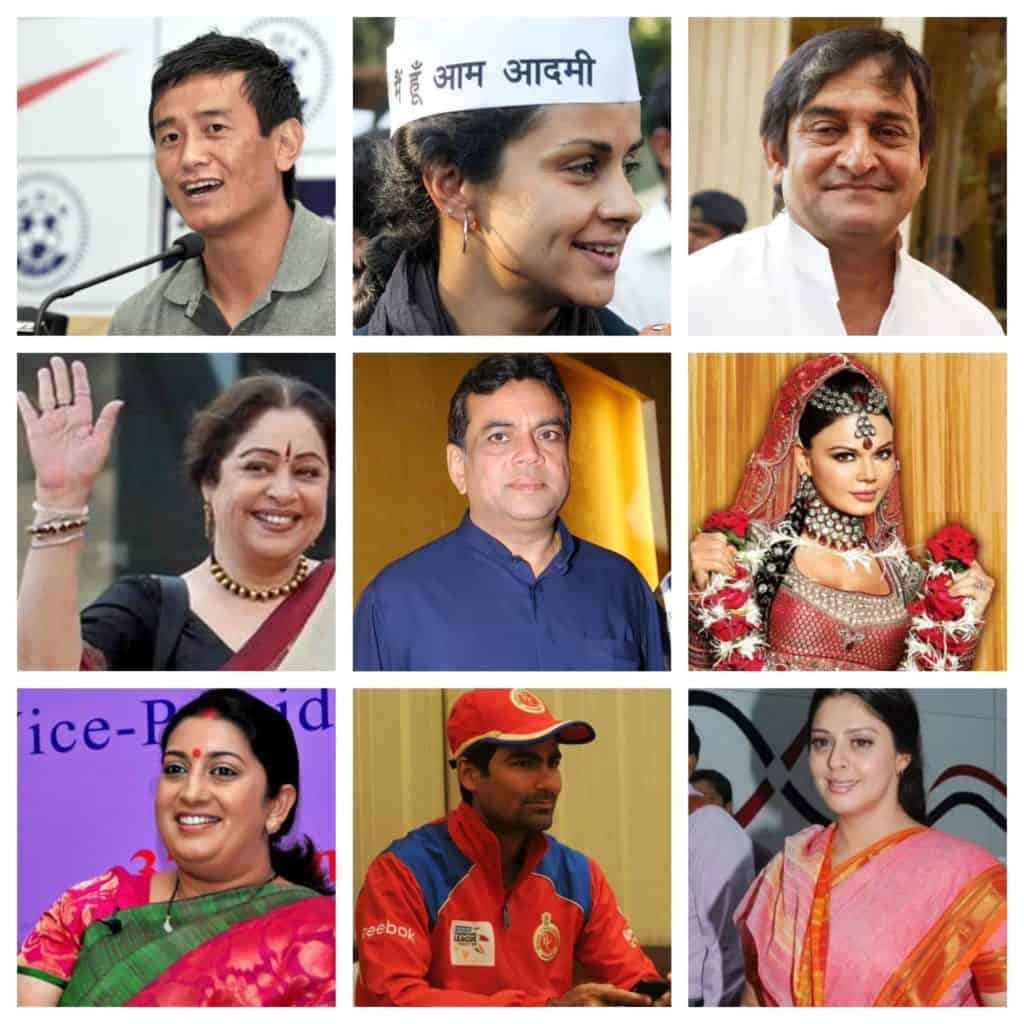 Also, 2014 elections witnessed an inflow of young and fresh blood into the system with numerous ticket receivers being representatives of the youth of the nation. Gul Panag (AAP Chandigarh), Babul Supriyo( BJP West Bengal),  TMC's actor Indraneil Sengupta,  AAP's Jaaved Jaaferi and Rashtriya Aam Party's Rakhi Sawant are few famous people to name. The list isn't just limited to Bollywood  but also famous sports personalities like former Indian cricketer Mohammad Kaif, famous footballer Baichung Bhutia and magician P.C. Sorcar Jr. are also contesting Lok Sabha 2014 polls.
As the glamour quotient of politicians is rising,  India is eventually having leaders with better personalities and perspectives. Also, the celebrities have their own fan base, which helps them  to garner support in this new arena. The goodwill of celebrities comes handy for the party too, and as people have seen them and heard of them, the celebrities eventually have an advantage over their fellow contenders who are relatively unknown. In the elections of 2014 too, some celebrity seats like Amethi shall be interesting to keep an eye on.
In Social Media's Ambit
The Lok Sabha Elections 2014 are the first ones to come after internet, smart phones and social networking sites like Facebook & Twitter have become household names and their updates have become the topic of dinner table discussions. No matter any other industry has or has not, but politicians have very well exhausted this unique methodology to reach out to the people at relative ease and cost efficiency. All major politicians and parties have launched their Facebook pages and Twitter handles that keep the party supporters and public updated on movements and activities of their leaders.
Arvind Kejriwal, who is being considered the pioneer of this new trend, has used it smartly enough, that within few years of its formation and function, the party tops the Twitter followers list, leaving behind the traditional twin parties – INC & BJP.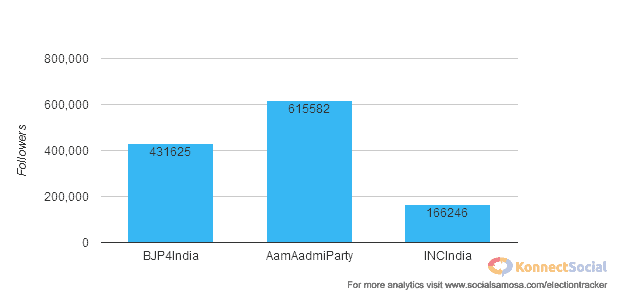 AAP tops the list in popularity ratings based on Twitter followers of the three major parties in India.         
This can be attributed to Kejriwal's spontaneity with updates and posts, leaders' humorous twitter conversations and patience of accepting sportingly even the negative most regards and gestures with utmost grace. He was also seen engaging in a conversation with the attacker, an auto driver Lali who allegedly slapped him in his rally. The video footage have been posted online, pictures uploaded on Facebook, indeed the best way of social media marketing.
Arvind Kejriwal tweeted a parody song made to mock his frequent staging of Dharnas, refering to it as an 'interesting song' on February 16th, 2014.
Interesting song – http://t.co/TAK8c8taos

— Arvind Kejriwal (@ArvindKejriwal) February 16, 2014
Numerous social media websites like Facebook & Twitter have been carrying out surveys and online opinion polls to provide insights into what voters feel.  Facebook has been showcasing leading parties and candidates status at a glance, while Twitter is running '#ElectionTracker2014'. Another social media platform, Social Samosa, is carrying out another election tracking mechanism that shows politician popularity in terms of positive/negative mentions on Twitter/ Web for voters to judge
Another interesting trend observed in terms of unofficial online promotion, has been of the 'Norinder Mudi' memes, that combines random lines with the jingle ab ki baar, Modi sarkar. The idea has gone viral, and off late, similar memes on Arvind Kejriwal have also begun to circulate in social networking circles.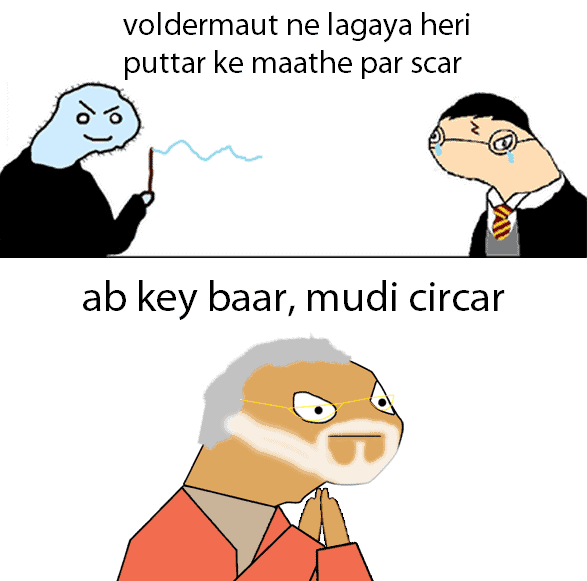 Not only has social media eased the way of reaching the masses, it has also led to some tiffs, jibes and cold wars among competitors. The recent Kirron Kher – Gul Panag face off on micro blogging website – Twitter has been an example of the same.
Doubt if I'll have the energy to run around like this and serve my people, when I'm 60.I guess that's why there's normally a retirement age.

— Gul Panag (@GulPanag) March 19, 2014
My father is 101 years old and still happening. He said," Good Luck Puttar. You have Always been winner." For me Life starts at 60.

— Kirron Kher (@KirronKherBJP) March 19, 2014
Thus in all, the Lok Sabha elections of 2014, have been different in all terms, from participation to promotion. The trend till date is encouraging, and it is hoped to continue, for Democracy is a religion, elections are the festivals, wherein everyone is supposed to celebrate and participate. Don't merely exist, make your say count, make a difference, for there is ample information available,  in news dailies and on TV, on radios and with experienced people, and now even at  a distance of a few clicks.
Make an informed well thought upon call. I am a first timer like you, but trust me, that ink mark on my finger, I think it'll all feel good. Happy Elections!