The final day of Lady Shri Ram College's Genderknowledge started as brilliantly as the previous ones, with a visual presentation of the Representation of Gendered Identities and Sexuality by Vidya Shivadas, art intellectual and Director of the Foundation for Indian Contemporary Art, moderated by LSR professor Jonathan Koshy. The presentation carried throughout John Berger's theoretical framework of the 'ways of seeing' as defining and shaping the ways of being. Shivadas started her presentation with a quote from George Baselitz, an acclaimed German artist who said that the biggest problem with women artists was that none of them could actually paint! She then took the audience through both Indian and European works of art throughout history that showed how gender has been structured. The works she displayed also reflected the reciprocal nature of vision, and raised questions of nude paintings, women artists and feminist art.
Following this was a performance that is difficult to capture in words, a performance that had to be seen to be believed – Mallika Taneja's 'Thoda Dhyaan Se'. A one act play that captured the entire culture of victim blaming, it was described aptly by Mr. Ravinder, LSR professor as an 'act of epic proportions'. It also reflected the power of mediums like theatre and art in expressing and showcasing the issue of gendered violence.
The first plenary ended with an overwhelming panel discussion on masculinities – the distinguished panel was moderated by Karuna Rajeeva and Sameer Chopra, Professors of the LSR English Department, and consisted of eminent filmmaker Rahul Roy, professor and poet Akhil Katyal and PhD student Vikramaditya Sahai. The idea that masculinity 'demands' of men to never speak about what it is to be men, or how one feels if one is a man and the intrinsic connections between masculinity and violence were deconstructed by Rahul Roy, and drawn on by Akhil Katyal who put several questions of sexuality in South Asia in particular historical contexts – speaking of how India has always had 'same sex desire' but the word 'samlaingikta' is contemporary, and can therefore, not be used to describe all same sex desire that has ever existed on the subcontinent. He then spoke about the various terms used to understand homosocial behaviour in popular hindi porn culture – gaybaaazi, laundabaazi, and 'gandi aadat' and how they influence perceptions on homosexuality. The most lively, though, was Vikramaditya Sahai – identifying as queer and having draped a saree on male body. The use of the body as a symbol of resistance, a mark of protest as well as critiquing the queer movement from within were some poignant and important contributions Vikramadtiya made not only to our understanding of masculinity, but also queer theory and politics.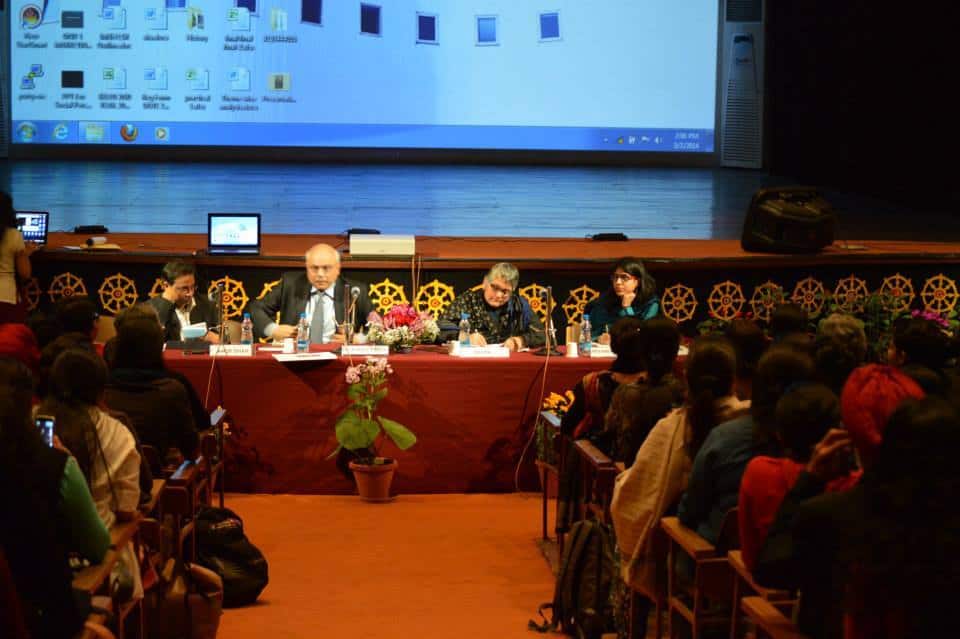 Plenary two, or the afternoon session was themed 'The womb and beyond', and started with a panel discussion on gender and health, moderated by Parul Bansal and Priyanka Banerjee, consisting of Dr. Anoop Dhar (who beautifully decoded the perceptions of mental health and gender throughout the centuries believing that what we see today is the 'Mcdonalidization of Mental Health Institutions), Gynecologist Dr. Puneet Bedi (who complicated the idea of reproductive freedoms that come with safe abortion and contraception and linked them to the still prevalent practice of female feticide) and Deepa ji ( who gave us an insight into the tabooed practice of surrogacy, the objectification of women's bodies that it leads to and the general stigma around the practice.)
This was followed by the screening of Vani Subramanium's 'It's a boy' which brought out interesting contemporary patriarchal practices and modern technologies being used for the patriarchal agenda (sex selective abortions, MMS scandals etc).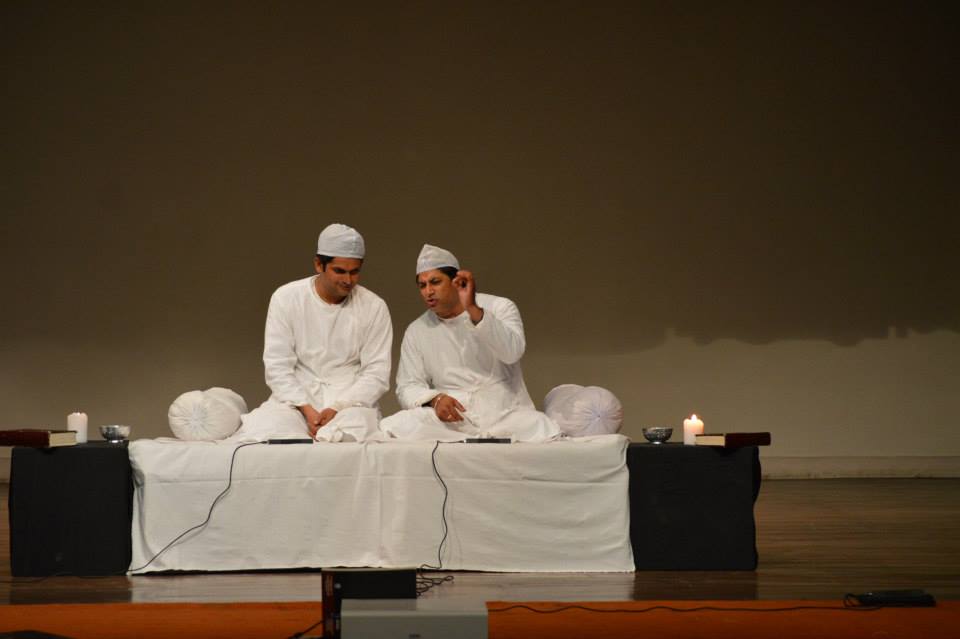 The congress came to a close with "Daastan Goi: The Lost Art Form of Urdu Story-Telling" which was performed by Manu Sikander Dhingra and Nadeem Shah and directed by Mahmood Faroogu. Ms. Sonali Mishra, Assistant Professor of History at LSR, introduced their session. It consisted of the narration of an Urdu 'dastaan' called Chauboli about women, wit, and standing up for one another in an oppressive system.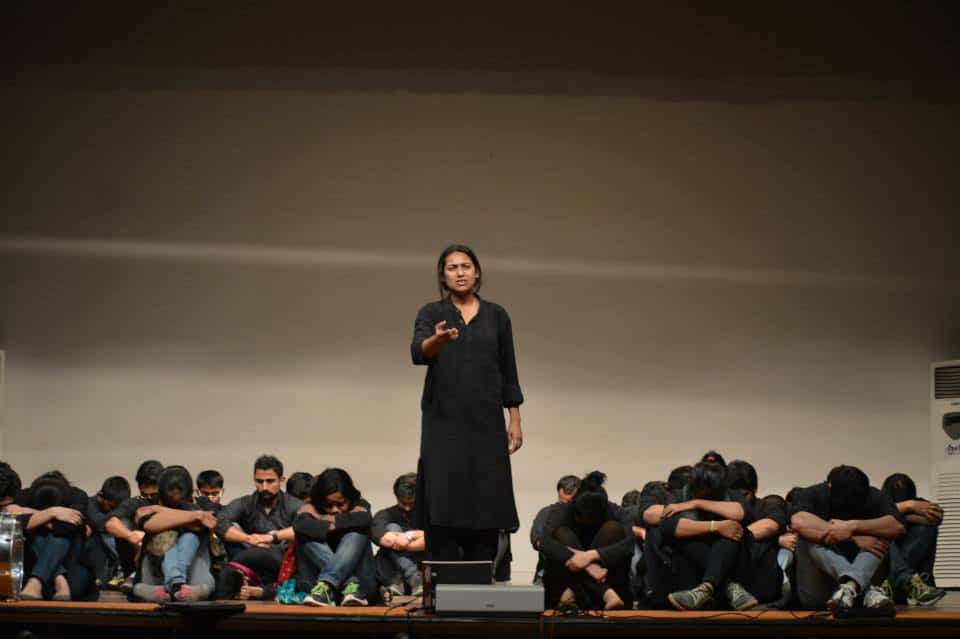 This was followed by the final performance by Asmita theatre group, "Dastak: Voice against women atrocities" directed by Arvind Gaur  highlighting the heinous violence and harassment against women in public and personal spheres.
Image Credit: Sahiba Chawdhary for DU Beat