University of Delhi began sale and receipt of the common pre-admission OMR forms on Friday, 5th June. The forms are available at 8 designated admission centres of the University. Last date to fill the form is 15th June. A candidate is required to fill the pre-admission form only once, either online or offline. Last week, the University began accepting online forms on its website.
DU deploys an 'optical mark recognition' type of form for applications. The form will have circles that the candidates will have to darken entirely with a pen. Care must be taken to ensure that the necessary circles are darkened completely but no excess ink should be used on the form.
The forms are available at the following centres:
1. ARSD College
2. Gargi College
3. PGDAV College
4. Dyal Singh College
5. S.G.T.B Khalsa College*
6. Rajdhani College
7. Shyam Lal College
8. Maharaja Agrasen College
*Added to the list later by DU in place of SGGS College of Commerce.
The following subject code chart should be used while filling the form: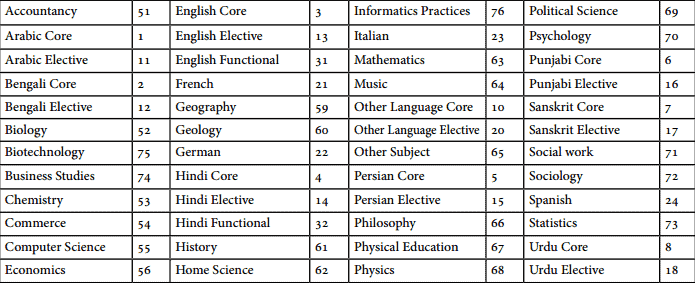 The University has specified the following guidelines for filling of the application form:
The form can be bought from any of the centres and can be submitted at any of the centres. A candidate is not required to visit the same centre for both the purposes.
There are 2 forms: one for General/OBC categories and the other for SC/ST/PwD categories. A candidate must fill the correct form.
Only blue or black pen is to be used to fill the form.
The form, after filling, should be photocopied (both sides of the form on one sheet of paper, back to back). The photocopy is to be kept by the candidate as acknowledgement.
It must be ensured that the formed is not folded, crumpled or mutilated. No markings should be made on the form other than those required. The marks on the margin of the form are also not to be tampered with.
For PwD candidates: PwD 1: Blindness/low vision; PwD 2: Hearing impairment; PwD 3: Locomotor disability and Cerebral Palsy
For more information, visit: http://du.ac.in/du/uploads/Admissions/2015/ug/27-5-2015-ug.pdf
Featured graphic designed by Naman Sehgal
Ishaan Gambhir