On Sunday, May 28, Republic TV ran a story about pro-ISIS and pro-Maoist slogans being scribbled on the walls of Delhi School of Economics, Delhi University. However, the visuals used in the backdrop while running the story were posters made by students from Disha, a Delhi University students' organisation.
Republic TV's broadcast can be seen here.
In response to this, the outfit has written a letter to Arnab Goswami, Editor-in-Chief of Republic TV condemning the irresponsible act of journalism. In the letter, Simran – convener of Disha Student Organisation – alleges that Mr Goswami's channel has falsely used their posters to cover the pro-ISIS news when they had nothing to do with the alleged ISIS slogans. She further asserts that the pictures contextualised the news piece in a way that wrongly insinuated and defamed their democratic organisation.
The association has since issued an official statement and sought an apology from the channel by asserting, "We strongly condemn this pitiable act of irresponsible journalism. We ask that you run an apology clarifying this on your channel and everywhere where you have run this video story (facebook, youtube, twitter etc). In the event of failing to do so by your channel we will be forced to file a defamation suit against your channel and send you a show cause notice." (sic)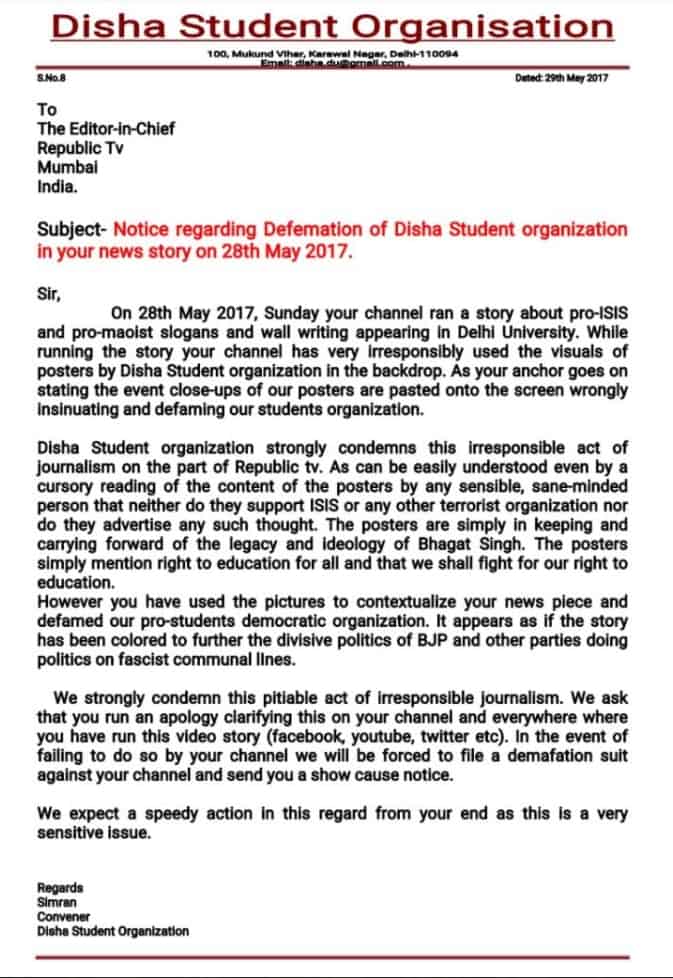 Taking their opposition further, the organisation has now planned a protest demonstration against Republic TV on 31st May, Wednesday, at Arts Faculty, North Campus.
It will be interesting to see how this tussle unfolds. Whether Republic TV will apologise or failing which Disha Student Organisation will go ahead with the defamation suit – only time can tell.
Feature Image Credits: Ultra News
Niharika Dabral
[email protected]