<![CDATA[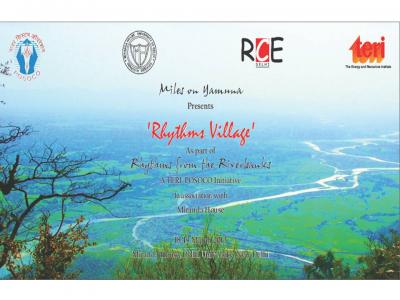 The Enegry and Resources Institute (TERI) and Power System Operation Corporation (POSOCO) initiated 'Rhythms from the Riverbanks'-an educational programme for college students on understanding the culture and ecology of two of the greatest river cities of India-Delhi and Kolkata. Launched in December 2012, the programme, which is currently in its pilot phase, aims to make young people understand the history, culture, economy and sustainability of these river cities with the intention of inspiring them to work towards and the appreciation, recognition and conservation of the rich cultural heritage of these cities. In order to deliberate more on the core issues and themes of the project, TERI and POSOCO are proud to present 'Call of the River-Rhythms Village' – a 2 day conference in association with one of the oldest and most prestigious academic institutions of India, Miranda House, from 18-19 March 2013. Some of the themes of the conference are as follows:
Urbanization and city space
Culture and heritage and its relevance and today's postmodern, globalized world
River-centric city planning
'Cultural leadership' amongst the youth – what would it take?
Focused sessions on Yamuna and Hooghly
Social and ecological issues related to the river
Renowned historians, sociologists, artists, musicians have been invited for the conference. The conference would act as a platform to bring all the stakeholders related to the rivers, most importantly the youth, on one platform. For more information, visit the page on facebook:
https://www.facebook.com/rhythmsfromtheriverbanks?fref=ts
Given underneath is a table of the events taking place at Miranda House, on 18
th
and 19
th
March.
 Day 1: 18 March 2013  
 
0930 hrs – 1030 hrs
 Session I:  Inaugural Session    
0930 hrs – 0945 hrs 0945 hrs – 1000 hrs 1000 hrs- 1015 hrs 1015 hrs – 1025 hrs
Welcome Address         Dr. Pratibha Jolly, Principal, Miranda House, Delhi University   Special Address V.V. Sharma, General Manager, POSOCO- NRLDC   Rhythms Supriya Singh, Associate Fellow, Educating Youth for Sustainable Development, TERI Screening of the Students' Film made as part of Rhythms Shweta Arora, MSc Environmental Studies & Resource Management, TERI University   Vote of Thanks Livleen Kahlon, Fellow, Educating Youth for Sustainable Development, TERI
1030 hrs – 1130 hrs
Session I: Miles on YamunaDU innovation Project Teams
 
1145 hrs – 1215 hrs
Session II: A Life Called Yamuna: Understanding Delhi and its Relationship with the RiverGovind Singh, Research Scholar, Department of Environmental Studies, Delhi University & Co-founder Delhi Greens
1215 hrs – 1300 hrs
 Film Screening & Discussion: Delhi-Work in Progress A documentary film by Krishnendu Bose
 
 
1400 hrs – 1515 hrs
Session IIIPanel Discussion: Rethinking Urbanization, Redefining Development and Rediscovering City Space Moderator: Dr. Suneel Pandey, Senior Fellow, Centre for Environmental Studies, TERI Speakers: Ms. Neelima Soni, Dy. Director, Landscape & Environmental Planning Unit, DDA Dr. Jayanta Basu, Correspondent –The Telegraph & Faculty, Department of Environmental Science, Kolkata University Dr. B.C.Sabata, Senior Scientific Officer, Department of Environment, Delhi Government Prof. Hariharan  Ramachandran, Department of Geography, Delhi School of Economics
 
 
1530 hrs – 1700 hrs
Competition – Rhythm Projects TERI 
1730-2000 hrs
 'Nitya' in ConcertShuheb Hasan (Vocalist), Anil Chawla (Keyboard), Aveleon Giles Vaz (Drums), Rajat Verma (Bass), Rajib Das (Percussion), Qazi Waseem Ahmed (Guitar)  
 Day 2: 19 March 2013Venue: Miranda House, Delhi University
 
0930 hrs – 1100 hrs
 Session IVTale of Two Rivers – Myths, Legends and Realities of Yamuna and Hooghly   Moderator: Dr Srimanjari, Specialist in Modern Indian History, Miranda House, Delhi University    Speakers: Smita Vats, ITIHAAS Dr. Minoti Chakravarty Kaul, Associate Professor Of Economics (Retired), LSR                                                                   Current Senior RA at Dept of History (University of Sussex)       
 
 
1130 hrs – 1300 hrs
 Session V: 'Call to Action: Educating, Engaging and Empowering Youth through different mediums and doorways   Moderator: Rishu Nigam, Area Manager-Visual Media, Film and Television Unit, TERI   Speakers: Ankit Pogula, Independent Film Maker, Tuning Fork Films Radhika Mathur, Coordinator, Right to Information Programme, The YP Foundation Arvind Gaur, Asmita Theatre Group
 
 
1400 hrs – 1530 hrs
A Dastangoi presentation of the great Rajasthani folk story CHOUBOLIBased on the version created by Vijaydan Detha
 
 
1545 hrs – 1630 hrs
Closing Remarks Dr. Pratibha Jolly, Principal, Miranda House, Delhi University  Prize Distribution
]]>