The UGC-approved guidelines make internships compulsory for students pursuing undergraduate courses. The guidelines come after the UGC's previous attempt at bolstering student participation in internships and other similar activities. Read to find out more.
---
On Tuesday, 10th May 2022, the University Grants Commission (UGC) approved the guidelines for making research internships compulsory for students pursuing undergraduate courses. These guidelines come in accordance with the National Education Policy (NEP) 2020 which also aimed at making such internships compulsory for all graduation courses. The guidelines mention two purposes of these internships– "to enhance employability of an individual student" and "to develop research aptitude of an individual student".
The integration of Research, Innovation and Technology Development is the foundation of Atma-Nirbhar Bharat (Self-reliant India). An institutionalisation of Research Internship at Undergraduate Levels is expected to play a pivotal role in catalysing inter-disciplinary/multi-disciplinary/transdisciplinary and translational research culture embedded in NEP 2020," read the guidelines from UGC.
Internship Length
While this step makes internships compulsory for all students, the length of the internship would depend upon the duration of the course a student might be pursuing. Students pursuing a four-year degree course with research would have to do 10 weeks of internship along with one year of actual research work. The students pursuing a four-year undergraduate course without research will also have to do at least 8-10 weeks of internship. Even in the case of students wishing to exit their FYUP programme after the second or the fourth semester, the completion of one internship of 8-10 weeks is compulsory.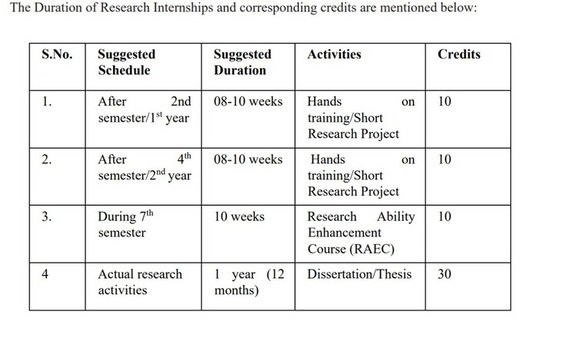 Source: news.careers360.com
Credit System
The completion of the internship would award the student with 10 credits upon a completion of 450 hours. This means that 1 credit implies a minimum of 45 hours of engagement in internship work and activities. Students in FYUP would have to complete an internship amounting to a minimum of 20 credits.
In addition, the UGC has also proposed to respective higher education institutions (HIEs) to offer Research Ability Enhancement Courses (REAC) worth 10 credits.
Few Research Ability Enhancement Courses (RAEC) in research and analytical tools and techniques, worth 10 credits, to be offered during the 7th semester as pre-requisite courses for 4-year degree (Research) students, …. Research work in the form of dissertation/project work preferably in interdisciplinary/multi-disciplinary/trans-disciplinary areas worth 30 credits," read the draft.
Research Supervisors
Under research projects, students will be attached to research supervisors, preferably belonging to other HEIs, for a specified duration at the research facility of the supervisors to conduct a time-bound internship project. Students would be given hands-on training in research equipment, methodologies, techniques, etc., and would learn other aspects of research training, allowing them to gain experience.
Research internship experience can be gained by working with faculty/ scientists in education institutes, research institutions, industrial research labs, nationally reputed organisations and individual persons distinguished in specific fields," the guidelines read. 
Application
Students would be allowed to apply for internships on their own or through faculty mentors by registering on an online portal. After registration and application, students will be selected based on the selection criteria specified under different internships. Further communication would take place with the potential intern through the portal itself or via email, with the host organisation asking for confirmation or acceptance. After that, the students can join the internship upon getting permission from the parent organisation.
Monitoring and Evaluation
Student will undergo internship in the supervisor's lab/ working space at the host organisation. During the period of internship, the parent HEI through the mentor will arrange to keep track of the activities and performance of students as interns at the host organisation, based on periodic reports submitted by students," the draft reads.
After completing the internship, the students will also have to submit an internship report, copies of which will be submitted to their parent organisation and the host organisation. 
Upon completion of the internship, the student would be given a certificate by the organisation.
Read also: "Ensure Reserved Category Seats Are Not Left Vacant, DU VC is Urged"
Feature image: Financial Express
Manasvi Kadian