Students' Union President Aishe Ghosh sustains severe head injuries. Students and teachers have been attacked and hostels vandalised. Roads to JNU shut, and streetlights turned off. Read on to find out more.
Students of Jawaharlal Nehru University were attacked by masked men wielding lathis and other weapons. The news broke in the evening when visuals of the JNUSU President Aishe Ghosh went viral. In the video, Ghosh is heard saying "I have been brutally attacked by goons who were masked…I am not even in a condition to talk, I was brutally beaten up". Gosh sustained head injuries and was soon rushed to the AIIMS Trauma Center. 
Students allege that the masked goons entered Sabarmati, Mahi Mandvi, and Periyar hostels were they attacked students with lathis and vandalized property.
In a video allegedly from the Periyar hostel, women can be heard screaming 'These people are not from JNU, they have acid with them…they are attacking people."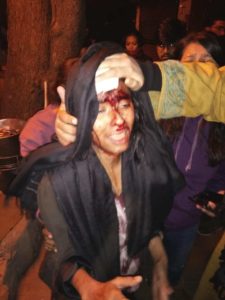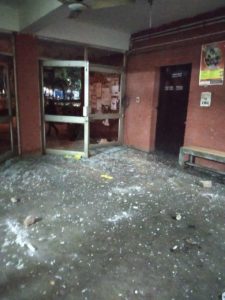 Teachers were allegedly attacked too. Pictures show that Suchitra Sen, a professor at Centre for the Study of Regional Development, JNU was attacked too while she tried to shield students from attackers. 
Screenshots of a WhatsApp group called 'Friends of RSS' went viral which showed members discussing the plans to attack the university and the possible ways to enter the campus.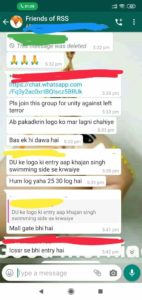 In another video allegedly taken from JNU, chants of 'Vande Mataram', and 'Bharat Mata Ki Jai' are heard. 
The JNUSU has alleged that the attack was orchestrated by the Akhil Bharatiya Vidhyarthi Parishad (ABVP) which is backed by the Rashtriya Swamyasevak Sangh (RSS) and the Bharatiya Janata Party (BJP). The ABVP has denied its role in the attack and has claimed that students of youth groups affiliated to the Left attacked the ABVP members near the admin block. The ABVP claims that 25 of its members were attacked and 11 of them are apparently missing.
The routes leading to JNU have been shut off by the police, As per sources, students aren't being allowed to enter or exit the campus unless they're gravely injured and the streetlights have been turned off. Masked goons with lathis are still freely roaming inside the campus.
Several protesters have gathered at ITO in front of the Delhi Police Headquarters to protest against the incident.
Students were allegedly attacked yesterday too over the indefinite strike over the fee hike, The Students' Union had called for a registration boycott. Satish Chandra Yadav, the General Secretary of JNUSU was attacked along with many students. Students alleged that the perpetrators of the violence were the Jawaharlal Nehru Teachers' Federation (JNUTF), and the ABVP.
Note: This is a developing story and will be updated as more information comes in. 
Image Credits: Various
Jaishree Kumar