Every aspect of North Campus has its own story to tell. Just take the walls for instance; there is something or the other stuck, painted, splattered on these walls that are bound to catch your eye.
One can begin their "Dilli Deewar Darshan" with a common DU thing i.e. student politics. Take the left or the right, various shades of political opinion are expressed on the bricks that form the foundations of several colleges and lanes. This definitely includes the posters and bills featuring quirky close-up photographs with loud fancy fonts. Even before a fresher gets to know about parties like ABVP and NSUI, he will know who is Rocky Tuseer, Rajat Chaudhary or Mahamedha Nagar, all thanks to the endless posters and vibrant graffiti. Getting layers of these posters is like a monthly affair for many such "walls for democracy" in the campus. And some of the thin paper bills even start getting shredded over time making the wall look like a bizarre work of modern art. Sometimes rain might be the reason for the tearing away of these posters. However, we all know that rain and Delhi don't have long-lasting relationships. So, one might wonder which beast goes on scratching off these posters in a savage fashion ravaging our North Campus walls.
However, the walls don't get tattooed with the names of DUSU candidates always. Sometimes there are scribbles of meaningful text and art as well.  Many free thinkers and peaceful revolutionaries form a part of the DU family and their mental product is reflected on the walls too. For instance, you can spot the words "Free Saibaba" spray-painted in different areas. This refers to the sudden arrest of DU Professor GN Saibaba who has been hailed as a crusader for peasant movements. Some detailed imagery and messages can also be found relating to women empowerment, road safety and menstruation awareness. These adornments to the North Campus walls are much needed for the aesthetic appeal and social relevance.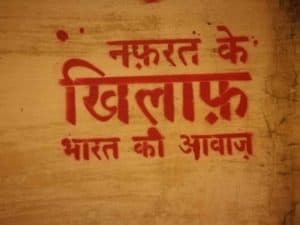 Talking about art and politics and social messages, it is no surprise that the Father of the Nation is also a featured guest. Mahatma Gandhi's face is virtually everywhere in the country be it in textbooks or currency notes or the DU walls. A few walls near Vishwavidyalaya metro station and the souvenir shop, in particular, have several bright murals on Gandhi's morals (no pun intended).  Apart from Gandhi, historical greats like Swami Vivekananda and Bhagat Singh also keep a watchful eye on the students of DU.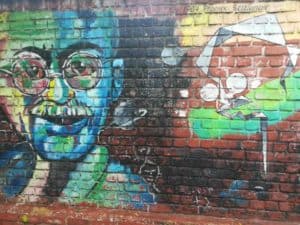 A knowledge hub like Delhi University attracts people from diverse parts of the country. Many shift to North Campus with hopes, dreams and their parents' money in their pocket and tend to shift in flats and PGs. So, it's no surprise that amongst the tons of Post It notes stuck on the walls, advertisements for PG and other facilities occupy a major share too (especially on the Kamala Nagar and Hudson Line side).  The names and ads are totally random so you can expect anything from "Radhe Radhe Boys PG" to "Cook Dhoni".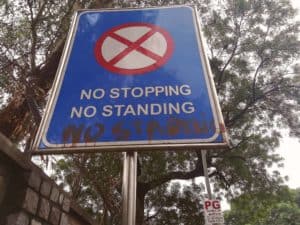 Ranging from mundane to outrageous, these walls are something which makes North Campus what it is. The walls are filled with diverse colours, fonts, political parties, student unions, rebel messages, and paintings. Maybe indirectly, this symbolises the whole DU culture itself, a life filled with hues, cultures and ideas of all sorts…
Featured Image credits- Shaurya Singh Thapa
Shaurya Singh Thapa