The Delhi Police has registered a case against a fake video circulated to create panic amongst students in Mukherjee Nagar. 
The Delhi Police recently registered a complaint against a fake video that circulated and went viral online with hopes of creating panic amongst students in Mukherjee Nagar.
The video shows a police officer telling people to vacate Mukherjee Nagar between 24th December to 2nd January. In the video, the officer is seen warning people, saying that they have warned students, P.G. owners, local vendors, and owners of restaurants, libraries and coaching centres to "book their tickets and vacate Mukherjee Nagar from 24th December to 2nd January." The officer warned people against gathering in the area,  because under Section 144- which prohibits a gathering of more than four people- they can be booked and detained, and that they should refrain from protesting and not "ruin their careers."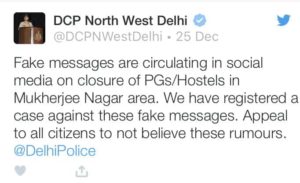 Image Credits: Twitter
An image of the order from the SHO Mukherjee Nagar police station had also circulated amongst students. The police claimed it to be fake, and are trying to identify the origin of the video and the fake notice that was spread to create panic amongst netizens following the CAB protests and the use of police force for quelling it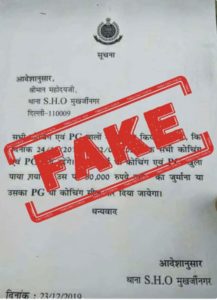 Image Credits: Times of India
"We're all already tense about the situation in Delhi. Many of our friends have already been detained for doing nothing, and with these fake videos and images circulating, news like this is really scary for us outstation students, and our parents are constantly worrying. I know many of my friends were stressed out about the video because they were not going back home for the holidays and were planning to stay in their P.Gs or flats for the winter break," Rohin Dalal, a second-year student, told DU Beat.
Vijayanta Arya, DCP (North-West) said that no such direction has been given by the police. "Fake messages are circulating on social media on the closure of PGs/hostels in Mukherjee Nagar area. We have registered a case against these fake messages. Appeal to all citizens to not believe these rumours," the DCP conveyed via a tweet on 25th December.
Feature Image Credits: The Hindu
Shreya Juyal