"I can't exactly remember when was the last time I was this happy. I came to this event alone, but I'm leaving with three friends and I think they are going to be with me forever!" – Nandini Sundarani
We The Young, a youth media platform, organized Delhi's biggest youth mental health event on 9th November 2019 at IIT Delhi called 'What's Up Zindagi?' Over 200 youngsters came together from across the city to talk about mental health issues that matter to them.
Talking about the safe space created on What's Up Zindagi, one of the audience members, Riya Dutta, said, "I found the courage to express my emotions, I spoke to a friend I had a breakup with, I discovered myself in a different light. After a very long time, I felt like I was not alone. I was in between a room full of strangers but the connect developed over our stories made me feel like I know them since ages."
The event highlights include:
– Seven workshops focusing on individual stories, struggles, and emotions
– Art-based therapy aimed at group catharsis
– Live performances to end the evening along with tons of conversations and hugs
Charit Jaggi, the founder of We The Young and curator of the festival said, "We need to create more platforms and safe spaces for people to come and share their vulnerabilities and problems. We're 333 million young people, the world's largest youth population, and yet so many of us are battling with loneliness, anxiety, and depression alone. No one deserves to suffer alone. There is an urgent need for us to come together as a generation, right now more than ever."
These workshops focused on different millennial mental health issues like everyday stress, anxiety, career confusion, self-esteem, friendship breakups, etc. The moderators of these sessions were leading figures in the mental health field including Juhi Sharma (Light Up, Emotions Matter Foundation), Hitesh Sanwal (Youth For Mental Health), Divya Dureja (LGBTQ Activist & Counseling Psychologist) to name a few.
Talking about these intimate sessions, Aishwarya Rastogi said, "I haven't seen people being so vulnerable and so strong at the same time. It's a beautiful paradox! I resonated with so many people facing similar struggles or worse which taught me to be a little more empathetic and kind."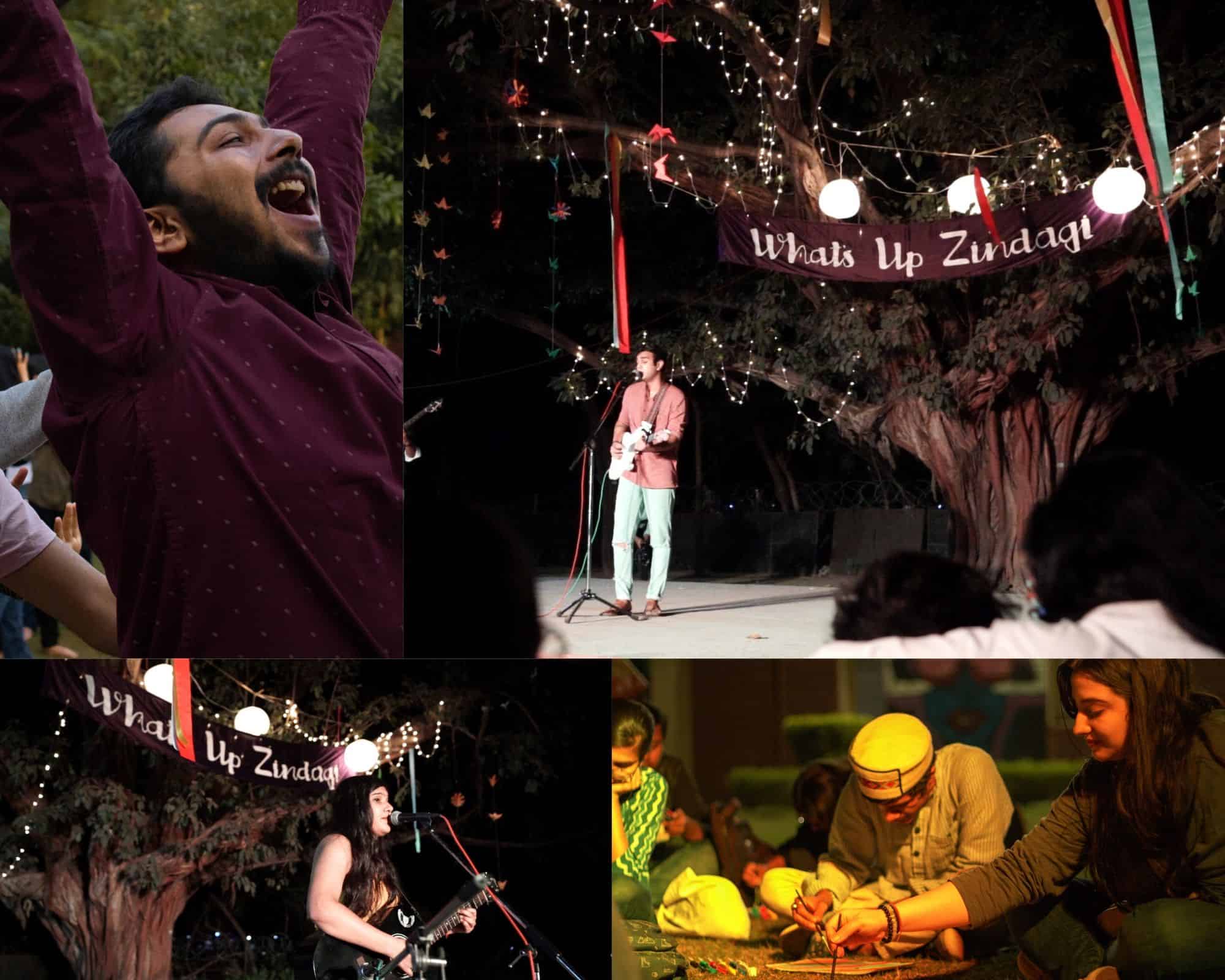 How many times to do we see hundreds of people dancing together and painting to live music, sitting in a lawn lit up with lights and beautiful origami decorations? That's how magical it felt when two expressive art therapy sessions were conducted where everyone got the chance to experience catharsis via art. One of the most candid feedback of these sessions was one given by Pooja Sachdeva who says, "I enjoyed dance therapy the most, specifically the activity where you cheer for the person who loses. Never in my life have I celebrated losses. Losing was fun!" What a way to celebrate the little things in life!
The event ended with live performances by two Indie singers, Vasu Raina and Prachi Gangas along with a spoken word performance by one of the most famous English poets in the country, Ambuj Sen Patra. Hundreds of people soaked in self-love, realizations, all sorts of emotions couldn't help but tear out a little, give out hugs and make a promise to themselves, one that refuses to let life get the better of them!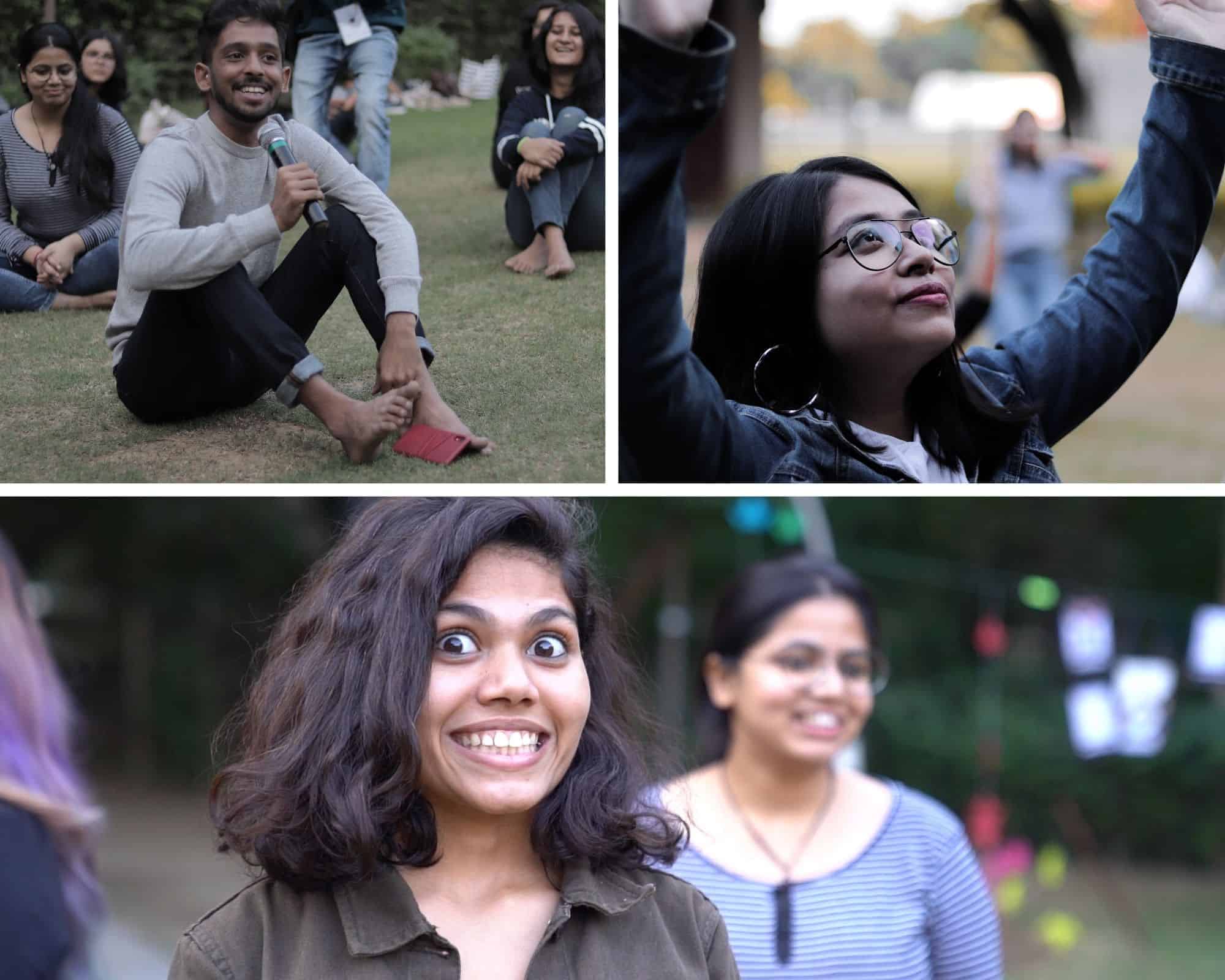 About the organizers:
The event was organized by We The Young (WTY), a Delhi based youth media platform that features stories & voices defining Young India today. In a short span, WTY has covered over 100 remarkable youth stories from across India and impacted nearly 5 lakh lives featuring some of the best undiscovered young talent on their channel. We The Young is the brainchild of Charit Jaggi a young filmmaker, journalist and storyteller turned entrepreneur.
Follow We The Young on Instagram: @wetheyoungindia
Email We The Young: [email protected]