'COMING TOGETHER TO PREVENT SUICIDE' – MENTAL HEALTH FESTIVAL 2019
PowerWithin successfully organised 'The Mental Health Festival' on the 13th of October in collaboration with India Excellence Forum and Gautam Buddha University. It was to mark the World Mental Health Day, observed every year by the World Federation for Mental Health (WFMH) and World Health Organization (WHO). The theme of this year's World Mental Health Day was "Coming Together to Prevent Suicide".
The event brought together all the stakeholders, from school going students to academicians, mental health professionals, survivors, researchers, journalists, representatives from film & theatre background, and policymakers under one roof, to hold stimulating and thought-provoking discussions around 'Ecology of Suicide' and mental health at large. The chief guest for the event, Shri Harivansh Narayan Singh, Hon. Dy. Chairman, RajyaSabha, Government of India in his speech expressed his concern over the growing number of suicide cases in recent times and said how reintroducing the teachings and methodologies as prescribed in abundance in ancient scriptures can positively contribute to our Mental Health.
Photo 1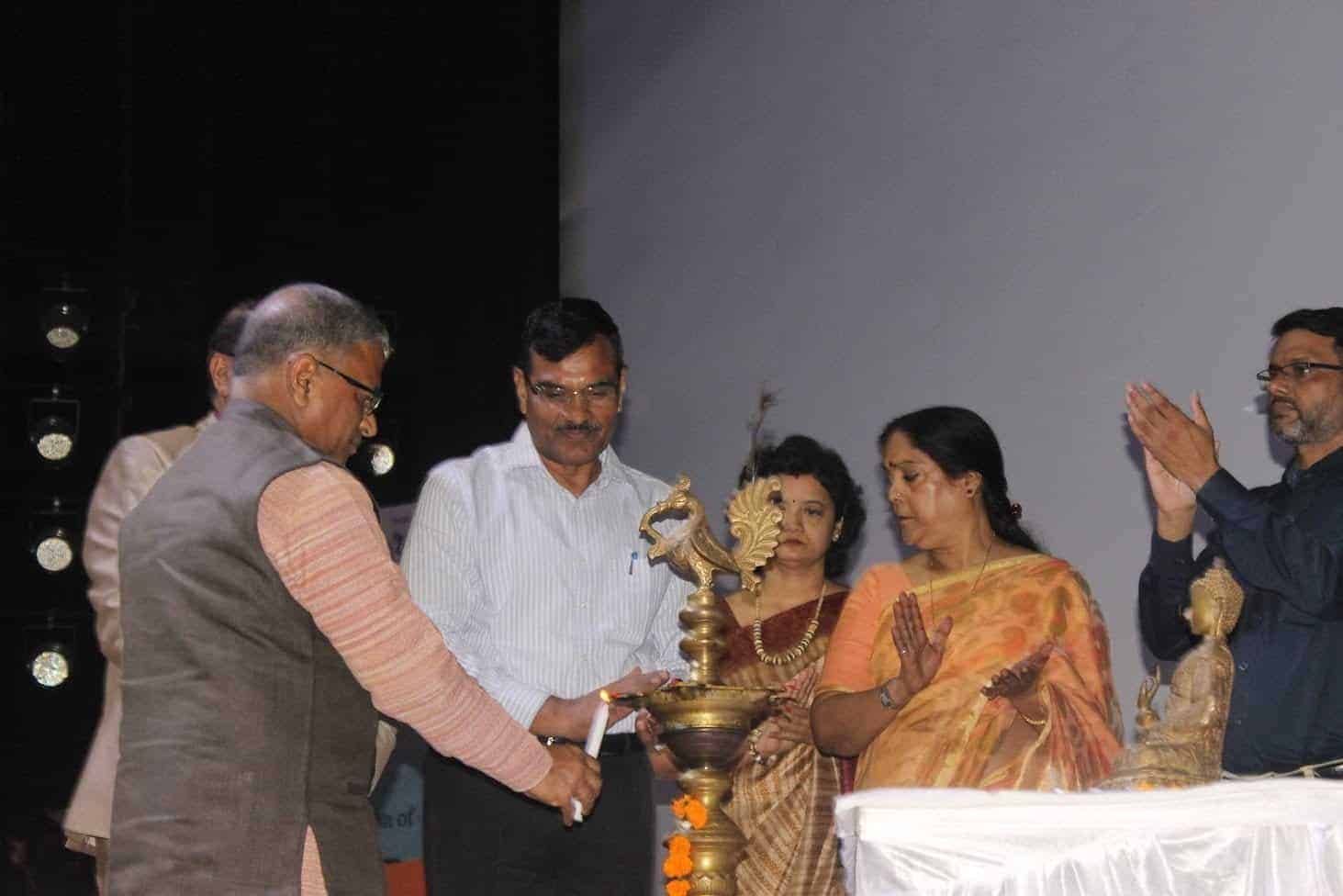 Chief Guest – Shri Harivansh Narayan Singh, Hon. Dy. Chairman, Rajya Sabha, Government of India.
The day of the event was packed with interesting intellectual and cultural activities, which addressed mental health, its prevalence, experiences, notions, importance, and current on-going work in the field of mental health and fitness. ADRIFT, a documentary on narratives of mental health survivors in their own words, curated by PowerWithin was also premiered. Maria Sufia&Pankhuri Agarwal, two mental health survivors, now working as mental health proponents were also present during the screening, where they shared their own journey of healing and emphasized on the need to break free from the myths surrounding mental health, which keeps/prevents so many individuals from asking for professional help.
Photo 2


A representative of PowerWithin moderating 'ADRIFT' session
Earlier in the day, the audience witnessed a very interesting panel discussion on 'Suicide Prevention' led by school kids. They put forth the need to normalize the concept of mental health and create more safe spaces, where many such discussions can take place. 'There is no health without mental health' as said by one of the kids in the panel left every individual in the hall awestruck.
PHOTO 3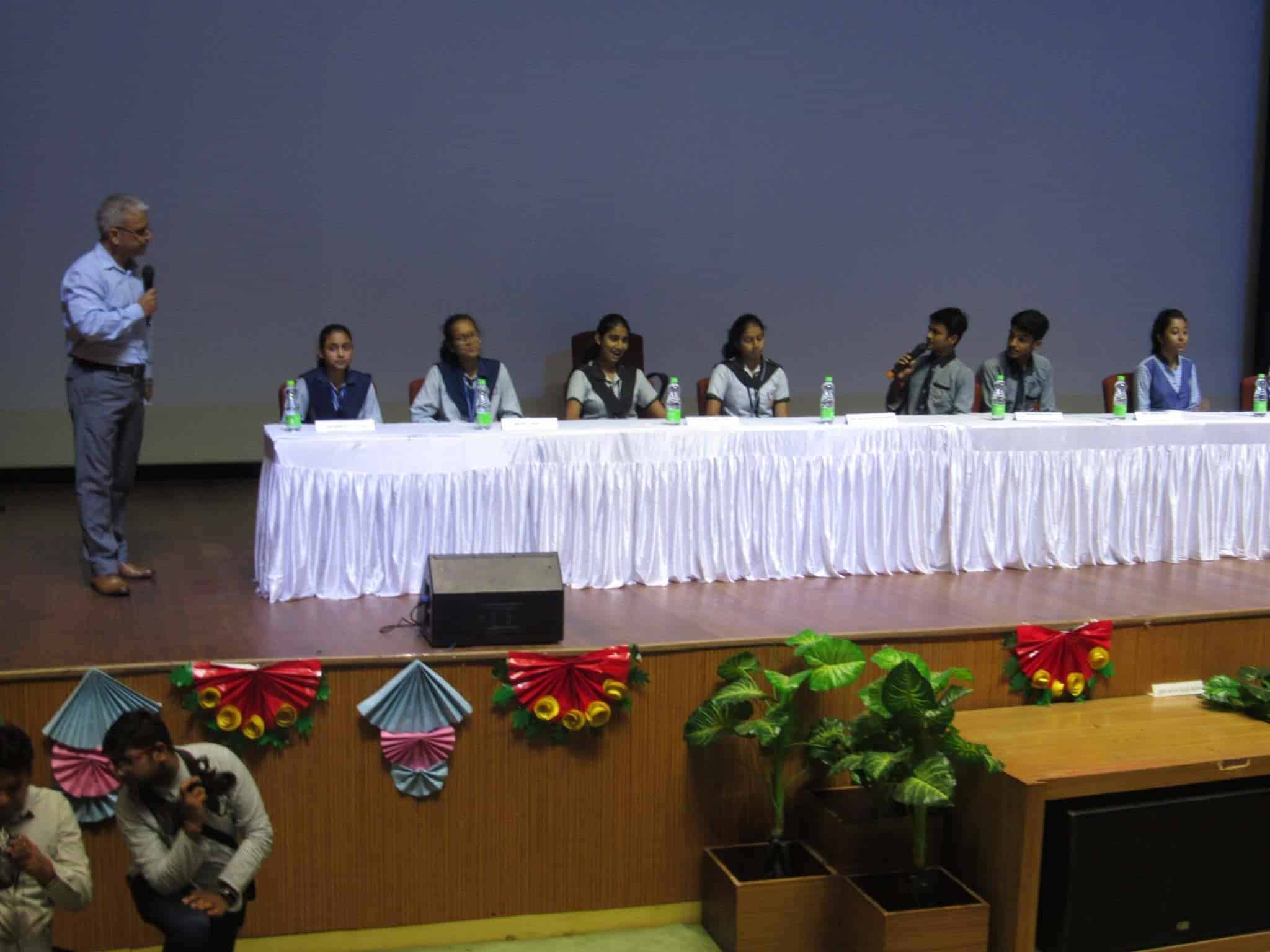 School Students Participating in Panel Discussion
Keeping in line with the theme of the festival, a panel discussion on 'Converging on the Ecology of suicide prevention' was held. To ensure a broader perspective on the said topic, the panel constituted of individuals from all walks of life; in age and in the profession. Some interesting points were raised by the panel around the pervasiveness of mental health issues, challenges faced by mental health professionals and how the role of media can be crucial in spreading awareness. Sensing the growing need for addressing issues around mental health, India Excellence Forum launched fellowship programme, in collaboration with PowerWithin, for students who will be trained on/off the field as Behavioural Mentors, to take the baton forward and work with the younger generation to safeguard their mental health and eventually, the future of our country.
PHOTO 4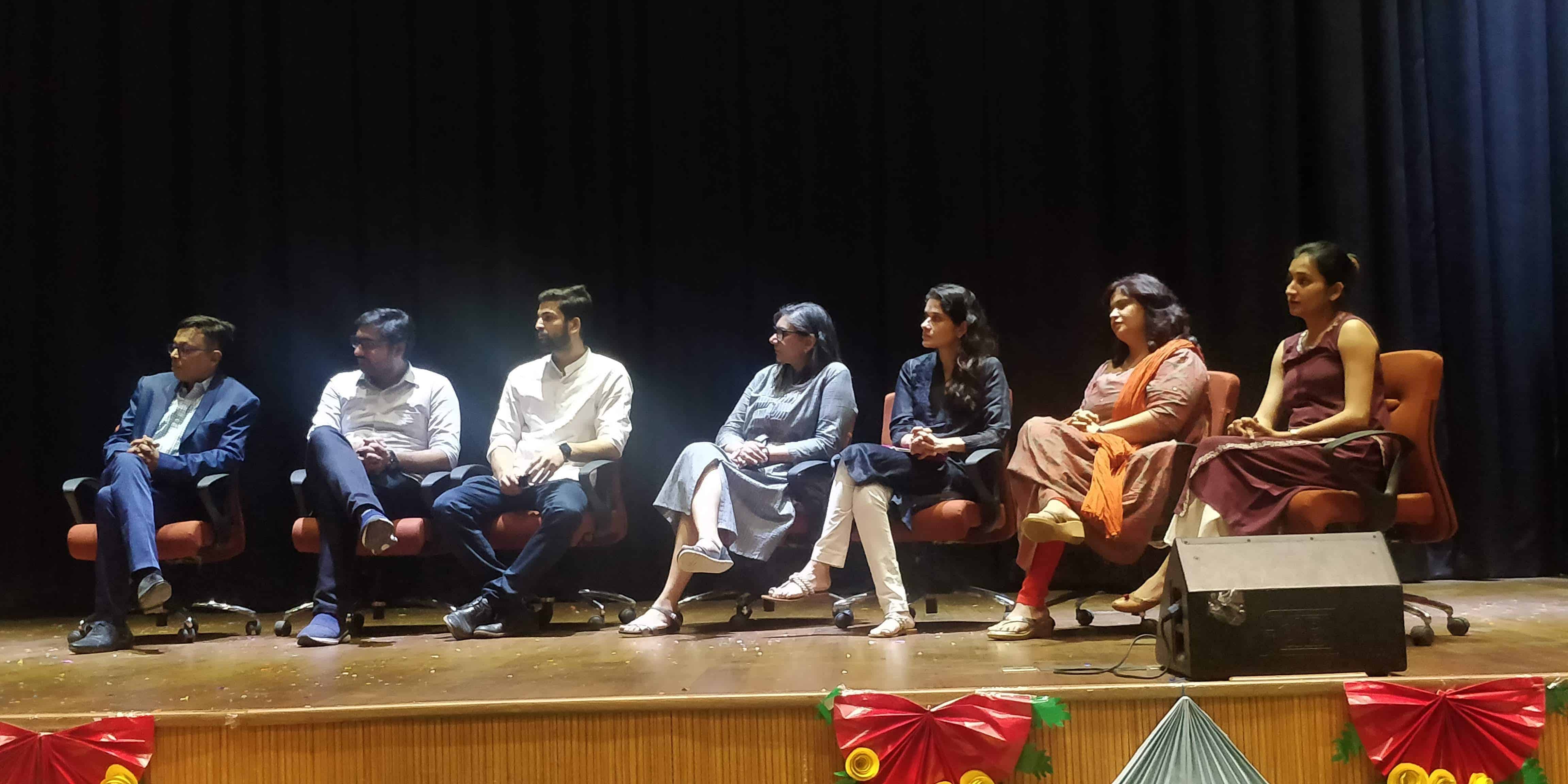 Panel Discussion on Ecology of Suicide Prevention
To reach out to a wider audience, a range of cultural performances displaying the various facets of mental health and art forms like theatre, music, dance and laughter therapy, which can actually help people to heal were presented to the audience. Students of Gautam Buddha University performed a moving play on the increasing cases of suicides and how it is important for people to not feel ashamed of asking for professional help.
Ms. Sharanya Nair gave an exquisite performance in Hindustani Classical dancing. Mr. Raja Dutt mesmerized the audience with his soulful Flute performance. Mr. Prateek Nair held the audience in complete awe with his beatboxing. Mr. Dani, a lyricist, and Singer captivated the audience with his beautiful self-written song in support of Mental Health. Followed by this, they had Dhwanik, the Music Society of Zakir Hussain Delhi College, touched the hearts of the audience with their classical singing. Laughter is the best medicine, said a wise man. And to accomplish this, they had some highly talented Stand-up comics like Mr. Vikrant Chauhan, Mr. Abhinay Rai, Mr. Raj Negi, and Mr. Sachin. Ms. Komal Chopra, a Tedx speaker presented her piece 'Don't kill yourself today' as an appeal to the listeners to keep looking for a ray of hope as it's a bad day and not a bad life.
PHOTO 5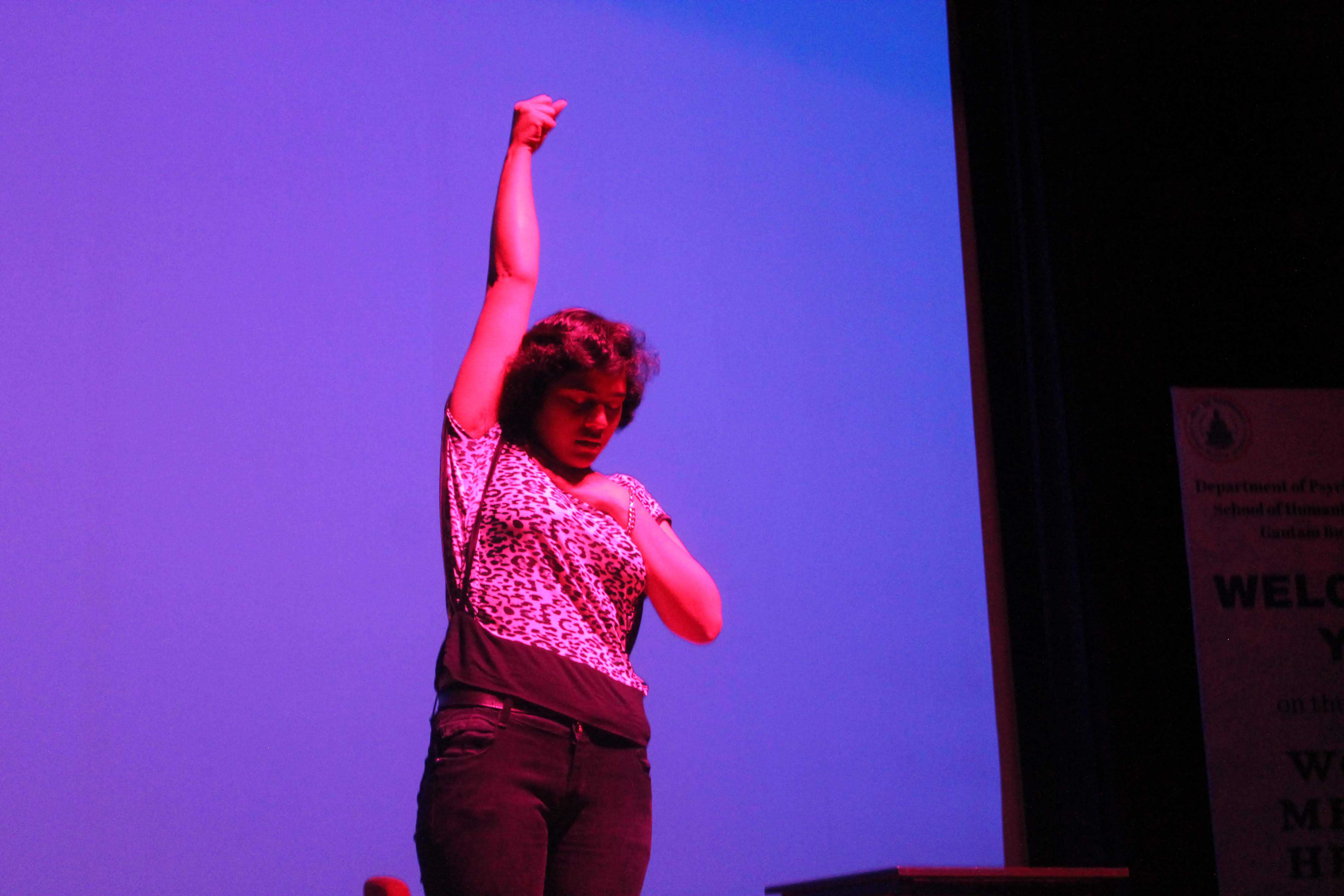 A Theatre Play by GBU students promoting Suicide Prevention
Many NGOs and Organizations came forward to support our initiative and put up their Stalls in an effort to promote initiatives around Mental Health. PowerWithinhad set up stalls on Emotional Health Check-up and Counseling Services Stall, led by Mr. Kaushik, to aware the audiences about varied typed of Psychometric Assessments available for support and another stall on 'Stress Busters' led by Ms. DivyaGoswani. Ms. Aastha Jain, a Graphologist had set up a stall to create awareness about the Art and Science of Handwriting Analysis, by analyzing the audience's handwriting and providing brief reports about their Personality traits. Ms. Ekta Chopra, a Psychologist by profession and a Painter by hobby, had also put up a stall of her Paintings.
PHOTO 6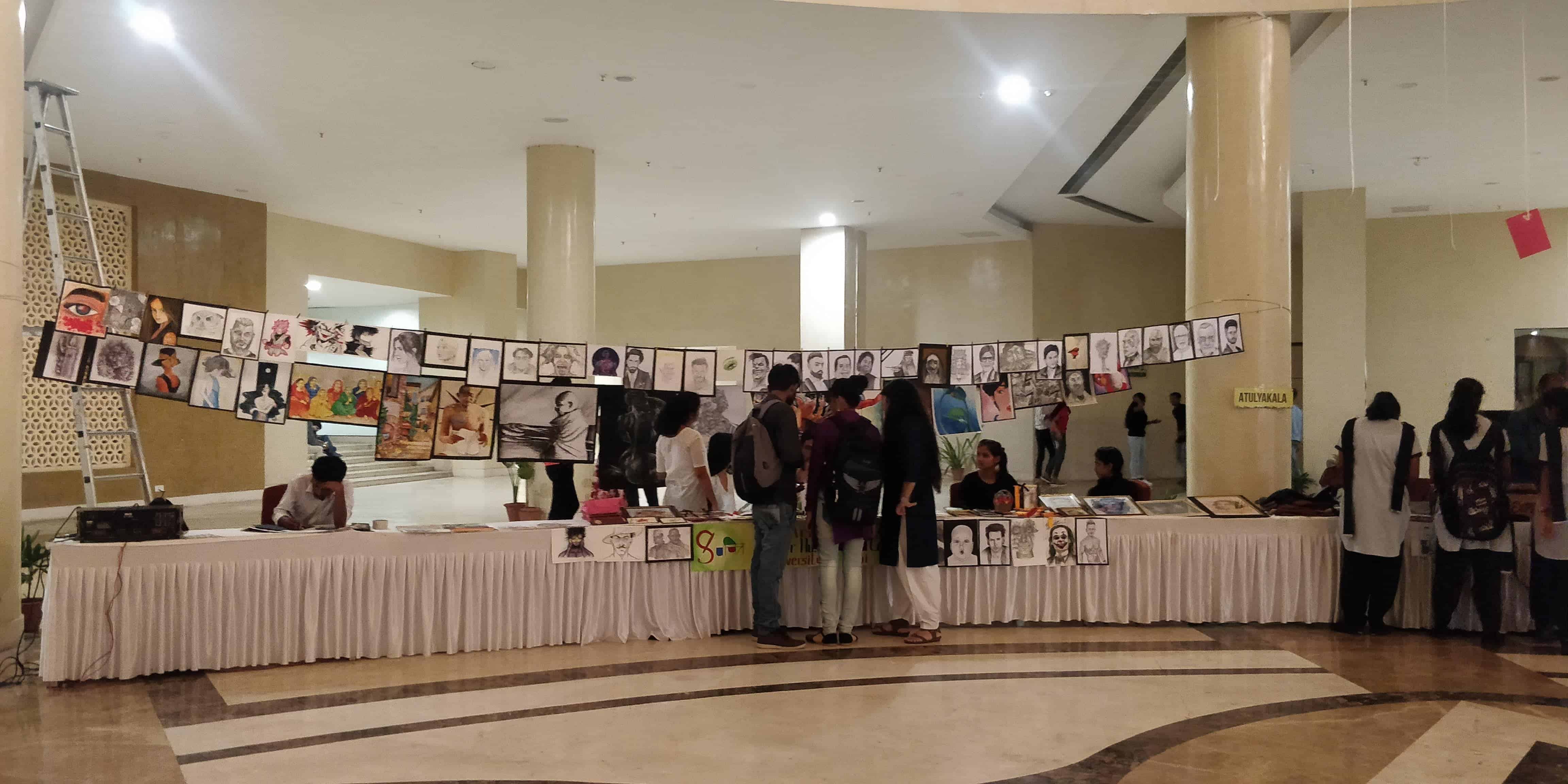 Art Stall by Suchitra, The Fine Arts Society of ZHDC
In addition to all these, an Art Therapy workshop led by Ms. Sonali Saini, a UNESCO-CID certified Art Based Therapist & a practicing Psychologist, was also organized. It was exclusively for individuals aspiring to become a professional therapist. The workshop included visual art, dance-movement, poetry prompt and expressive writing as a form of expression. The amalgamation of experiential exercises and art was received well by the participants.
In an interview by B2B with Founders of PowerWithin, Mr. Vishal Goyal and Mr. Amit Panwar added that – 'state of Mental Health is deteriorating in India and it's high time that we take a strong step to support and promote Mental Health. Every 40 seconds, there is a Suicide and every 2 seconds, there is someone attempting Suicide and these data by WHO should itself be evident to the fact that Mental Health is the largest upcoming crisis that Human Beings would be facing next. Instead of waiting for the crisis to happen, PowerWithin is taking a step towards a solution by bringing together all the stakeholders – academicians, professionals, survivors, media, policymakers and people from different walks of life to Coming Together in an attempt to Prevent Suicide and Promoting Mental Health'.
Ms. Sneha Jha, COO, PowerWithin extending her Vote of thanks for the Mega Event added – 'The Annual Mental Health Festival 2019 was made successful via the collaboration with India Excellence Forum and Gautam Buddha University. Our media partners, DU Beat, DU Express and DU Assassins have extended great support in helping us reach out to the Youth of India.'
If you want to extend support to their Initiative and/or need help promoting Mental Health, then you can connect to them at [email protected]. Via, they are Being Brave Initiative, they are taking Mental Health Services and Initiatives to individuals and organizations – Schools, NGOs, Universities, and Corporates.
PHOTO 7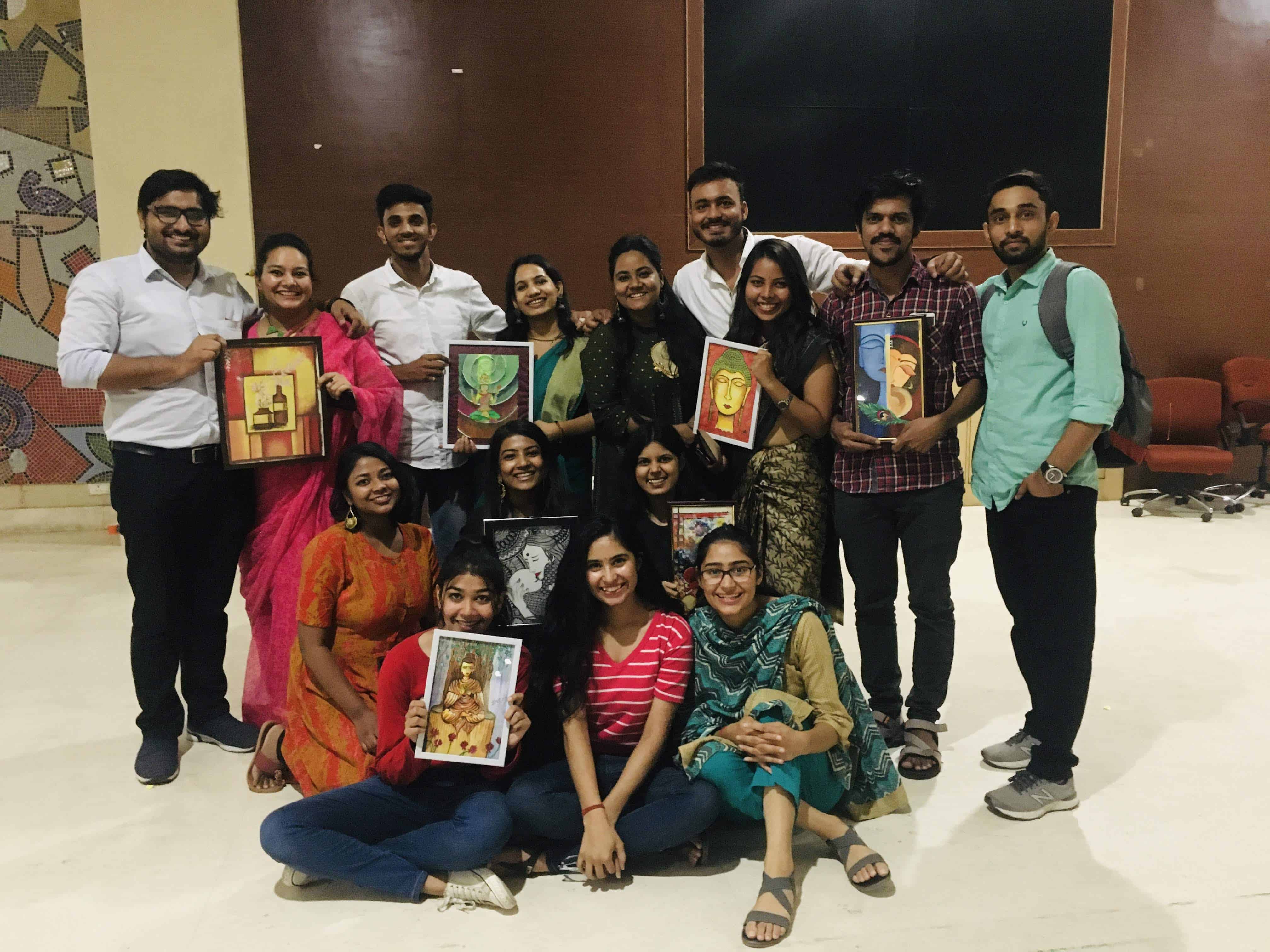 Organizing Team of PowerWithin