Mr. Manoj Tiwari, the Minister of Parliament (MP) from East Delhi sanctioned the funding for two mini-buses to be able to provide safer transport facilities for the differently-abled students in the University of Delhi (DU).
Mr. Shakti Singh, the current President of the Delhi University Students' Union (DUSU) requested Mr Manoj Tiwari who is the Bharatiya Janata Party (BJP) MP from East Delhi for better transportation facilities for the differently abled.
INR 19,90,000 were sanctioned for the purchase of two Data Winger Motor Cars from the Members of Parliament Local Area Development Scheme (MPLADS) fund. These mini buses were provided to Delhi University's Equal Opportunity Cell (EOC)
Singh made this appeal on the 17th August and two days later, in a communique to the Commissioner, Mr. Tiwari has instructed the corporation to issue technical, financial and administrative sanctions within a time frame of 75 days.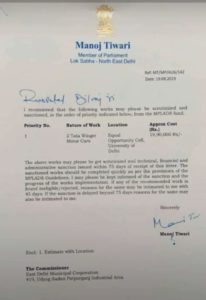 The University used to have transport facilities which were stopped in the year 2009. The differently abled living in the hostels had to go through various difficulties. Tactile paths were lacking which made it difficult to move freely. This was then later on dealt with by DUSU.
Shakti Singh DUSU President shared with DU Beat that, "Bohoth sari problems maine dekhi jispar humne kaam kiya. Pehla tha food jisko humne solve kiya, dusra tha tactile path, voh asuvidha bhi humne door kardi. Divyang chatro ko pedal jana padtha hain jo kaafi kathin hain. Humne Tiwari Ji se bath ki aur unhone fund release kardiya. Within 45 days ye laagu hoga (We saw various problems that we worked on. The first one being food which we solved second was tactile path. We resolved that incontinence as well. The physically impared had to walk which is a difficult task. We spoke to Mr. Tiwari and they released the fund. This shall be implemented within 45 days)"
He added that there were further facilities that needed to be provided and that DUSU was working on the same.
Feature Image Credits: The Hindu
Stephen Mathew