The march took a political and violent turn when the party reached Kirori Mal College (KMC) where the Akhil Bhartiya Vidhyarthi Parishad (ABVP), campaigning for upcoming Delhi University Students' Association (DUSU) elections, clashed with them. 
The All India Students' Association (AISA), on 23rd August 2019, held a protest at the University of Delhi's (DU) North Campus. They were pressing for a higher frequency of busses, concessional metro passes for students, and more affordable public transport.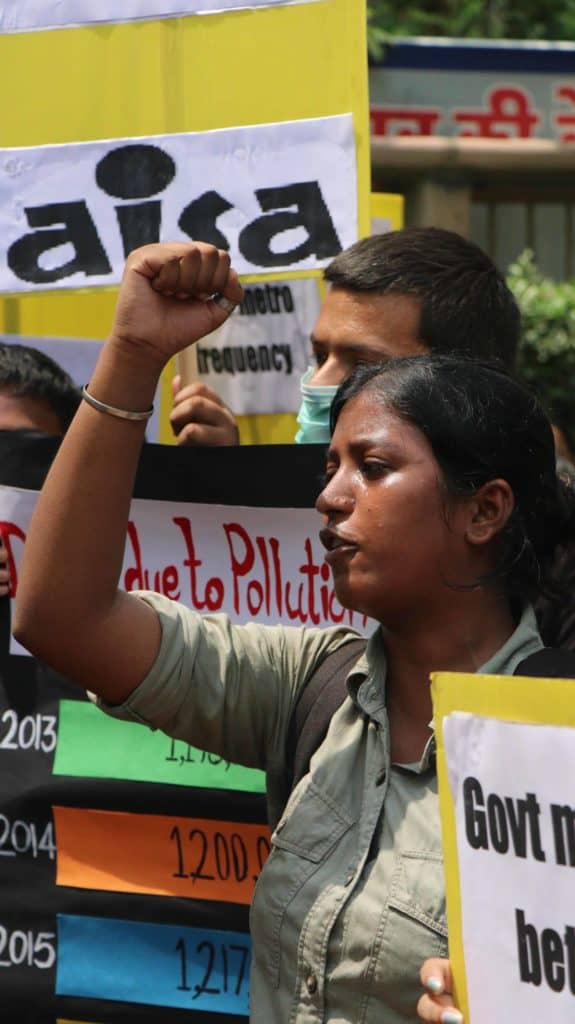 The protest was interrupted when AISA reached KMC where the ABVP, then campaigning for upcoming the DUSU elections, clashed with them.
The rivalry was very evident as slogans were chanted from both the parties against each other. "Vande Matram", "Sachin ke goons" and "Cheen ke dalalo ko ek dhakka aur do" (Give the Chinese brokers one more push) were loudly spoken by the members of ABVP against AISA that led to this confrontation.
The brawl became violent and security personnel had to intervene to keep both the parties separate to prevent injuries.
This also put a halt to AISA touring the entire college and they were forced out of the main gate of KMC.
Madhurima, DU Secretary, AISA, describing the confrontation, said, "Our issues are very simple, it is affordable public transport to curb air pollution still they have a problem with that. When we entered KMC, the ABVP was already present in huge numbers. Moreover, they were not even DU students, but outsiders. They then began with their slogan-chanting and slagging, and attacking our activists."
She added, "The police were also pro-ABVP and even closed the gates of Hansraj to prevent us from entering. We should all realise that it is a big nexus of ABVP, Bharatiya Janata Party (BJP) Government, oil corporations, car companies, and corporates that profit greatly by people not using public transport."
Kawalpreet Kaur, Delhi President, AISA in conversation with DU Beat said, "DU students have been demanding metro concession passes for a long time now, and how Delhi is facing severe air pollution makes way for public transport to be invested in. There are many cities that are providing free public transport. And with metro fares rising continuously, we see people being discouraged to use them. Earlier, we protested for applicability of student bus pass in AC buses. Sadly, even though the pass is applicable, there is an acute shortage of Delhi Transport Corporation (DTC) buses."
She also added, "AISA is a common student-based association. What affects the students, affects us. So, we know how terrible it is when you miss your classes due to the less frequent plying of busses. This works against accessibility to education."
Shreya, a member of the AISA, said, "The main aim for this march today is to propagate two issues: to make public transport very affordable for students and to make Delhi less polluted in retrospect, and for the DUSU elections to focus more on student-centric and environmental issues, rather than caste, religion, and nationalism."
Two years back when the metro fare was increased, it directly affected the student community. Since then, AISA has been protesting against the same. Last year, they protested in front of Delhi's Chief Minister, Arvind Kejriwal's house, and Prime Minister's Office for applicability of student bus-pass in red AC buses, and metro concessional pass for students.
They have chosen to protest just before the upcoming DUSU elections, 2019, so the candidates include student-centric environmental and welfare issues in their manifestos which are often ignored.
High deployment of security personnel was seen accompanying the march as it began to prevent riots and control the raging crowd. AISA took their march into corridors of Ramjas College chanting their demands and gather more students.
Witnessing the heat between the two parties, AISA was not allowed to enter the Hansraj College premises.
Kawalpreet Kaur, stating the true aim of these protests said, "We are protesting to pressurise all governments, student associations, and candidates contesting in DUSU election to bring issues like this in light than fighting over statues. The people who have the power to resolve these issues are silent."
Image credits: Noihirit for DU Beat.
Chhavi Bahmba