ABVP welcomes the move to revoke Jammu and Kashmir's special status with dhols, garlands, sweets, and slogans in the Faculty of Arts of the  University of Delhi (DU) today. 
The party members of Akhil Bharatiya Vidyarthi Parishad (ABVP), the student wing of BJP affiliated to RSS, gathered in the Faculty of Arts of University of Delhi today to celebrate the abolition of Article 370, and Article 35A of the Indian Constitution that granted special status to the state of Jammu and Kashmir along with Ladakh.
This article provides special autonomy to the state in the Constitution of India. This article, along with Article 35A, defined that the Jammu and Kashmir residents live under a separate set of laws, including those related to citizenship, ownership of property and fundamental rights as compared to residents of other Indian states. 
In a historical move, this article was scrapped by the BJP-led Government today in the parliament. 
The celebrations, which commenced from 3:30 pm, saw ABVP workers marching into the faculty gates accompanied by drummers. ABVP members commemorated the event by putting garlands, and showering flowers on the statue of Swami Vivekananda in the faculty premises.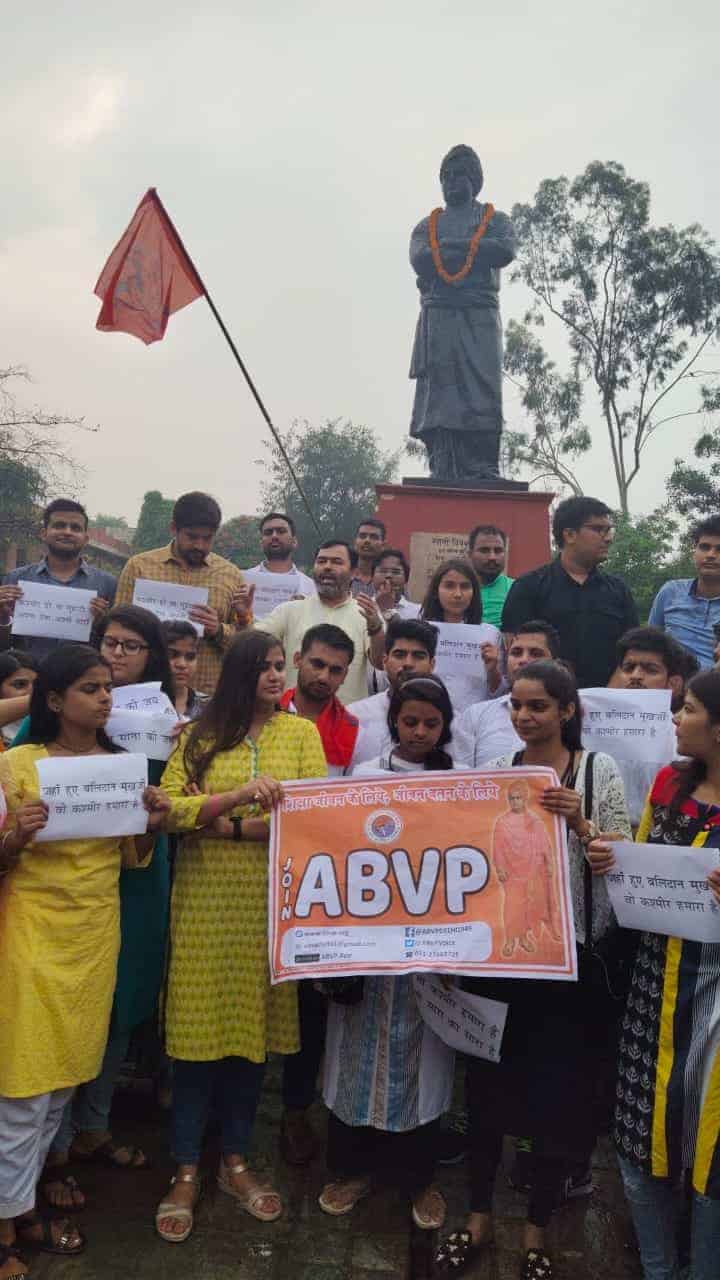 Lead by the ABVP North Delhi head Mr. Bharat Sharma, chants of Bharat Mata Ki Jai and Vande Mataram could be heard all over the premises. "Yeh humare liye hi nahi, ek ek desh wasi ke liye, ek ek kashmir wasi ke liye ek moment of pride hai (This is a moment of pride, not just for us, but for each and every Indian, for each and every Kashmiri.)", said Mr. Sharma.
Mr. Sidharth Yadav, Delhi State Secretary, ABVP, proclaimed, "For the first time today, this generation has seen an independent India".
The celebrations went on to see hundreds in the Arts Faculty, with ABVP flags, dancing and distributing sweets. Mr. Ashutosh Singh, State Media Incharge for the ABVP said, "Government ko abhi sabse zyada Kashmiri locals ka bharosa jeetne ki zaroorat hai kyunki humlog unke saath me hain, (What the Government needs to do right now, is to win the trust of local Kashmiris because we are all with them,)"
Shri Srinivas, the National Joint Organising Secretary of ABVP, also addressed the gathering after distribution of sweets amongst the students, and party workers, "We have been struggling due to the actions of Mr. Nehru. Now any citizen can work in Jammu and Kashmir and live there. It's a revolutionary day." In conversation with DU Beat, he added, "ek sarthak behes desh bhar me honi chahiye, above party politics, ki vaastav me 370 ne Jammu and Kashmir ki janata ka fayda kiya ya nuksan kiya… aur desh ka har parliament member jab desh ki parliament me khade hota hai aur desh ki ekta aur akhandta ki shapath leta hai, to mujhe lagta hai ki woh shapath ko pura karne ka time aa gaya hai (There should be a meaningful debate on the pros and cons of article 370, above party politics… since every parliament member of the country takes a pledge for the unity of the country in the parliament, it's time they fulfill their pledge,)"
Amidst the dance and dhols, the DUSU President Mr. Shakti Singh had the following to say to DU Beat, when asked about his concerns regarding the students from Jammu and Kashmir studying in DU, "It's all propaganda and false information being provided to the students, there is nothing for the students to be afraid of, they are safe and will be so."
The celebrations that lasted for hours had workers dancing and embracing each other in this festivity celebrating the abolition.
Feature Image Credits: Abhinandan Kaul for DU Beat. 
Satviki Sanjay 
Stephen Mathew