Connecting Dreams Foundation Shri Ram College of Commerce is a student-based initiative aiming at creating a positive two-fold impact on the rural slums of India; solving one social issue by creating entrepreneurs.
CDF-SRCC is a branch of the umbrella organization – 'Connecting Dreams Foundation', which has been functional since 2014 in the college and has contributed in elevating numerous lives. CDF-SRCC has been ranked number 1 college chapter for the past 5 years out of the remaining 23 chapters.
The team of 60 members in the 5 years of its operation has initiated 6 projects and has successfully impacted lives of more than 2500 people and uplifted 9 areas.
It currently has 4 ongoing projects under its purview namely Aarogya, Anshumi, Arpan and Dream Library.
"The year started with 2 projects implemented and one in research phase.
We ended the year on a high note, having a total of 5 projects on ground. 2018-2019 has been a milestone in the journey of success for CDF-SRCC", says Neeharika, a first year member about her experience in CDF-SRCC.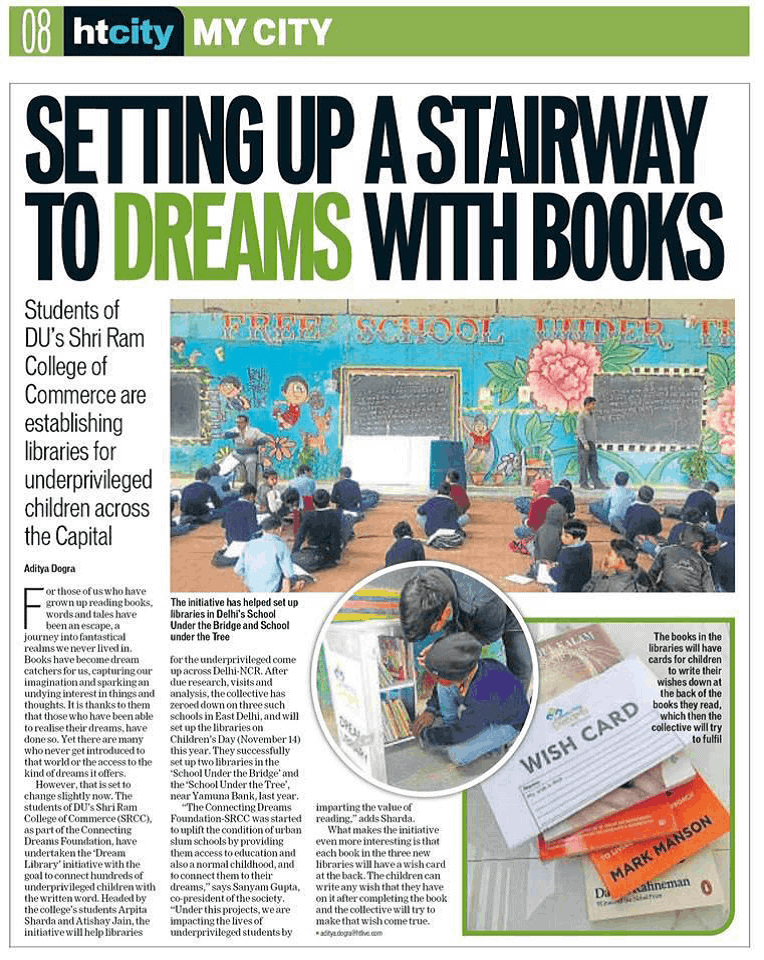 November 14, 2018 saw the implementation of Project Dream Library which is an initiative to setup libraries in schools for underprivileged students who do not have access to even the basic amenities such as books and stationery. The idea behind the project is to bring smiles across the faces of these children faces and make their childhood memorable.
3 libraries were established in the slums of Delhi-NCR transforming the lives of more than 500 students.
Devotion and faith in our country have been synonymous to the practice of burning incense sticks since time immemorial. One of CDF's project, Project Arpan endeavors to provide and effective solution to this problem through the production of low smoke incense sticks. CDF-SRCC have been able to change the orthodox mindsets of people towards the smoke emitted by incense sticks by being sell 45,000 boxes of Arpan incense sticks in just 6 months since its inception.
Sanskar Saraf, a 1st year B.com(H) student at SRCC says, "2018-19 was a year full of ups and downs, failures and disappointments but all those efforts paid off when we saw smiles across the faces of the people who we have impacted."
A great accomplishment for the team was the success of the crowdfunding campaign launched for Project Aarogya ,which in turn aims to provide good quality sanitary napkins at affordable prices to underprivileged women. Project Aarogya which was implemented in Shastri Park and has changed the lives of more than 430 slum women residing there. For the upcoming year, the team seeks to implement Aarogya in at least 4 more urban slums and move toward achieving their vision of ensuring proper menstrual hygiene for all the underprivileged women of Delhi-NCR.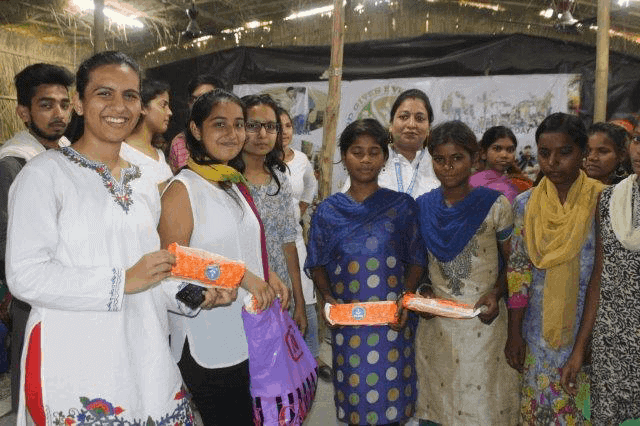 As the new session rolls around, team CDF-SRCC is all set to welcome its juniors and create a revolutionary change in the mindsets of people.