Recently released amidst debates Kabir Singh had parts of it shot inside Miranda House's lush green and beautiful campus. Though complaints of inconvenience have arisen. Read on to find out more.
DU Beat posted a poll on its Instagram feed on 11th July 2019, asking students how they felt about a film being shot on campus, the post saw more than a few negative responses which spoke of inconvenience caused during the shoot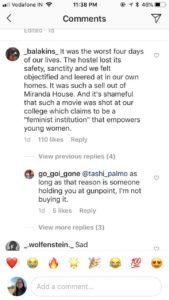 Image Credits: Screenshot by Sakshi Arora
Image Caption: A comment by an agitated student which garnered 110 likes.
Digging deeper into the issue we found out that girls were made extremely uncomfortable and suffered profusely during these shoots. According to the students they were never informed before any shooting began, and the crew would unannouncedly barge in on their college lives for a few days, making them miserable.
Bala Panchanatha shared "The shooting went on for about 4-5 days. The hostel and the college were both used for filming. The film crew impeded on our routine, they even restricted our movement within our own hostels; we were not allowed to take pictures of ourselves or our friends in the hostel area. The Union did not do anything, but they spoke to the warden – sort of a token gesture. However, due to widespread dissatisfaction and anger, we were told that we would be informed about future shoots. The current Union is more responsive in that sense. The crew was rude, entitled and smoked right outside the hostel gate."
Aatreyee Tamuly, another student also shared that "First of all, it's not ethical to interfere with the daily life of college just for some heavy amount. Also, blocking most parts of the corridors without prior notice causes a lot of inconvenience to the students. The safety of students also comes under question. If the college authorities need the money so badly out of these shooting events, it would be in the best interest of everyone to allow it on holidays or on weekends when college isn't operational."
In an article by an ex-Miranda History student, Ambica Naithani for the Citizen, she proclaims that The ex-Principal, Dr Pratibha Jolly in her speech on Founders Days said, "When we need to earn a quick buck, we also allow the film industry to shoot our beautiful campus." referring to a number of films like Kabir Singh and Half Girlfriend shot inside the Miranda House Campus. A student who requested to be anonymous shared that she felt this was the worst part about this whole ordeal that the Principal was willing to compromise their security for capitalising on their beautiful campus.
In the same article, many other students like Tridisha and Apurva Sinha also highlight the hypocrisy of this whole process. The students fought tooth and nail to lift the curfew in hostels which was there for 'security reasons' while for monetary benefits the same security was easily put in danger.
DU Beat contacted the Student Union of Miranda House for a comment, they did not respond.
Image Credits: Shiksha.com
Sakshi Arora