<![CDATA[
Each year in DU is a new experience, constituting both good and bad happenings. From being the top notch university to being the controversy's favourite child, life in Delhi University has always been like an exciting Bollywood entertainer, where its possible to have both moral and impromptu controversies, all happening at the same time. Replete with changes, policy decisions, criticisms as well as achievements, let's take a look at the various significant moments that acted as a crucial marker in the year 2015 for the University of Delhi!
Best of 2015 at Delhi University
JANUARY 2015
1. Saachi Soni scaled new heights, climbed 10 Aussie Peaks
Saachi Soni, a student of Bachelors in Mass Media at IP College, University of Delhi went for the Reliance and Deuters sponsored Aussie 10 Peaks Mt. Summit. Saachi became the Youngest Indian Person to expedite 75-80 KM in only 2.5 days!
[caption id="attachment_37636" align="aligncenter" width="290"]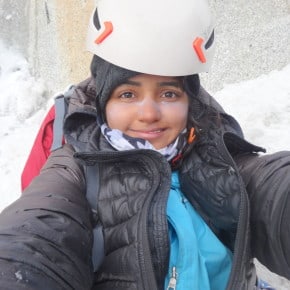 Saachi Soni[/caption]
Further Reading: Saachi Soni from IP College creates new record 
---
2. Gargi student Vasundhara Choudhary, elected as the Sarpanch of Lilawali, Rajasthan
Vasundhara Choudhary, a 21 year old student, studying Psychology Honours in Gargi College, was elected the Sarpanch of her ancestral village Lilawali, in Rajasthan. Her feat is indeed extraordinary; she being the first woman Sarpanch of Lilawali, and second woman to hold the office in Rajasthan apparently, after Chhavi Rajawat, a management graduate who was elected as the Sarpanch of Soda village in Tonk, Rajasthan.
[caption id="attachment_37643" align="aligncenter" width="816"]
Vasundhra Choudhary[/caption]
Further Reading: Vasundhara Chaudhary from Gargi elected as village president
---
FEBRUARY 2015
3. University of Delhi won the 'Visitor's Award' in the 'Best Innovation Category
Delhi University grabbed laurels at the Visitor's Award for Central Universities in the category of 'Innovation'. The President of India, Shri Pranab Mukherjee presented the award in a ceremony held at the Rashtrapati Bhavan on February 4th, 2015. The award was received by Prof. Vijay K. Chaudhary and Dr. Amita Gupta of DU who invented a rapid diagnostic test for Tuberculosis, named 'TB Confirm'. They were rewarded with a Citation along with a cash prize of Rs.1,oo,ooo INR.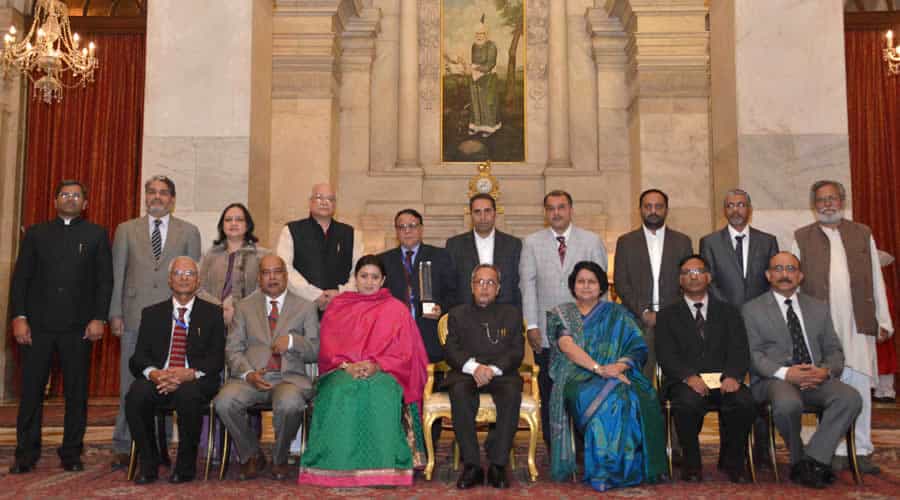 Further Reading: Delhi University grabbed laurels at the Visitor's Award for Central Universities 
---
APRIL 2015
4. CBS graduate Aditi Arya won Miss India 2015
Aditi Arya, an alumnus of Shaheed Sukhdev College of Business Studies, won the Femina Miss India 2015 title on the 28th of March. Aditi bagged the Miss India crown after winning the title of Miss Sudoku and Miss Beautiful Hair at the event.
Further Reading: Aditi Arya from Shaheed Sukhdev College won Miss India 2015
---
AUGUST 2015
5. Hans Raj College appointed its first female Principal in history 
Hans Raj College, appointed Dr. Rama as the new Acting Principal after the successful tenure of Dr. V.K. Khwatra, the outgoing Principal. It was for the first time in the 67-year history of Hans Raj College, that the command of the institution was handed over to a female. Dr. Rama had taken over as an Assistant Professor for Hindi at the college in August 1991.
[caption id="attachment_37639" align="aligncenter" width="620"]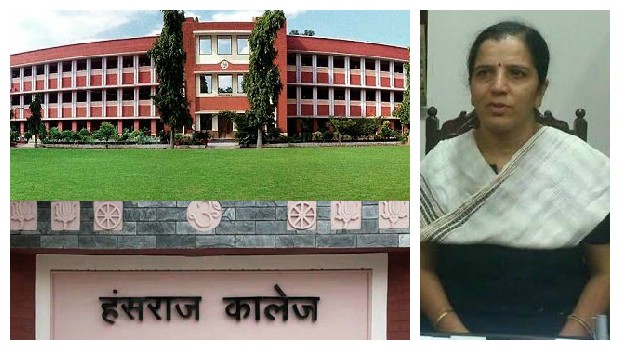 Dr. Rama as the Principal for Hans Raj College[/caption]
Further Reading: Hans Raj College appointed first female principal
---
6. Ramjas College and Hans Raj College bagged the second and third spot respectively at Enactus Nationals
Enactus conducted a national competition which saw a participation from 60+ college teams from across the country. While all of the teams had projects which made a difference for a different community, teams from Hans Raj College, Ramjas College, and IIT-Delhi stole the show. While Enactus Ramjas portrayed 3 major projects including- Project Transcreations and Project Aradhaga and were adjudicated as the first runner up,  Enactus Hansraj with two major projects- Project Boond and Project Mithaas was adjudged with the third prize.
Further Reading: DU shines at Enactus Nationals
---
SEPTEMBER 2015
7. DU Professor Rajeev Gupta received CRSI medal
Professor Rajeev Gupta of Department of Chemistry, University of Delhi was honored with the Bronze Medal (2016) by the Chemical Research Society of India (CRSI) for his contributions to research in Chemistry. The CRSI was founded by Bharat Ratna Prof. C. N. R. Rao in 1999 and is the largest chemical society of the country.
[caption id="attachment_37642" align="aligncenter" width="427"]
Prof. Rajeev Gupta[/caption]
Further Reading: Chemical Research Society of India honours Prof. Rajeev Gupta of DU
---
OCTOBER 2015
8. DU student honoured with NATIONAL RTI AWARENESS AWARD, 2015
Himadrish Suwan, a second year student of Political Science, Shaheed Bhagat Singh College, was presented with the RTI Awareness Award 2015 by the RTI Institute of India on 28th September, 2015 (International Right to Information Day), for his contribution in the field of RTI activism.
Further Reading: National RTI Awareness Award won by a DU student Himadrish Suwan
---
DECEMBER 2015
9. Google CEO Sundar Pichai visited SRCC
The man behind the topest-notch corporate Google Inc. Sundar Pichai visited Shri Ram College of Commerce in December. The session at SRCC was an interactive one, as they invited students to "Ask Sundar". The Chennai-born executive is an alumnus of IIT Kharagpur. He joined Google in 2004 and worked as the Product Chief before taking over as the CEO.
[caption id="attachment_37645" align="aligncenter" width="735"]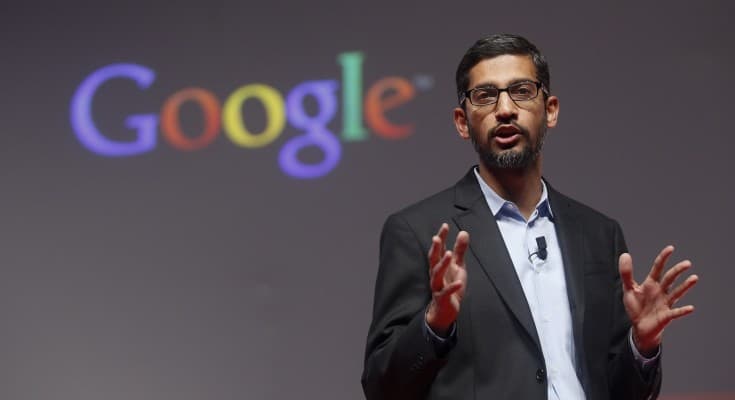 Sundar Pichai[/caption]
Further Reading: Sundar Pichai at SRCC for #AskSundar by Google
---
Worst of 2015 at Delhi University
---
FEBRUARY 2015
1. DU B. Tech students fought for an AICTE approved degree
Despite the rollback of the FYUP scheme, the agenda of proper recognition of student's B.Tech courses from the AICTE was not paid attention. Many students had come together to voice their grievances.
Further Reading: AICTE degree debacle
---
MARCH 2015
2. 'DU Bachao Maha-Rally' by ABVP lathicharged outside VC Office
Akhil Bharatiya Vidyarthi Parishad (ABVP) and Delhi University Students'Union (DUSU) on 27th March 2015 held a massive rally against the DU administration on their nine point demand agenda. The 'DU Bachao Maha-rally' attracted more than four thousand students who gathered at the Arts' Faculty for the same. When the protesters reached near the Gate number 1, a barricade broke due to the excessive rush. Nine students, including two DUSU office bearers were severely injured and dozens other injured in police lathicharge outside VC Office Gate no 1.
[caption id="attachment_37635" align="aligncenter" width="960"]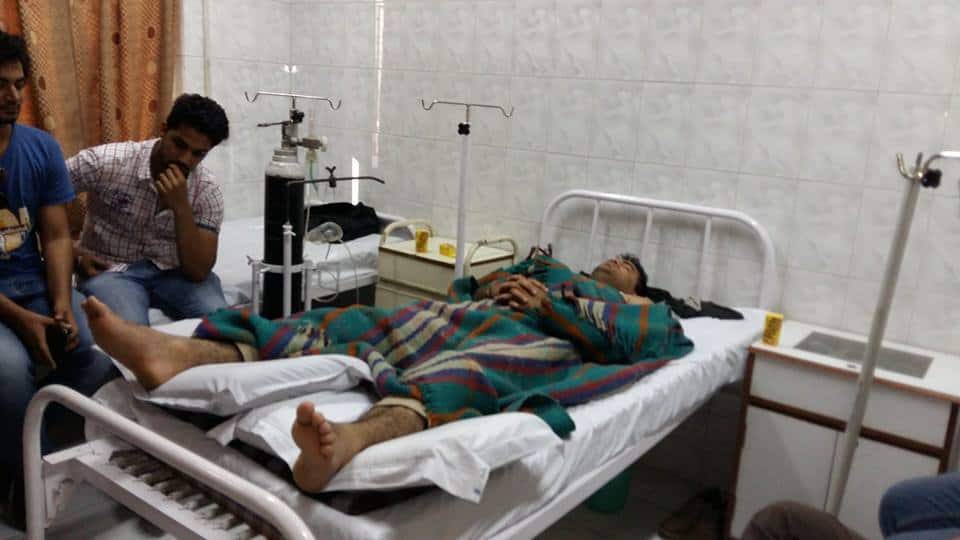 Injured after the lathicharge[/caption]
Further Reading: Nine injured at 'DU Bacchao Maha Rally'
---
APRIL 2015
3. St. Stephen's principal banned E-ZINE
St.Stephen's principal Valson Thampu banned a student run e-zine following the magazine's publication of the principal's interview without his permission. The e-zine, which was started by four philosophy students of the college, went live on March 7 and registered over 2000 hits on an interview of the principal. The principal had banned the e-zine for not seeking clearance for the issue.
Further Reading: Valson Thampu banned student run e-zine
---
AUGUST 2015
4. SFI conducted referendum on CBCS, more than 90% voted 'NO'
The Students' Federation of India (SFI), CPI (M)'s student wing, conducted a referendum on the widely debated Choice Based Credit System (CBCS) which was implemented at the undergraduate level this year by the Delhi University. In the referendum it was found that more than 90% students voted against CBCS System.
Further Reading: Majority vote against new CBCS
---
SEPTEMBER 2015
5. ABVP, NSUI & CYSS clashed during DUSU elections
NSUI supporters along with their presidential candidate Pradeep Vijayran and Vice Presidential candidate Prerna Singh had been physically assaulted when they were campaigning at PGDAV College at Nehru Nagar.
Further Reading: NSUI candidates assaulted while campaigning
---
OCTOBER 2015
6. Right to Accommodation goes on hunger strike
The members of  the Right to Accommodation group went on an indefinite strike for 44 days outside Gate No. 1 of the Arts Faculty building in North Campus protesting against the lack of rent regulation and hostel accommodation for the students staying in and around Delhi University.
Further Reading: Right to Accommodation group protest against lack of rent regulation
---
DECEMBER 2015
7. Infrastructure Issue at Delhi University
This year, colleges tried numerous ways and means to hold exams for the excess number of students. In a lot of cases, same exam timings for students of Morning and Evening Colleges led to chaos and the problem was seen in colleges in North, South as well as off-campus.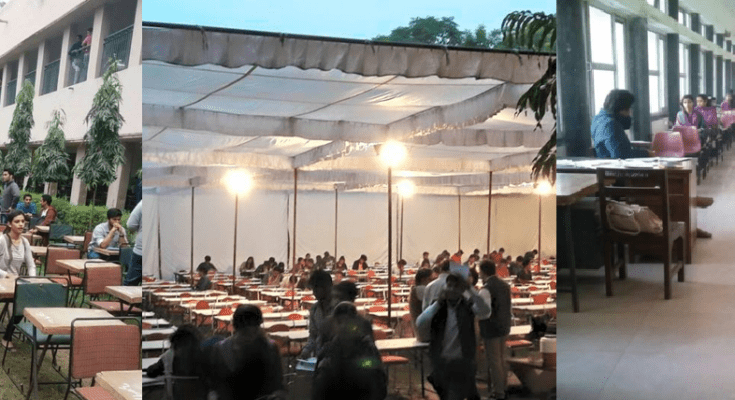 Further Reading: How DU colleges scored at Infrastructure this exam season
All the images used here have been cited in the respective articles quoted, along with required credits!
Riya Chhibber