After competitions like choreography and Battle of Bands, second half of Day 1 at Mecca hosted the much awaited nukkad natak competition which complemented Mecca's Bollywood theme this year. The event comprised of 12 teams including the host team Hindu College that did not compete. Various political and social issues like women empowerment, communal violence, rights of the farmers and corruption were presented by the teams. The event was judged by Ms. Vibhuti who is an alumnus of Hindu College and the nukkad natak team in particular. She was accompanied by Mr. Vipul Pachauri who is a veteran street actor and director in the national street play circuit.
The event began with the hosts depicting scenes of everyday ignorance that every human shows towards certain societal obligations. This was followed by impressive performances by Jesus and Mary College and Hans Raj College with the latter making the audience aware of their own susceptibility to being influenced by others. Performance by IP College for Women was lauded by the audience for its coordination and originality. Other performances included those by College of Vocational Studies, PGDAV College, Daulat Ram College and ARSD College.
Street production 'Mannmarziyaan' by Abhivyakti, the dramatics society of IP College bagged the first prize at Mecca. The spot for first position was shared by Kshitij– The Street Play Society of Gargi College. Another tie saw Verve, the street play society of SSCBS and Hansraj Dramatics Society sharing the second position.
---
Another event saw teams from various colleges performing purely classical acts for Eastern Group Choir competition. The event was judged was Pt. Hirish Tiwari from Faculty of Music, Delhi University and Ms. Anita Vishan from Hindu College. There teams were given a time of 10+2 minutes with an opportunity to select any hindustani raga or such combinations to perform an act.
The 11 performing teams included Maitreyi College, Hans Raj College, Kamla Nehru College, Jesus and Mary College, IP College for Women, Lady Shri Ram College, Daulat Ram College, Miranda College, Gargi College, Sri Venkateswara College and College of Business Studies.
Teams were seen performing various ragas like raga kalavati and raga kalyani for their performances. Alahyaa, the Indian Music Society of Daulat Ram College were declared the winners by the event judges. The second position was won by both Miranda House and College of Business Studies.
---
Day 1 of Hindu College's Mecca concluded with its alumnus Rekha Bharadwaj performing for the first time at Delhi University. The National Award winning singer who is as popular for her sufi music as for her playback singing in Bollywood, gave a soulful rendition to the evening. The singer's presence was paralleled well by the grand stage setup at Hindu College which garnered positive response from the crowd of more than 10000 people. The singer also got nostalgic about her days in Hindu College and the time she spent here.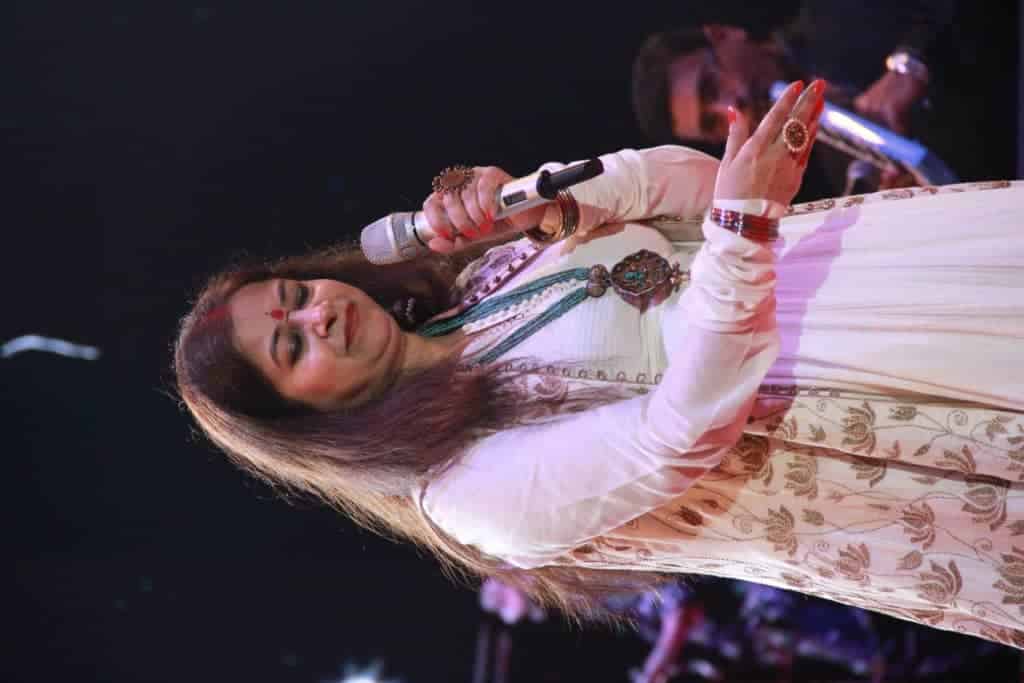 Donning a white and gold attire, she performed to famous chartbusters 'Namak Isq Ka', 'Ghaghra', 'Sasural Genda Phool' and 'Kabira' among others. She also gave her touch to other varied artists' popular songs like 'Tere bin nai lagda', 'Jugni', 'Damadam Mast Kalandar'. She was seen listening to audiences' choices continuously and then obliging to a series of requests. Her 100 minute performance ended with a medley of few popular songs.
Feature Image Credits: Kashish Madan for DU Beat
In Feature Image: Alahyaa, the Indian Music Society of Daulat Ram College
Iresh Gupta
[email protected]
Ayesha Sareen
[email protected]
Sidharth Yadav
[email protected]