With the final 15 chosen from the list of 30 probables for Cricket World Cup 2015, cricket fans across the country have been subjected to heated dissension and discussion. Some feel that the team chosen is an inexperienced gamble; while others think that the responsibility is given to strong shoulders, as the new 'era' of cricketers are set to take over their legend counterparts.
The Final Team
Mahendra Singh Dhoni (Capt, WK), Virat Kohli (Vice-Capt), Ajinkya Rahane, Shikhar Dhawan, Rohit Sharma, Stuart Binny, Suresh Raina, Ravindra Jadeja, Ambati Rayudu, Axar Patel, Ravichandran Ashwin, Bhuvneshwar Kumar, Mohammed Shami, Umesh Yadav, Ishant Sharma.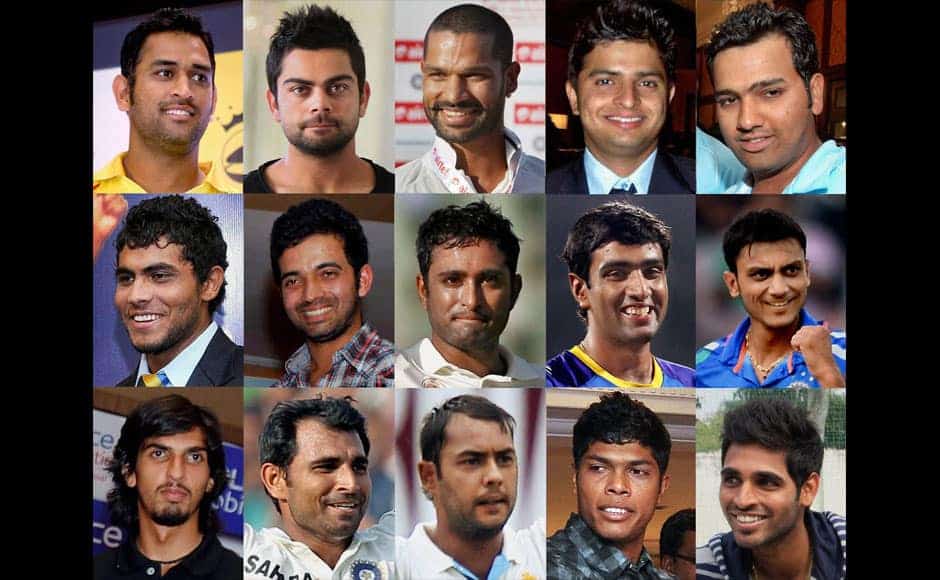 Strengths
In the batting department, the attack is lead by openers Shikhar Dhawan, Rohit Sharma and Ajinkya Rahane. Dhawan's current form may not suggest a promising performance, but he is crucial for the formation of the 'Left and Right handed' combination. Rohit Sharma, team's dark horse is known for his unpredictable spree of performances. The attack is followed by an aggressive in form Kohli and is further neutralized by Raina, Dhoni, and Rayudu who are capable of steering the game single handedly towards victory.
The bowling side lacks balance, especially with the pace duo, Shami and Ishant Sharma not delivering at crucial moments. Umesh Yadav and Bhuvneshwar Kumar come in as handy replacements, if the need arises. R. Ashwin leads the spin bowling in the team and is expected to deliver as his performances have flourished at crucial times. Binny and Axar Patel have proved themselves in the IPL and less prominent series as India A members and a lot is expected from them.
The Controversy
Experienced Indian cricketers, Virender Sehwag, Gautam Gambhir, Yuvraj Singh, Harbhajan Singh and Zaheer Khan were excluded from the 30-member Indian probables squad for the ICC Cricket World Cup 2015. Mahendra Singh Dhoni, Virat Kohli, Suresh Raina and Ravichandran Ashwin are the only survivors from the squad that lifted the World Cup in 2011.
Many cricket fans were subjected to disappointment, especially on the exclusion of Yuvraj over injured Ravindra Jadeja in the final 15. Considering Yuvraj's electrifying performance, consisting of three back to back centuries this Ranji season hinted that he meant some serious business and should have been chosen over Jadeja. Also a side note sympathy stays with Yuvraj through his heroic 2011 World Cup days, where after being diagnosed by cancer, he played a crucial role in steering the team towards victory.
Inclusion of Binny and Axar Patel does seem like a serious gamble, not because of their inability to perform but their inexperience and less exposure in competitive international cricket.
Discomposure of fans was also highlighted with Murli Vijay and Robin Uthappa being not chosen for the final 15.
Final Verdict
Whether we like it or not, the final 15 have been chosen to the best of selector's abilities. Let us trust their choice (or gamble) and support our team play and bring the World Cup back to where it belongs. Go India!
With inputs from Cricbuzz
Featured Image Credits: Cricket Country
Amitoj Singh
[email protected]