<![CDATA[
Delhi University in the year of 2014 has had its share of controversies, confusions and unpopular decisions. While a few policies were altered, others were taken down for welfare of students or just to avoid overdone criticism.  A few changes also came across as positive and were welcomed by various related bodies across the University. Political parties, students, and teachers were all affected by these alterations in someway or the other.
As we enter the year of 2015, we list all that changed in Delhi University in the past year.
April 2014: University of Delhi rejected reservation of 85% seats for Delhi domicile students
The University of Delhi rejected the proposal of Delhi government for the reservation of 85% seats for the Delhi domicile students in April 2014. The demand was in all 12 colleges wholly funded by state government and other 16 colleges receiving 5% of its fund. These colleges included Maharaja Agrasen College, Shaheed Rajguru College, Shaheed Sukhdev College of Business Studies, Keshav Mahavidyalaya and Deen Dayal Upadhayay College.
However, students from Delhi met Dr. Harshwardhan inn June 2014 to demand quota for Delhi students but there were no results recorded.
Read full article here.
May 2014: Delhi University allowed 5 % sports quota in post graduate courses
In an attempt to increase sports participation at higher studies level, Delhi University's Academic Council(AC) had introduced five percent quota under sports category this year for postgraduate admissions. The reservation was imposed on all faculties barring medicine, engineering, technology and management studies.
Students applying under sports category were supposed to sit for the entrance examination but the admission under this category was determined by trial and interview.
Read full article here.
June 2014: Roll Back of Four-Year Undergraduate Programme
The programme that supported a four-year course study for undergraduates had amassed a lot of criticism since its inception. While protests to both roll back and not roll back FYUP continued in the University in April-June, the UGC has also appealed to the University of Delhi for review of FYUP on the basis of it being illegally introduced.
UGC claimed that the new course violates the National Policy on Education's section on National System of Education that states for a 10+2+3 educational structure all over the country. Also, the University required the Visitor's approval according to the Delhi University Act, the Visitor of all central universities, being the President of India. After a huge number of protests by students, teachers and political parties, FYUP was rolled back in June 2014.
Read full article. Demands | Rollback
[caption id="attachment_28418" align="aligncenter" width="600"]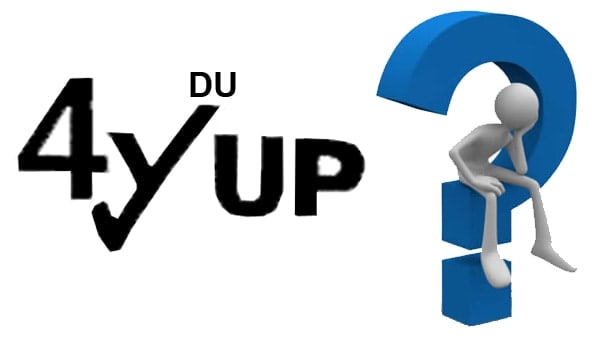 FYUP[/caption]
June 2014: BMS exam scrapped, admissions took place for BBS, BBE and BFIA courses
In a major development this year, Bachelor of Management Studies (BMS) was officially scrapped off. Instead, students were admitted to the three-year BBS, BBE and BFIA courses as was usual before FYUP was introduced. This will now be followed for the years to come. For the current session, results of BMS Entrance Exam were considered valid and were given 50% weightage. The remaining 50% were based on the results of board exams.
Read full article here.
August 2014: Transgender students recognized as third gender
After recognition of transgenders as a third gender by the Supreme Court in April 2014, Delhi University's application form from this year gave space to the third gender. University had finally allowed transgender applicants to enroll in post graduate courses in the ongoing session.
Due to the FYUP debate this year, this proposed change couldn't be implemented for the undergraduate courses but the same will be done next year for the session of 2015-16. Teacher recruitment forms also included the third gender category.
Read full article here.
[caption id="attachment_28420" align="aligncenter" width="620"]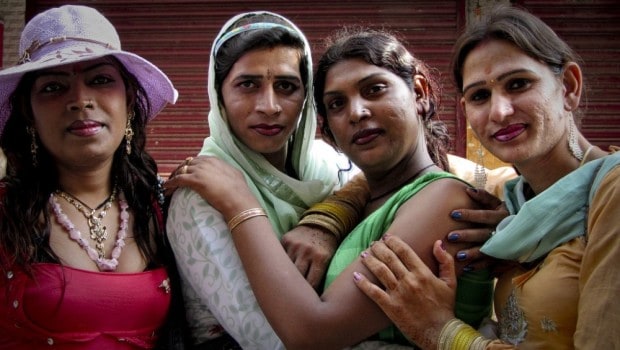 Transgender students recognized in DU[/caption]
September 2014: Ad Hoc teaching staff exceeded regular teachers in Delhi University
Four months after the FYUP 'miscarriage' where ad-hoc teachers were left in jeopardy, Delhi University witnessed ad-hoc teaching staff outnumbering the regular teachers in September 2014. 5000 'temporary' teachers were tagged as 'permanently' ad-hoc in the University. UGC norms however, only validate the appointment of ad hoc teachers in the time of emergency and also limits the proportion of these teachers at 10% of the total.
Read full article here.
[caption id="attachment_28415" align="aligncenter" width="620"]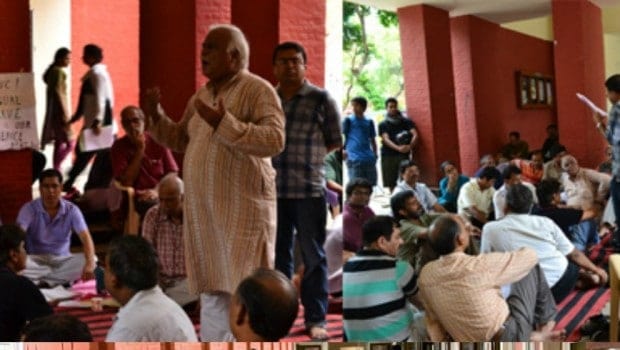 Teachers protesting for the rights of ad-hocs[/caption]
October 2014: Delhi University introduced revaluation again and allowed readmission
Following ABVP's protest in October 2014, Delhi University promised to restart the system of revaluation in the University. According to the notification, the sheets were now to be checked by a single examiner. The students who had failed in their 1st year under the FYUP were allowed to apply for readmission to 1st year till the 29th of October, 2014.
Read full article here.
[caption id="attachment_28416" align="aligncenter" width="900"]
ABVP's dharna to bring back revaluation and readmission[/caption]
October 2014: Environmental Studies' made mandatory in Delhi University
University Grants Commission this year made it mandatory for students enrolled in the undergraduate courses at Delhi University, to take up the course in Environmental Studies in their first or second semester. The qualifying course introduced had to consist of 100 marks as per the scheme notified for the three-year undergraduate programme, of which 25 per cent weightage had to be given to fieldwork.
Read full article here.
All images used have been taken from the articles mentioned in the post. Credits for the same have been mentioned in the original article.
Iresh Gupta [email protected]
]]>