<![CDATA[
The year gone by gave University of Delhi enough reasons to be proud, with multitudinous achievements by students in fields of academics, sports, fashion and social activism. Societies and clubs at various colleges also fetched laurels for the University at both national and international level.
We take a look at some of these achievements from 2014.
April 2014: Koyal Rana titled Femina Miss India 2014
The 2014 edition of the Femina Miss India beauty pageant was held on April 5, 2014 in Mumbai, India. Finalists had been selected in a round with 25 women competing for the title of Miss India World. Koyal Rana from Deen Dayal Upadhaya College, University of Delhi was crowned Femina Miss India 2014 by Navneet Kaur Dhillon, the previous year's winner.
July 2014: Enactus SSCBS won National Championship, represented India in the World Cup
Enactus  at Shaheed Sukhdev College of Business Studies (SSCBS) made Delhi University proud with its victory at the Enactus Nationals held in Mumbai, this July. The finals saw numerous teams coming in from all over India to compete on whose social endeavours had the maximum impact.
Enactus SSCBS, with its three successful projects- Project Akshar, Gramodhar and Sanitation Solutions also represented India at International World Cup on October 20.
Read full article here.
[caption id="attachment_28331" align="aligncenter" width="620"]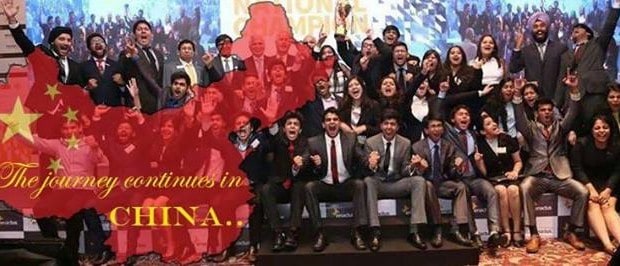 Enactus CBS[/caption]
August 2014: Delhi University's alumnus Shreyasi Singh won Silver medal at Commonwealth Games 2014
Shreyasi Singh, a shooter from Delhi got back a silver medal for the country in the double trap event. The 22 year old was a student of Hans Raj College, University of Delhi. The Commonwealth Games 2014 that were held in Glasgow got back many laurels to the country.
Read full article here.
[caption id="attachment_28336" align="aligncenter" width="620"]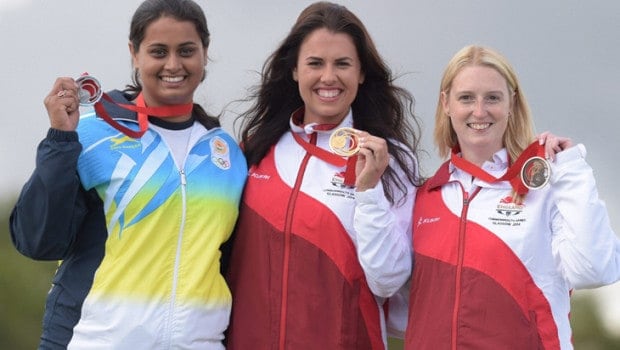 Shreyasi Singh at Commonwealth Games 2014[/caption]
August 2013: KMC's Robo Physicists society wins accolades at NASA
The Robo Physicists society of Kirori Mal College added yet another achievement in its name this year. A team of twenty undergraduates of Physics honors, headed by Dr. Sumitra Mohanty went to NASA for two major competitions which were Revolutionary Aerospace Concepts and Academic Linkages (RASC-AL) and Mars Society's University Rover Challenge.
At RASC-AL, the team became the only international team whose paper for 'Enabling Long Duration Missions Through Holistic Habitat Design', got selected for a further presentation at NASA's Kennedy Space Centre in Florida, USA. At Mars Desert Research Station in Utah, USA, the team secured 13th position out of the 31 teams from over 190 countries across the world.
Read full article here.
August 2014: Saachi Soni from IP College became the first Indian to climb Europe's highest peak, Mount Elbrus
Saachi Soni, a BA (Hons.) Mass Media and Mass Communication student from Indraprastha College for Women went on to achieve laurels for herself and her country this year as India's youngest woman from the country to reach Mount Elbrus, Europe's highest peak. Her achievements also include her selection for an expedition to Mount Everest where she completed 90% of her climb and gave up the final summiting due to bad weather.
Read the full article here.
[caption id="attachment_28335" align="aligncenter" width="620"]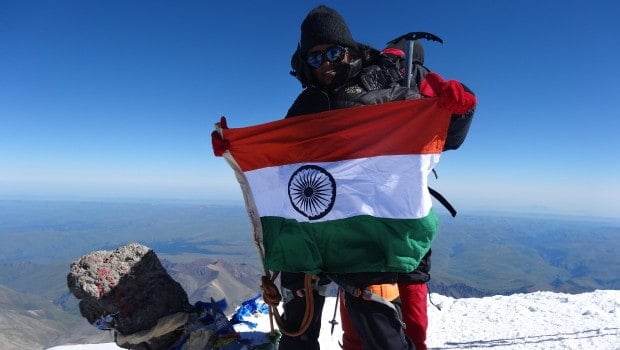 Saachi Soni[/caption]
August 2014: Hans Raj College alumnus Abhishek Verma felicitated with Arjuna Award for Archery
Abhishek Verma did Hans Raj College and Delhi University proud by receiving honorary Arjuna Award for his performance in Asian Archery Championship where he won three gold medals. The 25 year old also participated in Asian Grand Prix tournament recently in 2014 and bagged one gold and two silver medals.
Read full article here.
[caption id="attachment_28330" align="aligncenter" width="620"]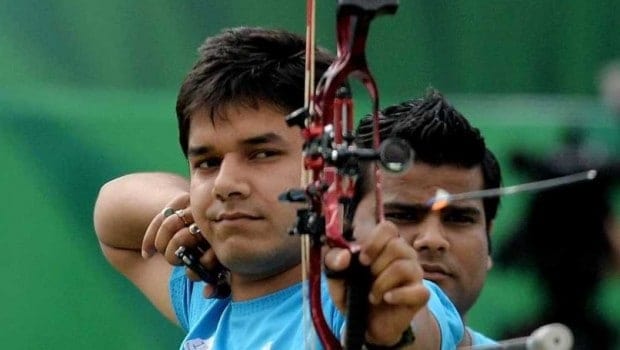 Abhishek Verma[/caption]
October 2014: DU Student won 'Young Achievers Award' for Information Activism in the area of Media & Information Activism
A first year student of Shaheed Bhagat Singh College, Himadrish Suwan is pursuing Political Science Honours. On 5th of October on the occasion of World Teacher Day -United Nations, The International Association for World Peace (Affiliated to United Nations-ECOSOC,UNICEF,UNESCO,UNICED,DPI) & The Confederation of Indian Universities had awarded him the youngest international award – YOUNG ACHIEVERS AWARD for Information Activism in the area of Media & Information Activism.
He is well acquainted as an RTI activist with having filed more than 100 RTI's. With help of his RTI's, 16 coaches of Ranchi-New Delhi Rajdhani Experess got changed; earlier there were ICF coaches which are actually not meant for Rajdhani Express but with the help of RTI they could be changed to LHB Coaches which is actually meant for Rajdhanis.
November 2014: Project on 'women empowerment' by Enactus LSR gets recognition by Government of India
Enactus, Lady Shri Ram College for Women displayed the products of their "Project Yuvaakti" at Dilli Haat's Vatsalya Mela from 12th-19th November 2014. In accordance with the success of past projects, the team LSR was granted a pro-bono stall under the name "Women of India" on recommendation by Maneka Sanjay Gandhi, Indian Union Cabinet Minister for Women and Child Development.
Read full article here.
[caption id="attachment_28334" align="aligncenter" width="620"]
Enactus LSR's stall at Dilli Haat[/caption]
November 2014: Two Delhi University students awarded Rhodes Scholarship for University of Oxford
Sonali Chowdhry, an economics graduate from Miranda House and currently on a Young India Fellowship at Ashoka University, intends to study economics for development. Mayanka Mukherji is a final year sociology student at Lady Shri Ram College for Women and wishes to pursue an M.Phil in Visual, Material and Museum Anthropology.
Read full article here.
December 2014: Koyal Rana ranked 6th at Miss World 2014
After completing her Bachelors of Business Studies from Deen Dayal Upadhyaya College in May this year, she underwent training from various industry experts for the Miss World 2014. The pageant was held on 14th of December 2014 at ExCel in London where she was ranked 6th out of 121 contestants. She was also titled as the 'Continental Queen of Asia'.
Read full article here.
All images used have been taken from the articles mentioned in the post. Credits for the same have been mentioned in the original article.
Iresh Gupta [email protected]
]]>