Even after some 20 years of its release, 'Dilwale Dulhaniya Le Jayenge' (DDLJ) is surprisingly still taking away its dulhania. The longest running Bollywood movie still manages to ignite romance every time some 'I-am-obsessed-with-DDLJ' fan watches it. Happily obsessed, this section of the crowd makes sure to degrade those who haven't watched this movie even once. These people should be respectfully treated with a lot of disrespect, they say.
"Tune DDLJ nahi dekhi? Zinda hi kyun hai?"
For most of the student community here, this movie's release (20th October 1995) falls in or around their year of birth. Most of us are Shahrukh fans and fantasize the life that he had in the movie. After all, travelling countries for a girl is not that mainstream!
While ShahRukh spent his college days in Delhi University (Hans Raj College), here are the lessons that students of the University should take from his movie. We bring the popular scenes of the movie too, for our readers to enjoy.
Disclaimer: Most of these are impossible and unrealistic. Or Shahrukh was just too lucky. Don't dream around.
1. You can fail in your college and your dad will still be happy. He will have a celebration drink with you and will ask you to live the life he lived and allow you to go for the Europe Trip!
He is like, "Dimaag mein kitaabein bharne se jebein (pockets) thodi na bharti hai"
Yeah, right! Is your Dad this cool? NO!
2. You can roam around the whole Europe with just one backpack.
What is the big deal? One bag pack is enough for travelling to so many different locations. So if your dad allows you for a holiday after you fail, don't worry – your entire wardrobe will fit into one bag.
3. Trust the Indian Railways! No matter what, your love will make it into the same compartment in which you are.
DDLJ is known to have started many trends. This is one of them.
Even today, Delhi University students or all students infact are found getting clicked in this same pose at some random station around the country.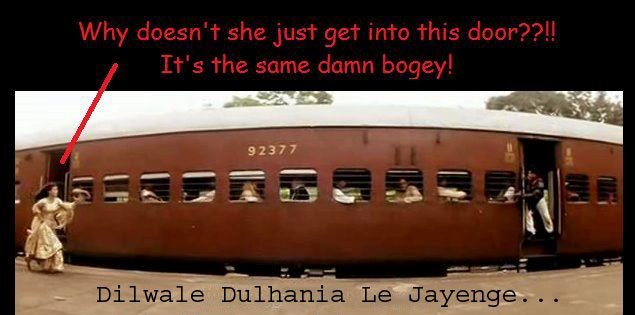 4. The worst pick up line!
     Tumhe aankhon ko dekh kar mujhe kisi ki yaad aati hai, meri daadi ki.
Lagta hai maine tumhe kahin dekha hai Roma ki party mein? Sheetal ki party mein?
5. Bade Bade deshon mein chotti chotti baatein hoti rehti hai.
This line has been exploited and over used since then. With thousands of moulds, everyone just tries to fit this in, somewhere and somehow.
"Bade Bade exams mein chotte mote failures hote rehte hain"
No, boy. No.
6. Give a girl some alcohol on a chilly winter night and dance with her. Take her to a hotel. Fake lipstick marks and shabby clothes when she wakes up. Tell her that nothing happened, win her trust and she will fall for you.
-claps-
7. Are you confused if she loves you? Stand behind her and wait for her to turn around. If she does, good for you. If she doesn't, go home.
The 'Palat' trend still has its good days. Has it worked for you?
8. Save Kuljit from a self-set trap and he will take you to your girlfriend's house. All you need to do is tell him that  you have 10-20 million pounds.
This helps when you don't know where she stays. What a way out!
Kuljit is like, "Yaar tune aaj mujhe khareed liya hai. Ab tu mere ghar mein rahega."
Shahrukh – "Yaar tu itna force kar raha hai toh theek hai"
Like seriously Kuljit bro?
9. Girl's father will always be strict and conservative. But he will give in by the end.
     "Jaa Simran jaa, jee le apni zindagi"
"So don't worry. Uncle jaise bhi hain, maan jayenge"
10. No one can become Raj!
Doesn't matter if you are a millionare, no matter if you met her on the train, no matter if you slept in the same hotel room and no matter how you fall in love – The biggest lesson here is that you can not be the RAJ of DDLJ.
The movie will always live young in our hearts. Kyunki hum dilwale bhi kabhi dulhania le jayenge!
(Video Credits: All About DDLJ, Rakshit Midha)
With inputs from Yahsovardhan Ganeriawala
Iresh Gupta
[email protected]