New devices are launched every day, but some devices are special. The day everyone was (eagerly) waiting for, arrived.  In its September 9 keynote at Cupertino, Apple unveiled its new products.
Here's what all you need to know about the event.
iPhone 6 & 6 Plus :  Big and Bigger!
As previously speculated, Apple launched not one, but two new iPhones this year – iPhone 6 & iPhone 6 Plus. While the former sports a 4.7" screen the latter marks Apple's debut in the phablet segment incorporating a huge 5.5" display.
The design has been completely revamped. With a glassy front and a metallic back, the phone curves around the edges making the phone somewhat ergonomic and distinct from the flat iPhone 5 (Personally speaking, the design seems to be inspired from iPad mini!).  The phones are visibly bigger than the previous generation and now feature the power button on the right side, instead of the top, making it more accessible. They also are thinner than the iPhone 5s –  at 6.9mm for iPhone 6 & 7.1mm for iPhone 6 Plus. In all the duo is very pleasing to the eyes, just like any other Apple product.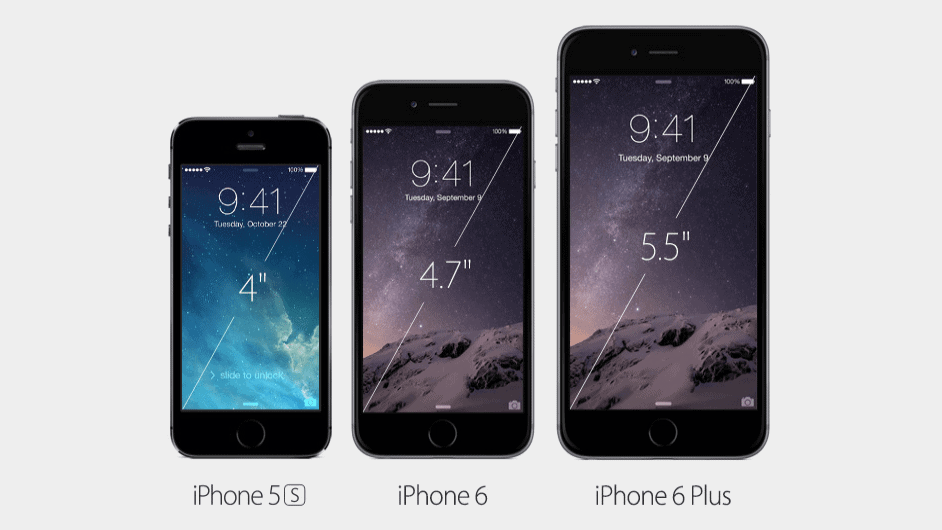 The display has also been updated. Though not Sapphire screen, an ion strengthened glass will protect the phone. But what makes the display gorgeous is the resolution.  With a resolution of 1,334×750 for iPhone 6 (326 DPI) and 1920×1080 for the iPhone 6 Plus (426 DPI), the screen is surely jaw dropping. The colors should be vibrant and the screen would be vivid, Apple calls this the Retina Display HD. The screen also has an ultra-thin back light and IPS liquid crystal layer which would provide better visibility outdoors.
While Apple sticks with its 8MP camera, it surely has added a few new features.  Apple has integrated Pixel Focus technology for improved auto-focus with phase-detection, found exclusively in professional cameras, whereby the focus on subjects dramatically improves. The video capturing has been bumped up to 60 frames per seconds and Slow Motion video up to an astonishing 240fps. iPhone 6 Plus also features Optical Image stabilization for steady frame capturing. The front camera also has its share of features like Burst Mode for selfies, HDR capturing with face detection and 2.2f aperture for more exposure.
Coming to the performance, the phones run on the new A 8 Chip which brings up to 25% performance improvements, 50% graphic enhancement and 50% battery efficiency compared to its predecessor A7. Though no information is available on the exact specification, some early benchmarks reveal it's clocked at 1.4 GHz paired with 1 gigabyte of RAM. The storage options have also been revised, with 32 GB discontinued it comes in 16 GB, 64 GB and 128 GB models.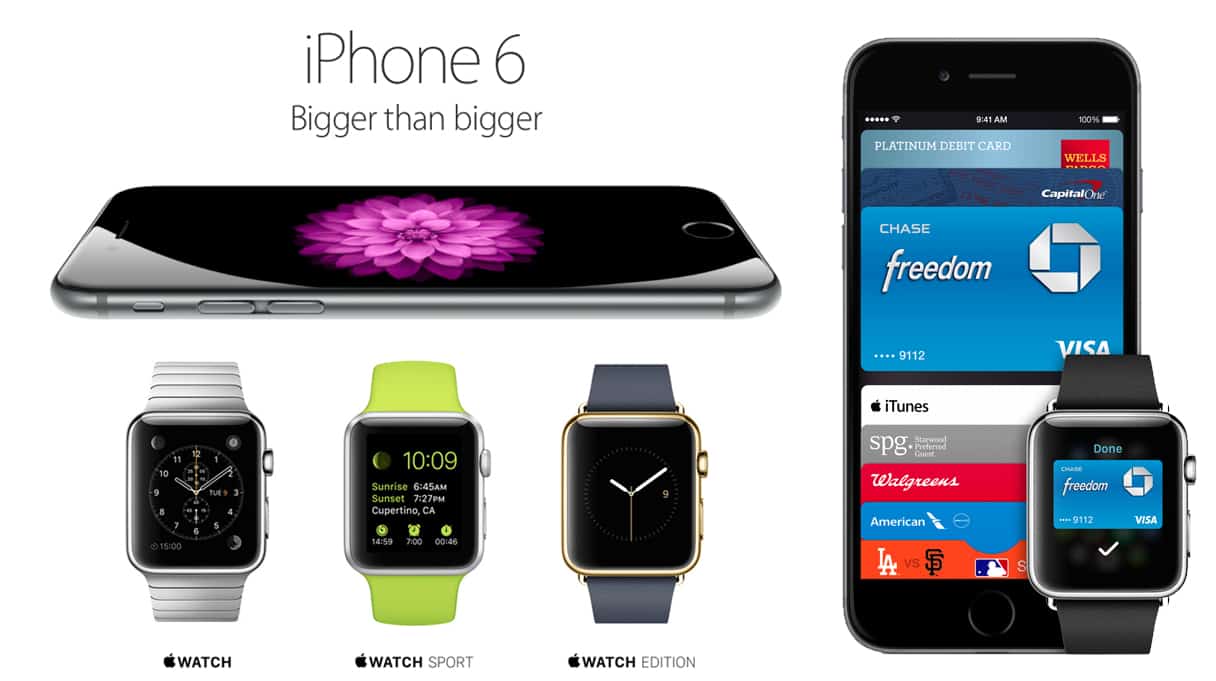 The phones come in three colors – Black, Gold & Silver and would be available on 19th September in 8 countries and by the end of this year in 115 countries. Though Indian availability and pricing are unknown, sources say it's likely to come hit the Indian shores by October 17th. As for the pricing, going by the previous trends and UK pricing, iPhone 6 should start from Rs. 52,000 while iPhone 6 plus at Rs 60,000 for 16 GB models.
Apple Pay
After revolutionizing the computers, phones and tablets, Apple is now after your wallet . Apple Pay is the company's dig at the traditional methods of monetary transaction – swiping the credit card. Users can now pay directly through their iPhone's at the billing counters via NFC enabled billing machines. Since it doesn't store any information and requires your fingerprint to work, the Apple Pay is a fast and secure way of making payments. However, for the time being, it's restricted to the US, where Apple has partnered with various retail chains, restaurants, pharmacies, etc. including McDonald's, Subway and Whole Foods among many more.  This would also be integrated in the Apple stores and would be embedded in various applications in the near future.
Apple Watch
Going with current market trend, Apple decided to launch a smart watch – Apple Watch (not iWatch!). Designed beautifully, the watch comes in various colors and customization's among three categories – Watch, Watch Sport & Watch Edition.  Apple claims the watch is extremely durable and can be worn anywhere & everywhere as it features Sapphire display. Powered by a micro-chip called S1, the watch runs a different OS altogether. One highlight of the watch is its creative use of the digital crown, which helps you zoom, switch apps and scroll up/down. Like any other smart watch it's loaded with sensors and monitors and is very useful for fitness junkies.
The watch is not a standalone device i.e. it requires an iPhone (5 or above) to work. You can read messages, make calls and navigate around without taking your phone out of your pocket. The watch also features Siri and even supports Apple Pay. It comes in two sizes 32mm & 44mm and includes various interactive time faces. It's reaching the stores early next year and starts at $349. Apple didn't mention anything about its specifications -screen size, battery life, etc.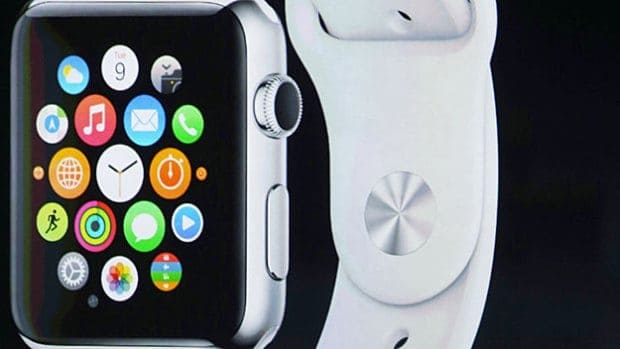 P.S. Though the watch looks stunning, it would be interesting to see how it compares to its peers like Galaxy Gear S, which is loaded with more features and even sports a SIM slot!