1) ROSS-MONICA(David Schimmer-Courteney Cox) in the American sitcom FRIENDS
One of the oldest brother-sister pairs that our generation has witnessed, Ross and Monica Geller, who otherwise live like, well, friends, do present sibling-like rivalry and affection every now and then. Their relationship is more brotherly than brother-sister-like in my opinion as is evident from the fact that they wrestled each other during their childhood and even played sports, particularly football (until one day Monica accidentally broke Ross's nose). Ross was also traumatized by nightmares of his then overweight sister eating him up. Yet, these nightmares did not prevent their attachment from surfacing. They had come up with a dance in their primary school called "The Routine" and also had a childhood gesture-knocking their fists together with their thumbs pointing outwards. They, I feel, have the perfect recipe for the best bro-sis relationship imaginable.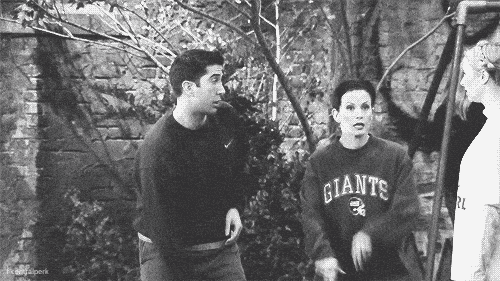 2)RON-GINNY( Rupert Grint-Bonnie Wright) in the Harrry Potter series
This pair is certainly the one we have grown up with (We were all surprised to see the little Ginny from the first movie turn out to be  a hottie by the 6th one). Coming to their relationship, this bro-sis duo are absolutely opposite in characters. Ron being submissive, insecure and funny, Ginny has been portrayed as strong-headed and sober. While Ron wears his heart on his sleeves before finally realising his love for Hermione years later, Ginny stays true to her crush on Harry Potter right from the time they first met. Despite of it, it is inevitable to notice the bond between the two.
Ron shines as a typical protective brother right from the second installment when he, along with Harry, rescues her from Tom Riddle. This protectiveness is further highlighted in the 6th installment when he sees his sister kissing her boyfriend Dean. The thing that they have in common though is their loyalty towards Potter for whom they fight alongside him against the fearsome Voldemort till the very end. Also to be mentioned, during their initial years in Hogwarts, Ron, like a typical elder brother, would shoo away his kid sister when with his friends to prevent embarrassment. However, with time and maturity he accepted her as a part of their "gang" and also his best friend's girlfriend.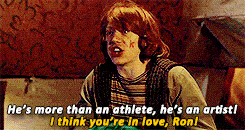 3) MILEY-JACKSON( Miley Cyrus- Jason Earles) in the TV series Hannah Montana
Miley: Next time try something with sleeves and deodorant.
Jackson: If you got it flaunt it!
Arguably the funniest bro-sis in the history of TV series. Jackson, jealous of his sister's stardom and yet loving enough to keep her secret, is a fun, indifferent and crazy guy who does not refrain from using Hannah's fame to get dates but without compromising on Miley's privacy. Not the ideal brother(specially for us "highly cultured" Indians) due to his over-the-top behavior and being a constant irritant to his sister, Jackson still manages to jump up to his sister's rescue whenever needed despite of himself.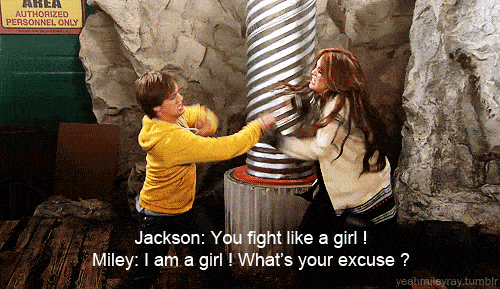 4) ANNA-SANDY( Arjun Rampal-Deepika Padukone) in Housefull
Perhaps the most feared brother of Bollywood till date, this brother who is a parental figure to his sisters Pooja and Sandy is also a strict Indian Military Intelligence officer and hence treats everyone(except his sisters) as suspects for "no one knows which" crime. At the top of his hit-list is Arush, Sandy's boyfriend, but that of course is natural of any brother to be protective of his beloved sister. That protection gets blown out of proportions when the brother is Major Krishna Rao. However, in the end, his officer instincts give way to his emotions when he discovers Arush to be a gem of a person for his sister despite his " misfortune" taking the limelight.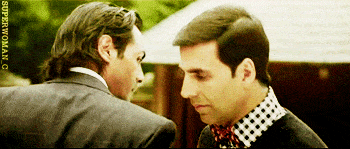 5) MILKHA SINGH-ISRI KAUR( Farhan Akhtar- Divya Dutta) in Bhaag Milkha Bhaag
Isri, Milkha's elder sister is one of the central characters in the film and the driving force behind his success. This duo is unique in the sense that there are no scenes of sibling rivalry or "nok-jhok"  between them to provide comic relief; their relation was purely intense, emotional and moving. While Isri nursed Milkha like her child, he in turn dedicated his success to her by making her wear his much awaited jacket of the Indian national team. The perfect example of loyalty and emotions between siblings.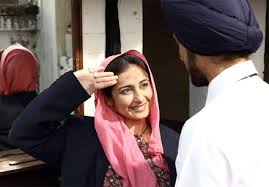 6) RANVIJAY-VEERA( Shivin Narang-Digangana Suryavanshi) in Ek Veer Ki Ardaas….Veera
The name says it all, "A Brother's Prayer….Veera". The story revolves around the unbreakable bond between Ranvijay and his half sister Veera. Being neglected by her step-mother, Veera's struggle begins right from a tender age, while, to her relief, Ranvijay acts like  a sensible, matured brother even when they both were too young to understand the value of the brother-sister relationship. Apart from being a mother-figure to Veera, he pushes her towards her goals amidst his own personal and professional challenges. He, indeed, is the ideal brother for every sister.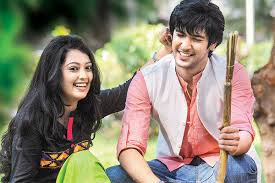 7) HANSEL-GRETEL( Jeremy Renner-Gemma Arterton) in Hansel And Gretel: Witch Hunters
This is probably the coolest bro-sis duo, engaged in the profession we all would love to have – witch hunting! There is not much scope of brother-sister emotions in the movie as it is highly action packed and they are busy slaughtering dark witches throughout. However, their unity is unquestioned as they face all the perils together, saving each other from the clutches of the antagonists.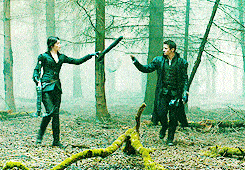 Ishani Rajkhowa