The Delhi University students for Peace, is a student  managed organisation working as a harbinger of peaceful and cordial relations between the people of  Hindustan of pre-independent era, the fragments that we now call, India and Pakistan.
The group believes that the division of the country into India and Pakistan has led to an atmosphere of mutual distrust, doubts and uncertainty. Consequently, both the nations haven't only parted their name and resources but also their ways. There is a constant and continuously increasing expenditure on defense and military equipment.
This money could be utilized for social welfare and infrastructure development purposes in both nations where almost half the population still lives in abject poverty, has insufficient number of jobs, poor literacy standards and host of other issues plaguing the social status and scuttling the economy down on knees.
An overview of the journey: From New Delhi to Wagah Border (via Google Maps)
With this in minds, the DU students for Peace group has initiated a cycling program from New Delhi to Wagah Border starting from Friday, August 1st, 2014 around 1700 hours. Veteran Indian journalist, columnist, author and activist, Kuldip Nayyar shall flag off the event.
The group of around fifty cyclists shall leave from New Delhi and reach Wagah Border on the Thursday, 14th of August, 2014 for joint celebrations of India and Pakistan's independence. The cyclists shall also stop by in numerous villages and run signature campaigns for their cause and meet local politicians and leaders for gathering support.
T
The group consists of students from numerous Delhi University colleges, Law Faculty, Arts faculty, Ambedkar College and Satyawati College to name a few. They've also been joined by some students from Jamia, Dhaka, Vijaywada and Hyderabad.The group had organized a similar cyclists march from Kanyakumari to Islamabad in 2013 as well. (Read here.)
DU Students for Peace has also been conducting numerous flash mobs and nukkar-nataks in and around the Delhi University campus for propagation of their message of peace and to appeal students to join the noble cause.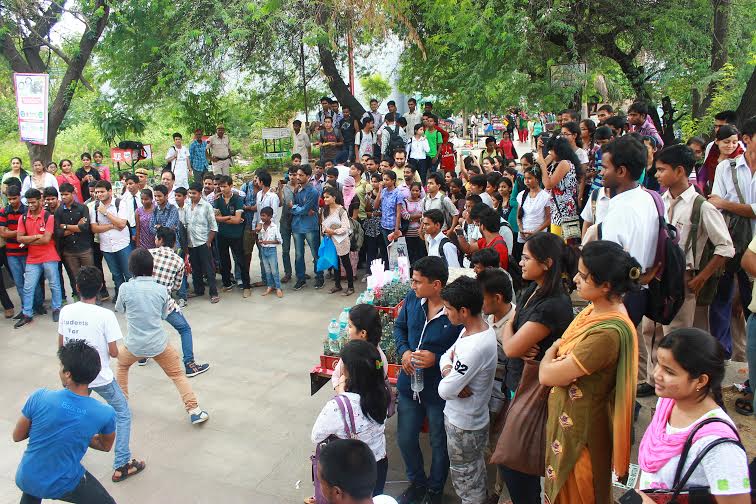 The movement this group envisaged has mustered great support from numerous eminent personalities including Sh. Narendra Modi (Prime Minsiter of India) Sh. Siddaramaiah (Chief Minister, Karnataka) , Ashok Gehlot (Ex- Chief Minister, Rajashtan), Bhupinder Singh Hooda (Chief Minister, Haryana), Sh. HD Deve Gowda (former Prime Minister of India) and former Supreme Court Justice and Karnataka Lokayukta Santosh Hegde. Numerous other MPs and MLAs  have also extended their support to the group.
Talking about long term goals, Praveen Kumar Singh (MA, Department of Buddhist Studies) , Convener, DU students for Peace says, "We are optimistic about the future of our initiative, there is enough enthusiasm being shown by the youth of both India as well as Pakistan. We plan to conduct this cyclists' march on yearly basis for collaborative celebration of India and Pakistan's independence day on August 14th and 15th every year. We are also working towards spending the winter vacation in neighboring countries for promoting homogeneity and mutual peace."
 The detailed itinerary of the cycling plan for the Independence Day celebrations march for the year 2014. 
The group also went to Dhaka via Kathmandu  for a similar purpose in the winter of 2013.  In this visit, DU students for Peace  expects to be joined by students from Quaid-e-Azam University and Government College University (Lahore) from Pakistan for the collaborated independence day celebrations on August 14th and 15th, 2014.
For students who are interested to be a part of this excursion, contact Praveen Kumar Singh (MA, Department of Buddhist Studies) at +91 – 93104- 07203, drop a mail at dustud[email protected] or visit their Facebook page by clicking here.
 Featured Image credits: Manish Bhardwaj for DU Students for Peace.