The Delhi University Cluster Innovation Centre is one of the attempts made by the university towards innovative methods of learning through research and development. The admission process for undergraduate courses in CIC begins from 26th of July 2014 when the online admission forms for entrance tests would be made available or the offline forms can be enquired about from the office at the University Stadium, North Campus.
Students who wish to apply must be already enrolled as student in any of the colleges or School of Open Learning (SOL) or Non-Collegiate Women's Education Board (NCWEB) undergraduate programme of study in the University of Delhi.
Last date for submission of applications: 5 PM on 5th August 2014
Assignment of admit cards: 6th of August 2014
List of examination centres posted on the CIC website: 7th of August 2014
Examination date: 9th August 2014
Result declared: 16th August 2014
First list: 19th – 21st August 2014
There would be a second list according to the availability of seats for which admissions will take place from 22nd – 25th August 2014 and classes will commence from 25th August 2014. The entire schedule has been mapped out here.
Applicants need the following documents during the application period:
Class XII Mark sheet.
Scanned copy of candidate's signature (Size not more than 50 KB)
Soft copy of candidate's passport size photograph (Size not more than 50 KB)
Candidate's Fee Receipt of College Enrolment
Debit/Credit card.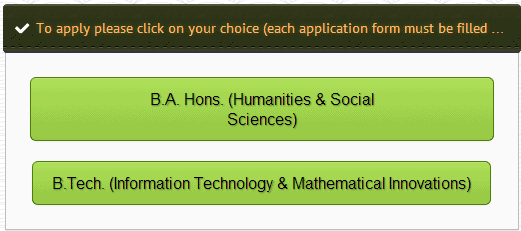 The Cluster Innovation Centre differs from the teaching style of the rest of the Delhi University colleges. It provides B.Tech. (Information Technology and Mathematical Innovation) with three specialization streams over a course of four years and B.A Honours (Humanities and Social Sciences) which used to be a B.Tech course with four different streams of Journalism, Art and Design, Historical Tourism and Counselling over a course of three years, as undergraduate courses. There is also a Masters available in Mathematics Education in the Meta University.
What is different about the CIC is that it gives students a more real experience with not just theoretical knowledge but also practical knowledge through internships and a wide array of subjects that they are free to explore and understand. It has been an interesting institute since its establishment and has been under certain controversy regarding the B.Tech. degree in humanities which has now been changed to a B.A Honours degree and the syllabus has been rectified accordingly for the new aspirants.
To apply online: http://cicadmission.du.ac.in/cic/
For more details:  www.ducic.ac.in